Extras
When Mukesh Ambani Defeated Bill Gates & Became The World's Richest Man
Bill Gates, whose original name is William Henry Gates III, is the co-founder of Microsoft Corporation and other than being a businessman, he is also an author, investor and philanthropist.
Bill Gates – The world's richest man:
Microsoft is the largest PC software company of the world and despite the fact that Bill Gates devotes his maximum time to charity purposes while working for Bill & Melinda Gates Foundation and works part-time for Microsoft, he has been the world's richest person for quite a long time now.
However, there have been moments when he has been dethroned by some other business magnates but only for a short period of time. It is really something for Indians to be proud of as one Indian businessman has also surpassed Bill Gates to become the richest man of the world and he is none other than Mukesh Ambani.
When Mukesh Ambani defeated Gates to become the world's richest man:
The Chairman of Reliance Industries whose current net worth is $38.9 billion, is the richest Indian and his name constantly appears on the world's billionaire list. Just recently, he became the second richest man of Asia after he surpassed Li Ka-Shing, the Real Estate Baron of Hong Kong.
In October 2007, Mukesh Ambani became the richest man of the world by surpassing Bill Gates, Mexican business magnate Carlos Slim Helu and famous investment guru Warren Buffett, thanks to the Bull Run in the stock market. The net worth of Mukesh Ambani in 2007 was $63.2 billion (Rs 2,49,108 crore) while the net worth of Bill Gates was $62.29 billion.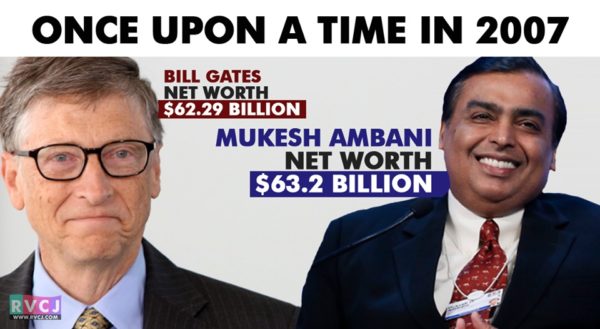 Mukesh Ambani's property:
Antilia:
Mukesh Ambani is the proud owner of a house named Antilia which has 27 floors and a covered area of 4,00,000 square foot. The complete cost of the house was $1 billion and it is situated at one of costliest residential areas of the world – Altamount Road in Mumbai.
Antilia has three helipads and it can accommodate 168 cars in garage spread in six floors. The house also has a private movie theatre which can accommodate 50 people. There is also a snow room in the house where artificial snow flakes keep on falling, making the atmosphere cool in the room, whether anyone is in there or not.
Jamnagar Oil Refinery:
The Jamnagar Oil Refinery which is owned by Mukesh's Reliance Industries is the largest refinery of the world with the current capacity of 1,240,000 barrels per day.
Jio's revolution in the telecom market:
Mukesh Ambani revolutionised the Indian telecom market by launching Reliance Jio in September 2016 and provided calling minutes and free data to its customers for nearly six months in the beginning. It crossed 100 million subscribers in a short duration of just 170 days.
Who else defeated Bill Gates?
Ambani is not alone to defeat Gates and few others have made it to the list too:
Amancio Ortega:
The founder of Inditex (Zara store chains) has dethroned Bill Gates three times, i.e., in October 2015, September 2016 and August 29-30, 2017. His present net worth is $82.2 bn.
Jeff Bezos:
The founder of e-commerce portal Amazon has also surpassed Bill Gates in July 27, 2017. His net worth as of now is $83.7 bn.
Warren Buffett:
The founder of Berkshire Hathway and the most famous investment consultant became the world's richest man in March 2008. His current net worth is $76.7 bn.
Carlos Slim Helu:
The Mexican businessman first became the world's richest man in 2007 for a short time but in 2010, he again regained the title and kept it with him till 2013. In 2014, he again became the world's richest man and his current net worth is $70.2 bn.
Share Your Views In Comments Below