News
Mumbai Corporator Attracts People With Unique Idea, "Donate Blood & Get 1KG Paneer Or Chicken"
Blood donation is undoubtedly one of the noblest acts that human beings can indulge in but still majority of us refrain due to our ignorance or some other reasons. Many people think that they will fall ill after donating blood but the truth is that donating blood doesn't have any bad effect on our health. In fact, donating blood is good for the health of liver and it also reduces the risk of heart attack as well as chances of developing cancer.
Samadhan Sarvankar, a Brihanmumbai Municipal Corporation (BMC) corporator from Prabhadevi area of Mumbai, has come up with a great idea for encouraging blood donation. Samadhan Sarvankar who is from Shiv Sena is organizing a blood donation camp on the thirteenth of this month at the Rajabhau Salvi Ground in New Prabhadevi. This blood donation drive is being held in partnership with KEM Hospital which is located in Lower Parel.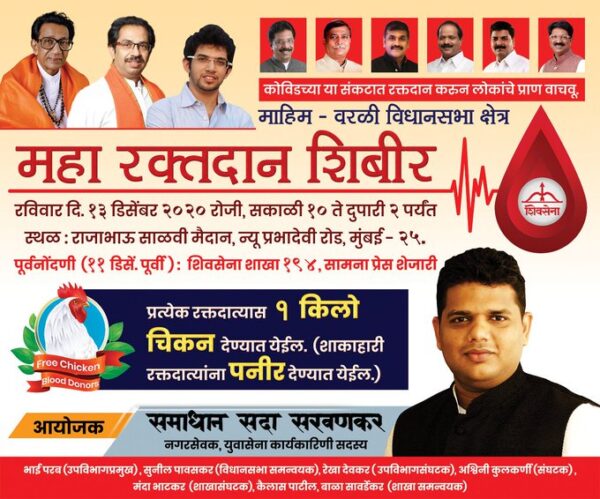 Now let us tell you about the unique idea that Samadhan Sarvankar is using for attracting the donors. Every donor will get either one kilo chicken or one kilo paneer depending on their choice and eating habits.
The target is of collecting 1,000 units of blood and the people who are interesting in donating blood need to register before December 11 at the Shiv Sena Shakha 194 which is close to Saamana Press.
Here is the tweet:
सन्मा मुख्यमंत्री श्री. @OfficeofUT यांच्या रक्तसंकलनाच्या आवाहनानुसार, सन्मा मंत्री श्री. @AUThackeray यांच्या आदेशानुसार #माहिम–#वरळी विधानसभा क्षेत्रातील नागरिकांसाठी रविवार १३ डिसेंबर रोजी 'रक्तदान शिबीर'आयोजित करण्यात आले आहे.
सदर #रक्तदान🩸शिबीरास सर्वांनी उपस्थित रहावे.🙏 pic.twitter.com/SUkRhM8lGU

— Samadhan Sarvankar (@samadhan234) December 4, 2020
The camp will start at 10 am and will go on till 2 pm; till the time the article was written, 300 people got their names registered. One important point to remember here is that the donor should be above 18 years old and below 50 years of age.
What do you think of this idea? Share your views with us.
Share Your Views In Comments Below