Entertainment
Mumbai Police Hilariously Taunts Bond For Promoting Pan Masala. Here's How Twitterati Reacted
Police department in India has been a reason of fear among people for a long time. However, the times are changing and the department is trying to create its fear among criminals and a deep bond with the public.
Mumbai Police department has taken a strong move in this direction by making its presence felt on social media. With its official Twitter account, Mumbai Police is often noticed answering the queries of common public and at the same time helping them out.
Another beautiful thing that comes around about Mumbai Police's online presence is the witty and hilarious way they have adapted to send out a message. Unlike the traditional and boring method, they send out the required message to online masses in a way they relate to.
Most of the times they are seen warning the mischievous elements in society by using famous quotes from films and TV shows. This witty side of Mumbai Police makes them really popular among everyone.
Recently they did it again. The Mumbai Police department posted a hilarious meme on their Twitter account in which they took a dig at the famous James Bond actor Pierce Brosnan.
Pierce Brosnan came under the scrutiny of Indian public after he endorsed Pan Masala.
Mumbai Police took a dig at him just a day after he clarified that he was cheated by the company in the matter. Brosnan said that he was not aware of the fact that the Pan Masala is injurious to health. Here's what Mumbai Police tweeted-
Tobacco did what bullets couldn't! There's not even .007 percent chance that tobacco would not be injurious to health! #BondWithHealth
Tobacco did what bullets couldn't! There's not even .007 percent chance that tobacco would not be injurious to health! #BondWithHealth pic.twitter.com/8Su76PCZ6P

— Mumbai Police (@MumbaiPolice) March 16, 2018
You can also check the meme below which has the controversial endorsement image feat Pierce Brosnan and says Poor Investigation leads to Confusion #BondWithHealth. Have a look-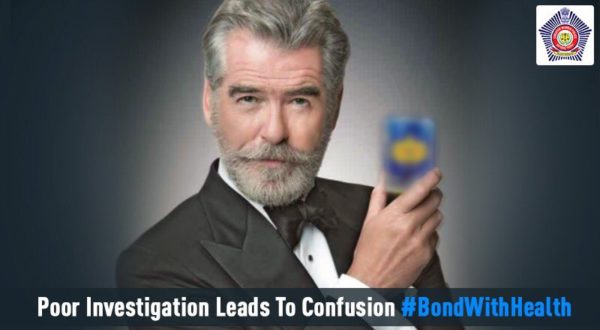 Here's how Twitterati reacted-
1
Hahahaha

— Ritesh Khosla (@Ritz_Khosla) March 17, 2018
2
https://twitter.com/rudranajb110803/status/974879645844750337
3
You guys are the best! Where do you come up with these witty ones.

— Royal Trails (@royaltrails) March 17, 2018
4
Tobacco consumption through gutkas, pan masala & smoking is injurious to health and youngsters are soft targets. Mumbai Police Thanks for creating awareness among youngsters.

— Umesh Mhambrey (@MhambreyUmesh) March 16, 2018
5
I'm agree but sorry to interact : I have seen many times mumbai police purchasing pan bahar from a normal pan shop😑

— ᴋɪsʜᴀɴ ᴄʜᴀᴛᴜʀᴠᴇᴅɪ ᴋᴄ (@iamkishan_kc) March 17, 2018
6
Good humour with knowledge!!

— paddy (@BanePradip) March 17, 2018
7
— Shirish Gokhale (@Shirish2473) March 17, 2018
What are your thoughts on it?
Share Your Views In Comments Below