Entertainment
Mumbai Police Will Have To Drop Charges Against AIB For Meme On PM Modi!
Even though Narendra Modi is all enthusiastic towards humour and supported it publically on Twitter, few of his supporters got a FIR filed against AIB founder Tanmay Bhat for creating a meme on him.
We surely need more humour in public life. https://t.co/AKo0WN6KzC

— Narendra Modi (@narendramodi) March 17, 2017
We surely need more humour in public life.
What happened was, AIB tweeted a meme, which had Modi's doppelganger looking into his mobile phone at a railway station while on the other side they used a dog filter on one of Modi's selfie. The whole meme was a humorous take on Modi's foreign trips and snapchat's dog filter.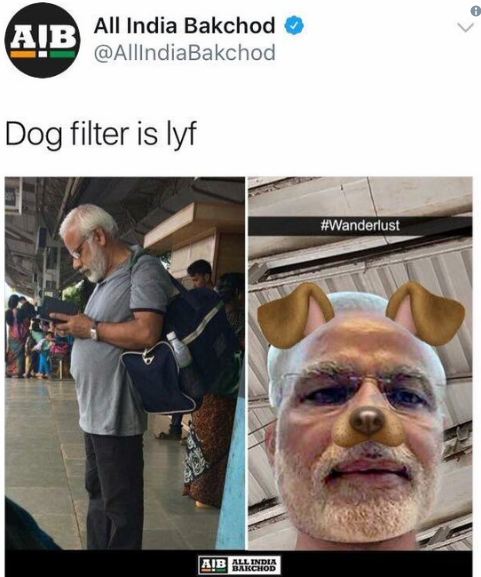 In the recent turn of events, Mumbai Police has decided to drop the case terming it "weak".
A senior police official told HT that a case cannot be filed because neither Modi nor any of his relatives has come ahead to file a defamation.
He said the post against Modi led to outrage on Twitter, with a complaint on the official Mumbai police Twitter handle too. Taking note of the complaint, the police booked the group for obscenity and defamation under the IT Act and IPC.
Legal experts like Majeed Memon, Abha Singh, Dr Olav Albuquerque said the aggrieved person, in this case Modi, should file the defamation case.
Albuquerque said the police can file an FIR only when they have consent of Modi or any of his relatives.
Even as police officials close to the investigation are refusing to come on record they said the case may not stand in court.
Finally, there's some sigh of relief for Tanmay and team.