Bollywood & TV
Neha Dhupia Scolds A Guy Who Slaps His GF For Cheating Him With 5 Guys, Gets Mercilessly Trolled
There is no denying the fact that women have been oppressed a lot in the old times and they were made to live their lives as per the wish of the men of their houses whether it is their father, brother or husband. However with the changing times, women have started raising their voices against the inequality meted out to them and making efforts in order to become self-reliant which enables them to live life the way they want to. Even men of today have begun to respect and support feminism but one needs to be sure of the fact that he/she is not supporting feminism in an irrational manner.
Neha Dhupia, the Bollywood actress is also pretty vocal when it comes to feminism but today she is getting trolled on the micro-blogging site Twitter for her comments that she made during an episode of Roadies Revolution. A video is going viral on the Internet and social media in which Neha is seen getting very angry during the auditions after a male contestant talked about how he slapped his girlfriend who was cheating on him with 5 guys at the same time.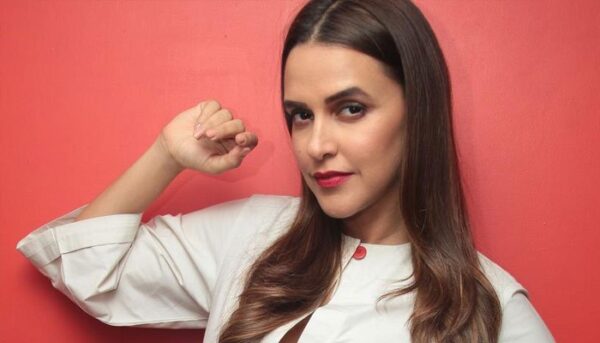 Neha told the contestant in loud volume that if his girlfriend went to 5 guys, it's her choice and he has no right to slap a girl, adding that the mistake might have been made by the contestant only and the girl might have been feeling threatened by him.
Here is the video:
Aaj ka gyan…though repetitive, kuchh bhi ho…say it loud 'IT'S HER CHOICE' : Devi #NehaDhupia pic.twitter.com/8dQE5BheJA

— Abhinav Narayan (@_abhinavnarayan) March 12, 2020
Twitter is trolling Neha Dhupia and calling her a fake feminist because she has no problem with the fact that the girl was cheating the man and that too, with 5 guys but she does have a problem with the guy hitting the girl after she played with his emotions. Neha Dhupia is the gang leader in the show along with Rannvijay Singha, Prince Narula, Nikhil Chinapa and Raftaar.
Here are some selected tweets:
#1
And somebody is talking about Equality 🤣😂😡 pic.twitter.com/4ONWnmIUCv

— Ayushi Bhardwaj (@AyushiB70909107) March 12, 2020
#2
#fakefeminism
Memers To #NehaDhupia pic.twitter.com/4dSMVblp6Q

— Shalini Shukla (@ShaliniShukla_) March 12, 2020
#3
Rare photo of #NehaDhupia with her 5 boyfriends, 5th one is taking the picture 😝: pic.twitter.com/xJ44B7D7RT

— Himanshu Seth (@tereMaalKaYaar) March 12, 2020
#4
Now i understand why #NehaDhupia said that
😂 pic.twitter.com/Oc1BS2l4WR

— veer thakur (@honeysi17369260) March 12, 2020
#5
And same goes to u Fake feminist @NehaDhupia…Sun meri baath its his choice he was victim not u . Nobody gives the Fucking right to talk about his fucking feelings. If he didn't satisfy her whatever than she should go with other one not other 4. brain h ya tatti? #fakefeminism pic.twitter.com/en1vM4cqhf

— Prashant Patil (@Prashan88248322) March 12, 2020
#6
Boy – i slapped her coz she cheated on me with her 5 bf

Neha : its her choice #NehaDhupia pic.twitter.com/NqBJYYVYUd

— Pseudopandit (@Pseudo__pandit) March 12, 2020
#7
So if a girl slap a guy when he cheats on her it's ok? But if a guy does the same it's treated like that? Hypocrites..👏👏

Be a feminist….not a fake feminist@NehaDhupia #Feminism #roadies #realityShow pic.twitter.com/EletyMwcvL

— Dhrumil Raval (@DhrumilRaval2) March 12, 2020
#8
@NehaDhupia 's logic be like.#NehaDhupia pic.twitter.com/CWkWoXLua6

— Amit Lowanshi (@housestarks07) March 12, 2020
#9
Neha dhupia right now 😁 pic.twitter.com/ZE6auaP46r

— Sachin jaykar 🇮🇳 (@SachinJaykar45) March 12, 2020
#10
*After getting trolled everywhere*#NehaDhupia right now: pic.twitter.com/RjosQspZT2

— Ashvin Singh (@sarcashvin) March 12, 2020
#11
Wht he has got himself into … jaldi he katega iska .. because Its her choice #NehaDhupia pic.twitter.com/AAhQV6eeeM

— Arjun Nebhani (@arjunNebhani) March 12, 2020
#12
#NehaDhupia
Neha- If a girl wants to have 5 boyfriends it's her choice pic.twitter.com/ZSaiJcmIe7

— Dhruv Rawat (@DhruvRa51357615) March 12, 2020
#13
What …… stupid girl #NehaDhupia pic.twitter.com/5akWtH5d2i

— @neerajkuradia (@neerajkuradia) March 12, 2020
#14
#NehaDhupia
Hipocricy to koi inse seekhe pic.twitter.com/sQoO6DcQYY

— Aनाmeका (@Anime_Kii) March 12, 2020
#15
When i hear #NehaDhupia 's #fakefeminism
I be like:- pic.twitter.com/FTGP2xFsqq

— Ajay Anuragi (@Lazy_Anuragi) March 12, 2020
What do you think of the stand taken by Neha Dhupia? Will you support her or will you also call her a fake feminist? Let us know your views in this connection.
Share Your Views In Comments Below