News
Netizens Feel Nostalgic As Someone Shares Bookplates With Images Of Favourite Cricketers
School life is certainly one of the most beautiful and memorable phases of our lives in which we have ample time to play and have fun with our friends; though there were times when we felt the pressure of studies, it was still nothing in comparison to the pressure that we have to face after passing the school.
Getting promoted to the next class was exciting and the task of covering our new notebooks with brown paper was no less than a tradition. What made this activity more fun was sticking bookplates (name sticker) on notebooks on which we used to write names, class details, etc.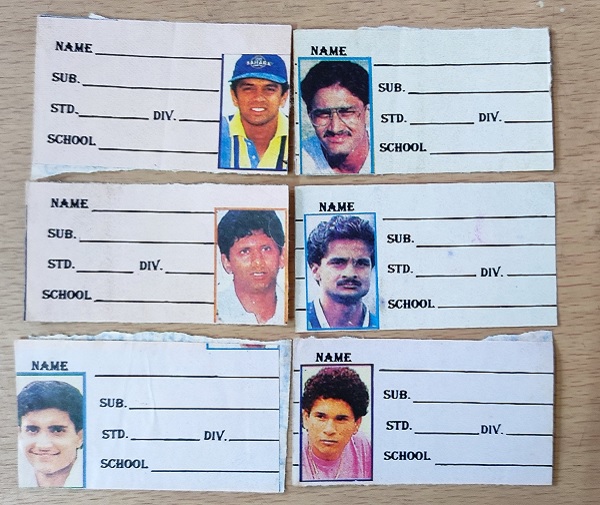 In the 90s, bookplates used to come with photos of cricketers and kids used to stick bookplates with their favourite cricketers on the notebooks of their favourite subjects.
Getting nostalgic? Well, the same thing happened with many online users after a Twitter account shared the photo of bookplates which were used by kids of 90s.
Who else?? pic.twitter.com/TLbVZLSYcE

— 90skid (@memorable_90s) October 18, 2022
Soon the micro-blogging site Twitter got flooded with reactions as people went down the memory lane and shared their experiences. Here are some selected reactions:
used to give different levels of happiness, when sticked on book cover

— Rutik Bhoyar (@RutikBhoyar) October 18, 2022
Bhai kya share kar diya app ne, kitne saal ho gaye iss baat ko… Purani yaadein taaza ho gayi

— Maheshwar Singh (@Pinku_mks) October 18, 2022
and allocating the least know/favourite cricketer to General Knowledge/Moral science.

— bobby (@Bobby_Vik) October 18, 2022
Dada, Sachin aur Robin Singh ke lagaye the. Venkatesh Prasad ka kaun lagata tha yaar 😸

— Prithvi (@Puneite_) October 18, 2022
Golden days

— 🏏 (@sachinist_) October 18, 2022
इसका तो अलग स्वैग होता था, कई बार इंडियंस प्लेयर्स वाला स्टिकर ख़त्म हो जाता था तब ऑस्ट्रेलिया वाले प्लेयर से भी काम चलाया गया है, कैसे भूल सकते हैं इस दौर को भला😜

— Punit Kumar (@punitjournalist) October 18, 2022
WWE also

— Unknown (@gj99649_joshi) October 18, 2022
🙋Bumble gum stickers collection
Rahul Dravid 🎉

— Shadow (@Captain41230930) October 18, 2022
Had disney cartoon characters, and Goofy was the favorite!

— Advait (@vaatkaro) October 18, 2022
A name sticker having a favourite cricketer was always placed on the cover of the textbook we loved. Ponting's was always for Chemistry! 🙂

— Rajeev Singh (@_rajeevsingh) October 18, 2022
Ess sticker ke baad… player's ke naam se hee book ko v yaad rkhte the….jaise Sachin wala book…. kumble wala book etc….#kya din the woo

— Himanshu🇮🇳 (@bhardwajhimans3) October 19, 2022
Soon people also started talking about the sports cards or guts and glory cards which used to have photos of cricketers and their statistics related to their game.
Dunno about this, but collection is one of the best hobby those days i collected big fun wrappers and got guts and Glory cards which used to check players stats when there's no Cricinfo or cricbuzz those days. pic.twitter.com/tlgdCwXKPk

— Gundan_Thor (@Powerpunt) October 18, 2022
Center fresh ke cricket cards bhi the. Mere ek dost ne apne ghar se paise chori karke bag bharke center fresh kharide the, kyuki uspe wo time pe cricket ki bat free thi 😂😂

— Adventurer (@speedrunner07) October 19, 2022
Woh Din Bhi Kya Din The….
Share Your Views In Comments Below