News
Netizens Slam Elon Musk As He Backs Out Of $44 Billion Deal, Twitter To Sue Him, Musk Reacts
Elon Musk, the famous business tycoon, keeps making headlines for some reasons every now and then. Some time back, he took social media by storm when he announced that he wanted to buy the micro-blogging site Twitter in order to make it better than ever. Elon Musk expressed his wishes to add new features in Twitter, authenticate all the users, get rid of spambots and increase trust by making the algorithm open source.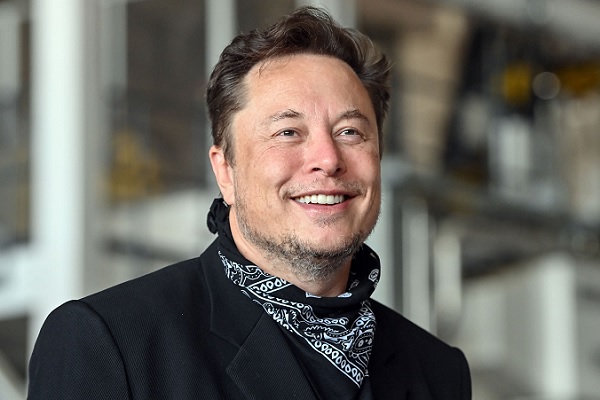 There was some confusion related to the deal as many thought that job of the Twitter CEO Parag Agarwal was uncertain and the idea of Elon Musk's free speech is quite different from that of high officials of the Twitter management but the deal got finalized for $44 billion. However in the month of May, Elon Musk put the deal on hold as he alleged that the Twitter management has failed to provide him with concrete data about fake accounts and bots despite his repeated requests.
Twitter has always maintained that the number of fake bots is less than 5 percent of its total users but now Elon Musk has backed out of the deal citing that the Twitter management hasn't paid heed to his requests of providing genuine data in regard to spambots.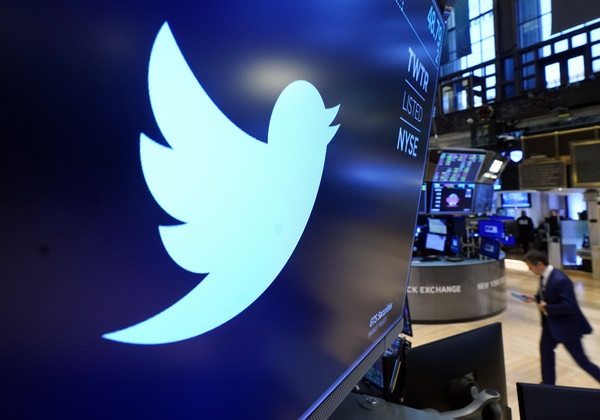 The Twitter management has got really upset with this decision of Elon Musk and now they are getting ready to take the Tesla owner to court in order to get this deal done.
Meanwhile Twitterati was also not happy with Elon Musk for backing out in this manner and this is how people reacted:
#1
Elon Musk is no longer buying Twitter because he realized he can get it for free in the App Store

— greg (@greg16676935420) July 8, 2022
#2
Mr. Musk has much money and clout,
A fact that he'll happily tout.
But though the top bidder
For purchasing Twitter,
For once in his life, he pulled out.https://t.co/mBB9HtBV4q

— Liberal Limericks (@Libericks) July 8, 2022
#3
Elon Musk looking at his child support bills, realizing he can't afford a social media site anymore

— Mike Drucker (@MikeDrucker) July 8, 2022
#4
The people who believed Elon Musk was gonna buy Twitter are the same people still waiting on Trump's healthcare plan.

— 𝐁𝐞𝐤𝐬 (@antifaoperative) July 8, 2022
#5
Elon Musk: "I'm terminating my deal to buy Twitter."

Twitter to @eIonmusk pic.twitter.com/TcMLs7WcrO

— High Yield Harry (@HighyieldHarry) July 9, 2022
#6
BREAKING: Elon Musk has announced he's pulling out of his Twitter deal in order to spend more time with his ego.

— Randi Mayem Singer (@rmayemsinger) July 8, 2022
#7
So when Elon Musk pretended to buy Twitter and exclaimed "anything that comes out in the next few weeks is a political hit-job" — was all to cover up for having twins with his employee?

— Rex Chapman🏇🏼 (@RexChapman) July 8, 2022
#8
You might think that Elon Musk backing out of a $44 bIllini Twitter deal is bad, but it's nothing compared to when he backed out of his $6 billion promise to the UN to help solve world hunger.

— Read Wobblies and Zapatistas (@JoshuaPotash) July 8, 2022
#9
I wonder what Elon Musk won't buy next to get attention?🤔

— 💅Princess💅 (@ItsGottaBeNea) July 9, 2022
#10
So, Elon Musk treated Twitter like it was one of his own kids: he was briefly interested in it, and then lost interest.

— Marc (@GDoc2001) July 9, 2022
Elon Musk has also reacted to the memes circulating on Twitter by posting a meme in which he implied that if Twitter is taking him to court, he will make them disclose the information about bots in the court itself.
Check out the meme shared by Elon Musk: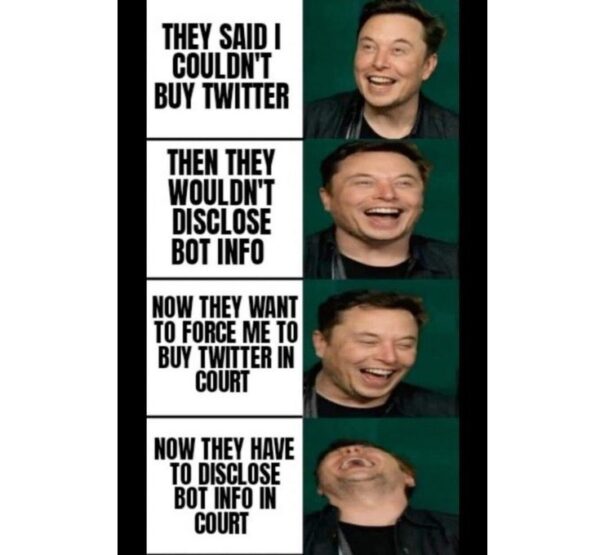 Here is his tweet:
— Elon Musk (@elonmusk) July 11, 2022
While Elon Musk and his team jave claimed that Twitter has breached the purchase agreement on multiple points, the Twitter management has hired Wachtell, Lipton, Rosen & Katz LLP for suing Musk in Delaware.
What is your opinion in regard to this whole matter? Let us know.
Share Your Views In Comments Below