Humour
Newspaper Publishes 100% Same Predictions For All 12 Zodiac Signs, Gets Trolled On Twitter
There are many people in this world who like to do each and every work after their knowing the correct timing as per their horoscopes and on the other hand, there is also no shortage of those who don't even believe in horoscopes.
The daily horoscopes which are published in newspaper or websites are of great help to the horoscope believers as they help them in planning their day accordingly, however the chances of it being correct are very less as it is a general horoscope of each Zodiac and it can't be true for everyone. However, there are many who like to read these daily horoscopes just for fun whereas for several others, it has become a habit. But what will you do if you see that every Zodiac has the same prediction for future?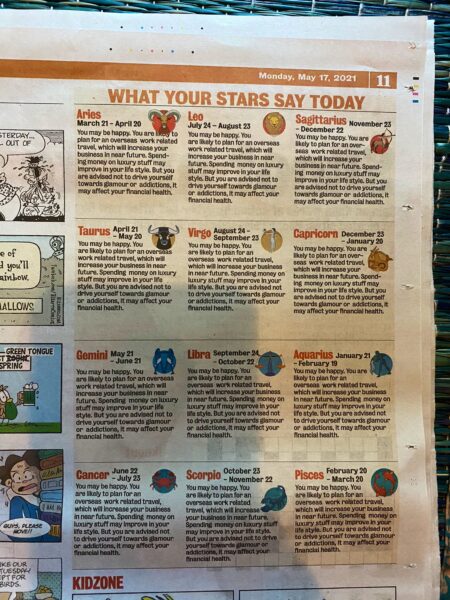 Yes, you read it right! Something of this sort happened in the newspaper Bangalore Mirror of 17th May as each Zodiac had the same prediction.
The photo of the horoscope page was posted on the micro-blogging site Twitter by an author-columnist Nandita Iyer with the caption, "We are all in the same boat irrespective of our Zodiac sign / today's Bangalore Mirror :)".
We are all in the same boat irrespective of our Zodiac sign / today's Bangalore Mirror 🙂 pic.twitter.com/FT6RrJgbJk

— Nandita Iyer (@saffrontrail) May 17, 2021
Soon someone revealed that the situation in Pune Mirror is also the same:
Pune Mirror too 😅 pic.twitter.com/jWRyhes0z2

— SavvyArts (@thisnthatart) May 17, 2021
Well, there is a probability that it may be some printing error because of which all the zodiacs gave the same prediction. However, Twitterati soon started expressing themselves; there were some who said that there is nothing wrong in it as we are all in the same boat literally because of the critical situation that has developed due to the coronavirus pandemic while some others made fun of the newspaper for publishing without proof-reading.
Here are some of the selected reactions:
#1
I was responsible for a weekend mag of a newspaper. The days we didn't get the predictions from the service we subscribed to, I'd recycle old ones with my own unique insights. Some of it came true actually. Like when I was quitting the paper I wrote about big changes for Aquarius https://t.co/NZLEkNlFtY

— Vani Saraswathi (@vanish_forever) May 17, 2021
#2
When our stars are aligned!#ZodiacSigns https://t.co/E3UhiJtN8E

— Amrita_P (@mywordcanvas) May 18, 2021
#3
I wonder which sign got their prediction right 😋 pic.twitter.com/Y10KH2nADD

— Anisha (@Anisha_Annamala) May 17, 2021
#4
Maybe they reached the combination on the random zodiac generator where every sign had the same info

— Srikrishna Sivaswami (@krishnaynwa) May 17, 2021
#5
Didn't know Ctrl+C will work in journalism too before editor checks , proof reads and print ..its a biological blunder..

— ಅಜಯ್ ಕುಲಕರ್ಣಿ (@vidyadatta) May 17, 2021
#6
Was it a printing error? Or were they so sure no one will read other ppl's zodiac signs too?

— 🌷🌾🌴தேன்மிட்டாய் 🎶🎵🌻🐦 (@arunavijay1970) May 17, 2021
#7
Sabki kismat ek jaisi 🤣 https://t.co/Nm4MlvrX5Z

— Sudeepa Nair (@NairSudeepa) May 17, 2021
#8
Its always a templated copy paste job. Super standardised statements across news papers.

Its a good industry by the way.

— Sabyasachee Dash (@Sabya1024) May 17, 2021
#9
Missed to use the edited version of copy-paste 😀

— Sundar (@SundarNellisery) May 17, 2021
#10
No proof reading concept … copy / paste error galore !!! https://t.co/aFWGl0C73H

— VJ – Lord of Glencoe (@yesganny) May 17, 2021
What is your take in this regard? Do you read horoscopes in the newspaper?
Share Your Views In Comments Below