Sports
Nick Compton Slams Virat Kohli & Calls Him The Most Foul-Mouthed Person, Deletes Tweet Later
The Indian cricketers must be pretty happy after the historic victory against England in the second test match that was played at Lord's. On one hand where Virat Kohli is getting praised for his captaincy and motivational speech which he gave to the Indian team in a huddle just before the start of England's second innings, the England skipper Joe Root has accepted that he has made some tactical mistakes during the match.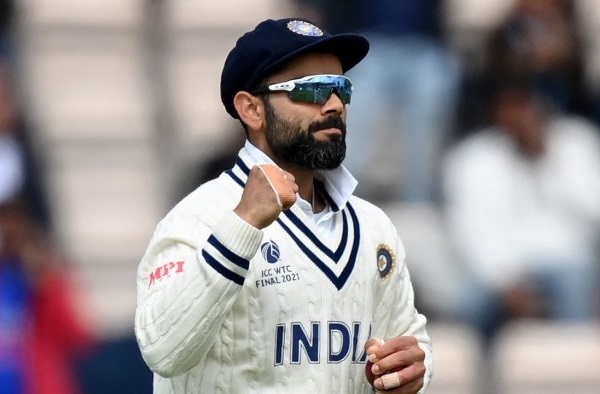 Virat Kohli has a reputation of being quite an aggressive player and skipper and under his leadership, the other Indian cricketers are also not hesitating in having a go at the opposition players. There were few moments during the second match when the players had heated arguments and temperature soared high on the field.
If you remember, Jasprit Bumrah bowled a good number of bouncers at James Anderson which was not liked by the English cricketer as well as his teammates. When Jasprit Bumrah was batting in the second innings, the England pacers especially Mark Wood ensured that the favour is returned to Bumrah and then some English cricketers including Anderson and Jos Buttler were seen having an argument with the Indian pacer and the umpires had to intervene to get the players away from each other.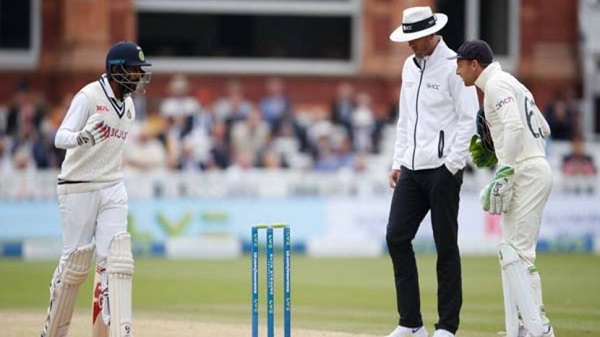 However in this process, England lost the plot and instead of getting Bumrah out, they motivated Bumrah and Shami to such an extent that they went on to produce a partnership of 89 runs for the ninth wicket. Earlier, the Indian skipper Virat Kohli and James Anderson also had a verbal duel when the former was batting in the second innings of India.
When the Indian side went to bowl in England's second innings, they were already charged up because of what happened on the field earlier and they sent the whole England team back to pavilion for just 120 runs.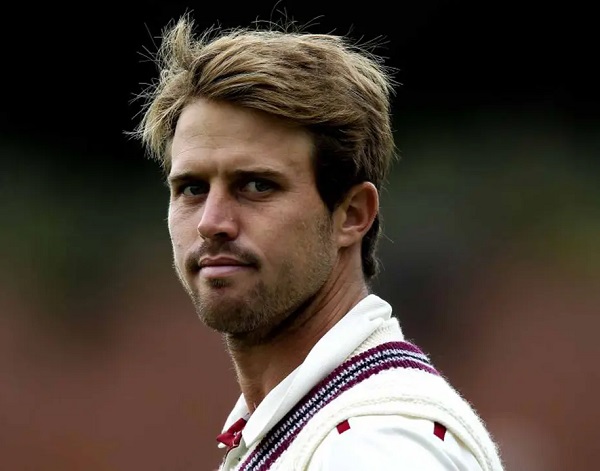 After couple of days of India's win, a former England cricketer slammed the Indian skipper and also claimed that he was abused in a big manner in the England tour of India in 2012. We are talking about Nick Compton who called Virat Kohli the most foul-mouthed individual and also referred to Sachin Tendulkar, Kane Williamson, Joe Root, etc. as cool and calm players.
Nick Compton's took to Twitter and wrote, "Isn't Kohli the most foul-mouthed individual? I'll never forget the barrage of abuse I received in 2012 when the swearing 🤬 stunned me to the point that he did himself a serious disservice. It highlights what a level headed and grounded man Root, Tendulkar, Williamson et al are".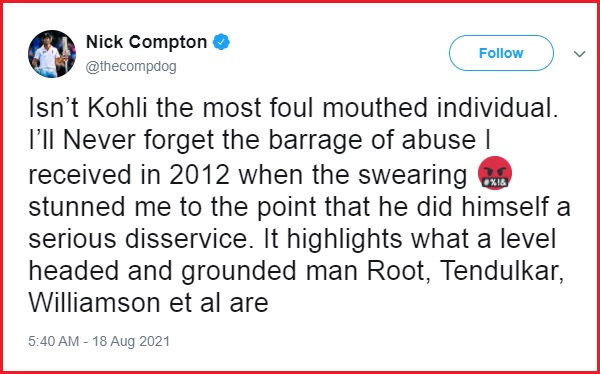 Soon Nick Compton got slammed by the Indian fans and Nick Compton's tweet is not available at the moment. Well, we don't think that Virat Kohli even cares about what Compton has alleged against him. What do you say?
Share Your Views In Comments Below