Bollywood & TV
No Entry Sequel To Have Sci-Fi Theme, 3 Actors & 9 Actresses From 'Multiverse', Twitter Reacts
The trend of making sequels of successful movies has become quite popular for some time now. Filmmakers like to make sequels because the chances of success are pretty high in comparison to movies made on new concepts and the actors are also ready to be a part of the sequels as they not only get more work but the success of the flick will further increase their credibility in the industry.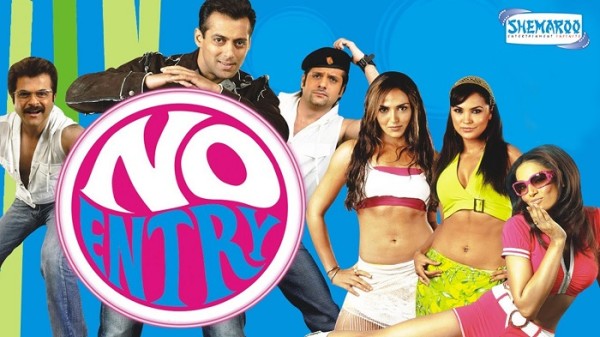 "No Entry", the 2005 released movie which was directed by Anees Bazmee was a big hit on the box-office and now the makers are planning to come up with its sequel which will probably be titled as "No Entry Mein Entry". The first movie starred Salman Khan, Anil Kapoor, Fardeen Khan, Lara Dutta, Esha Deol, Celina Jaitley, Bipasha Basu, etc. in important roles but if we go by the reports, the sequel is going to be something that we can't even imagine in the first place.
The sequel will be based on the sci-fi theme and the three lead actors will be playing triple roles, each character will be from different timeline and there will be nine actresses who will play female leads in the flick.
With this concept, it is kind of obvious that there will be no space for logic in the movie and as people came to know about it, they flooded the micro-blogging site Twitter with jokes and hilarious reactions. Check out some of the selected ones:
#1
The Multiverse of Madness we deserve 🌶🌶🌶 https://t.co/Y2lqrh9IBR

— LackOfFucks (@Cantonaesque) December 1, 2021
#2
Salman Khan into the Salmanverse https://t.co/3BUGWo53R0

— Chaitanya Ramji (@Chaitanya_Ramji) December 2, 2021
#3
Well my personal opinion about no entry sequel is that it should have been made in 2011-12 around. Salman was at peak prime in look to play that playboyish, macho role of Prem.

— عبدالکریم (@RecklessSinner_) November 26, 2021
#4
Salman Khan into the Salmanverse https://t.co/3BUGWo53R0

— Chaitanya Ramji (@Chaitanya_Ramji) December 2, 2021
#5
Bazmee-verse is here.

— Abbas Momin (@AbbasMomin) December 1, 2021
#6
I never boycotted anything on Twitter. But I'll boycott this movie for sure 🥲

— Reshma🌻 (@Chai_Coffee_etc) December 1, 2021
#7
Sal-Man: Into the Bhai-Verse https://t.co/YWDfumr0Jy

— Sayantan Ghosh (@sayantansunnyg) December 1, 2021
#8
Bhai ka multiverse imagine karke bhi dar lgta. Upar se director remo ya prabhu deva nikla toh. Deva re deva 🤐

— sarcastic Assamese (@sarcasticassame) December 1, 2021
#9
— Huncho Nacho (@hunchonacho_) December 1, 2021
The trend of sequels is going to stay here for long and hopefully we will get to see some good movies, although we can't deny the essential fact that mostly the sequels have been less intriguing and disappointing. Agree?