Humour
No More Nagin Dance? Indian Fans Trolled Bangladesh After Winning Final. Tweets Will Make You Laugh
It's a celebration time for Indian fans as our cricketers have won Nidahas Trophy by defeating Bangladesh by 4 wickets in the final match which took place yesterday.
A major credit for the same goes to Dinesh Karthik who hit a six off last ball due to which India won the match.
Who can forget that Bangladeshi players celebrated their victory over Sri Lanka on Friday by doing Nagin dance? They were later trolled for the same and even Indian cricketer Harbhajan Singh dedicated a Bichuu dance to them after this. If this was not enough, Sunil Gavaskar was also seen doing Nagin dance yesterday in the commentary box.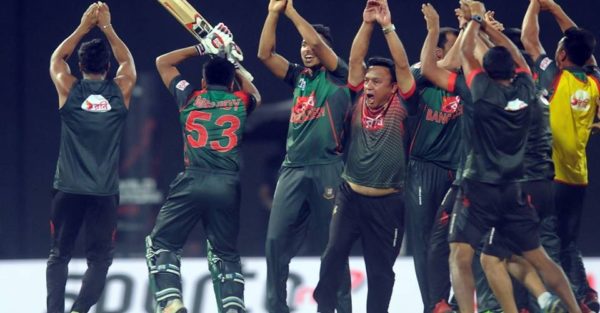 Well, since India won the final match by chasing the target of 167 runs and took the trophy home, Bangladeshi cricketers couldn't get the opportunity to do Nagin dance in the final.
As an intense rivalry has been witnessed between both the countries in terms of cricket, Indian fans didn't miss the chance to troll Bangladeshi players for not doing Nagin dance this time. Here are some selected tweets:
Tumse na ho payega:
*1 ball 5 to win*
Mushfiqur: I am ready for my naagin dance.
Dinesh Karthik: pic.twitter.com/nTcNGvNZ1e

— Awais Khan 🇮🇳 (@awaisarcasm) March 18, 2018
Hilariously true 😀
Let's give credit where it's due. Their nagin dance is much better than their cricket!😬 #INDvBAN pic.twitter.com/WR2z0XpvMt

— LOKESH (@ER_LOKESH1997) March 18, 2018
The loss of Bangladesh is their punishment for introducing Nagin dance 🐍 as a celebration #INDvsBAN #DineshKarthik

— Mr Natwarlal (@MrNatwarlal79) March 18, 2018
LOL 😀
Go there & Enjoy your 3rd Class Nagin Dance #INDvBAN pic.twitter.com/9bgcg9DuCp

— Arnab Goswami (@ArnabGosvvami) March 18, 2018
Nagin dance is good for marriages only 😀
Yesterday's game was fabulous. DK made two countries happy. And this shows that Nagin Dance is good for only shadi.. @RanveerOfficial #DKarthik

— Mukul Bharadwaj (@MukulBharadwaj3) March 19, 2018
Here's the final step of Nagin dance 😉
Final step of Nagin Dance. pic.twitter.com/15qngHKR2P

— Swagshank (@zZoker) March 18, 2018
We have copyright of Nagin dance:
Copyright of nagin dance is with Bharat, not Bangladesh. Congratulations!#INDvBAN

— Prashant P. Umrao (@ippatel) March 18, 2018
Epic:
At the end of the day, Bharatanatyam beats the Naagin dance.

DeeeKayyyy! #IndvBan #NidahasTrophy2018

— Aishu Haridas (@imaishu_) March 18, 2018
#INDvBAN #DineshKarthik no more nagin now
pic.twitter.com/xXPgDg5ByN

— SAN SEERVI (@sandeep_seervi) March 18, 2018
What a match 🔥🔥 Enga snake babuva kanum 😹😹😹😹😹😹 Lets do the nagin dance 🐍🐍🐍🐍🕺🏻🥁🥁 #INDvBAN 🇮🇳🇮🇳🇮🇳🇮🇳🇮🇳🇮🇳
GOD #DineshKarthik 🙌🙌🎊☄️ pic.twitter.com/mz6LWaVLcO

— Princy 🦋 (@Princy2weets) March 18, 2018
Anyone?
Finally back to earth. "Nagin dance anyone"? #INDvBAN pic.twitter.com/oZFAR1zDM0

— Ali. (@AliHa1der) March 18, 2018
Nagin dance Nagin dance….
All the Indian fans, don't miss the chance, Nagin dance, Nagin dance, Nagin dance, Nagin dance…

— Srijit Mukherji (@srijitspeaketh) March 18, 2018
What do you have to say about their Nagin dance?
Share Your Views In Comments Below