News
Pakistan Couple Uses Sedated Lion Cub As Prop For Wedding Photoshoot, Gets Highly Slammed
We humans have ashamed humanity on many instances by committing a number of crimes but what is more worrisome is the fact that we have been targeting the innocent animals as well. First we usurped their habitat by taking our cities in their forests and then we abduct them and made them do tricks for our entertainment or keep them in zoos so that public can go and have a good look at them.
As per the reports, a Pakistani couple from Lahore has been facing the wrath of everyone after they used a sedated lion cub for their wedding photoshoot. During the photoshoot, the lion cub was seen in a sleepy mode while the couple got clicked in different poses.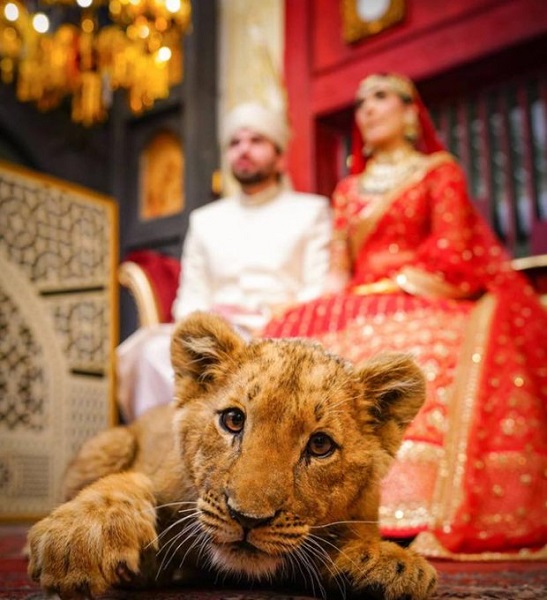 Various Pakistani non-profit organizations which work for animal welfare have criticised the incident on the social media networks. JFK Animal Rescue and Shelter has not only made a post on its Instagram account but is also thinking of taking legal action against the studio in which the photoshoot was done.
The founder of JFK Animal Rescue and Shelter told a leading daily that the management of the studio is saying the lion cub was brought to the studio by a friend and it's just plain coincidence that the shoot was going on at that time so they thought of using the cub for photoshoot.
The name of the studio which carried out the photoshoot is Studio Afzal and they also posted the clips on their Instagram stories under the hashtag #SherDiRani (Lion Queen). However, they deleted the clips after people started slamming them for being cruel towards the lion cub.
Another animal rights and welfare organization "Save The Wild" also took to micro-blogging site Twitter and posted a video of the photoshoot with caption, "@PunjabWildlife does your permit allow for a lion cub to be rented out for ceremonies? Look at this poor cub sedated and being used as a prop. This studio is in Lahore where this cub is being kept. Rescue him please".
@PunjabWildlife does your permit allow for a lion cub to be rented out for ceremonies?Look at this poor cub sedated and being used as a prop.This studio is in Lahore where this cub is being kept.Rescue him please pic.twitter.com/fMcqZnoRMd

— save the wild (@wildpakistan) March 7, 2021
Soon Twitter was flooded with reactions in which people expressed their anger on such incidents. Here are some of the selected tweets:
#1
I need details of this #animalcruelty
Where did it take place
Who are bride and grooms
Who was the wedding photographer
Most importantly who provided this Lion cub,
We need to expose this underground Mafia breed Lions in captivity#endcaptivity@wildpakistan pic.twitter.com/NiyuGbtMeQ

— Syed Hasnain Raza (@hasnain_sunny) March 7, 2021
#2
Sedated Lion Used as a prop on stage for wedding photography of this couple. Here's a post from Pakistan on World Wild Life day 2021. Seperated from mother, stolen and sold, used as a prop. Is this a new way of showing off wealth? pic.twitter.com/hUPoqmkibQ

— Asif Mehmood (@AsifVloger) March 7, 2021
#3
The couple would say , "it's the photographer who used it, we had no say , we just followed the instructions " …. they will put the blame on the photographer , and he/she would say " it's our beloved pet , part of our family, we love it to core " blah blah

— sheems (@sheems20) March 8, 2021
#4
Apparently, abuse of Wildlife is rampant in Pakistan. One aspect is wild animals as pets, props, food, sport…https://t.co/ena2QUc432

— Amit Chaudhery, (Dr.) (@powerofmouse) March 15, 2021
#5
What's wrong with people, a sedated Lion Cub as "prop" the couple starting a new life & the studio who did that should be ashamed, it's about time @GovtofPunjabPK must rethink their "captive breeding" policy, from political rallies to wedding shoots, animals as Props, it's sick

— Faisal Amin Khan (@FaisalAminKhan) March 8, 2021
#6
Sedated lion cub used as a "Prop"?
Forget about basic animal right, we can't even respect animals for the fact that they are living beings.After using almost every exotic animal as a prop for photoshoots,now people have moved towards lion cubs?Agar ameeri esi hay mein gareeb thek pic.twitter.com/boy4n5RFgB

— I STAN SALMAN BHAI (@_noushay_) March 8, 2021
#7
Disgusting and most vulgar way of showing off wealth by the Hochas and Shodas from New & Old money both.

— TerracottaWarrior (@SyedKhawarmehdi) March 7, 2021
#8
So cruel! What happens to them when they are no longer cubs? I hope you expose these people! 👍

— Sue (@Sue13800241) March 7, 2021
#9
Not a day goes by when i don't witness such sheer buffoonery

— ChaiNotCoffee (@ChaiNotCoffee) March 7, 2021
Such incidents of animal cruelty should stop soon and the culprits should be punished strictly.
Share Your Views In Comments Below