News
Pakistani Men Retaliated To Women's March By Conducting A 'Mard March'. Gets Trolled Instead.
We are living in the 21st century, where women can vote, women can work, got the freedom of speech and maybe significantly though, got a whole day dedicated to them, that too internationally. Now, we should be aware of the fact that, there are places rather countries which just don't know how to maintain the phrase called gender equality.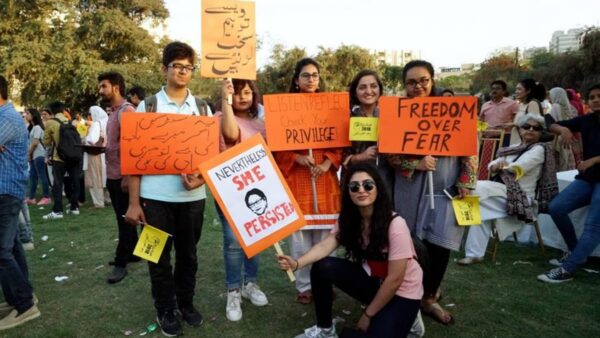 And significantly enough, here lies our neighboring country Pakistan, where gender inequality and oppression of women continued to rise and boast itself as a persistent issue of concern for many, mostly women.
Pleasure meeting some organizers of #AuratMarch. Women reclaiming social, political & public spaces important for progress. Bigoted, misogynistic & vitriolic reaction of some is expected in a patriarchal society. Women's rights are human rights & human rights are women's rights. pic.twitter.com/KSeRj6CMNe

— BilawalBhuttoZardari (@BBhuttoZardari) March 16, 2019
On the International Women's Day, women in Pakistan organized The Aurat Azadi March, where they demanded their equal participation in every sphere, socially and personally too. When, this bold march towards freedom was applauded by many, a large section of the society who loves calling themselves the patriarchal orthodoxy, objected to the slogans and placards in use, stating them as simply vulgar.
Soon, after this furore created by the Woman's march, came in a 'Mard March', a very conscious effort to debunk the very notion of equality. This was their very own misogynistic reply towards the women, who was on the streets that day.
Many pictures were posted on a Facebook page called FHM Pakistan, on March 11, where you will get to witness the real picture of regression in a country, where gender-quality metrics is very low.
1.
2.
3.
4.
5.
6.
7.
8.
Here are some of the instances, where Twitter users, mostly based in Pakistan reacted to the retaliation, Mard March, where they so called demanded equal rights too.
#1
Those who were bashing Aurat March yesterday, for demanding rights and raising the issues that they gave daily. In their DM's and homes. Kindly check "mard march" and you'll yourself see how far men can go Just to satisfy their ego's with irrelevant and unnecessary shit

— 🐾 (@AhsanDot10_) March 11, 2019
#2
This is not Mard March, this is Shadeed Qisam ka Dard march.

Itna Dard Kiu?

— Farrukh Abbas (@Farrukh_Abbas12) March 11, 2019
#3
Yeah more power to you boyss 💪there is no badtameezi in #MardMarch like #AuratAzadiMarch2019 was full of badtameezi no respect for, fathers brothers ! no respect even for women! Aurat Azaadi March was all about hatred for men ! feminist tries to spread hate nothing else pic.twitter.com/jxGzeaFKTA

— Mariam Jamali 🇵🇰 (@Mariam_Jamali) March 11, 2019
#4
Incredible scenes from #MardMarch today pic.twitter.com/8QGZuHJhUp

— Urooj عروج (@Farmwaali) March 23, 2019
#5
finding out the #mardmarch account was for satire was the best thing that happened today

— Mishaal Afzal (@mishaaalaf) March 23, 2019
#6
Oof @Shehzad89 for President😛. Men never fail to disappoint though.. most of them will go each mile, out of the way to criticise anything and everything posing the slightest of threats to their fragile egos, mentality and masculinity. #AuratMarch #MardMarch https://t.co/CWpEkhcjf4

— Asad Ur Rehman (@Asadrehman99Ur) March 23, 2019
#7
#Lahore This is why we don"t need #mardmarch Domestic abuse is an oft ignored & accepted part of pakistan society at this point.women suffer at the hands of their brother fathers & a lot of times ,their husband.#AuratMarch2019 #ProgressingPakistan #PTI #CaravanOfCorruption pic.twitter.com/uVOUMGBHj7

— AYESHA KHAN (@Ashkhan0345) March 27, 2019
#8
#MardMarch tou banti hai https://t.co/qVPSmnNRxT

— Maham (@mahamfchaudhary) March 25, 2019
So, what is your opinion on this?
Share Your Views In Comments Below