Fashion
Pants Made From Aaloo Ka Bora Makes Twitter Go WTF, People Say "2020 Hai, Kuch Bhi Ho Sakta Hai"
The fashion trends keep on changing at regular intervals as the designers are always ready to show their creativity and provide their customers with new styles of dresses. While some people follow the fashion trends as they are quite conscious of their image and want to remain updated with the newest trends, there are many who choose comfort over fashion.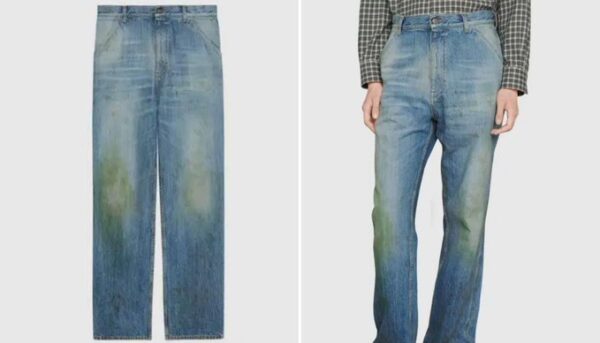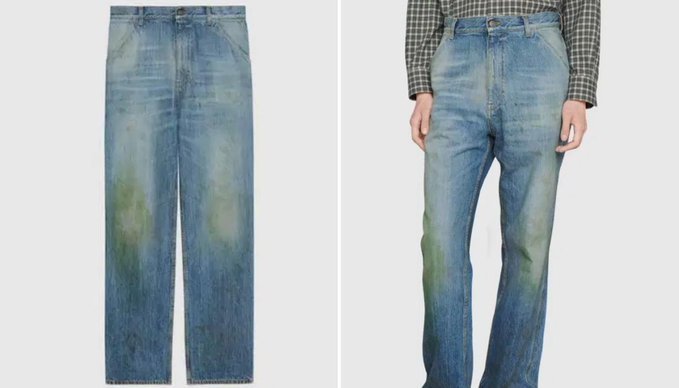 It won't be wrong to say that the clothing companies are always coming up with beautiful dresses for their customers but in recent times, few clothing firms have launched some really weird outfits; for example, some time ago, a leading clothing brand launched denim jeans and overalls with fake grass stains and what surprised everyone more was the prices of these clothes. The denim jeans with grass stains were priced around Rs. 56,000 while the overalls were priced around Rs. 1,00,000. The online users slammed the manufacturers for launching bizarre dresses and some of them joked that they used to get such stains on their dresses while playing in the sports field during their childhood.
Recently, a Twitter user shared a photo of a pair of trousers which has been manufactured using a jute bag that is used for filling vegetables, wheat, rice, etc.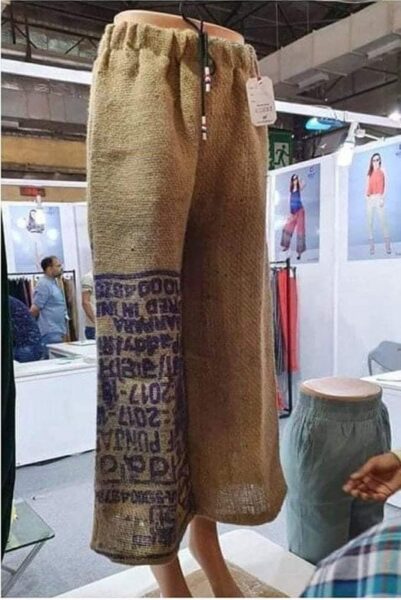 Here is the tweet in which you can see the pair of trousers:
Okay 😐 pic.twitter.com/6WOMLwPLMd

— Arun Bothra (@arunbothra) November 24, 2020
Another user shared a photo which showed the backside of the trousers and it gave enough fodder to Twitterati. Soon, the micro-blogging site was flooded with jokes and memes as people started expressing their opinion and you just can't miss these reactions:
#1
माँ ना देख ले।

दो चार तो ऐसी चीनी की पुरानी बोरियों से सील ही देगी 😄

— Parveen Kaswan, IFS (@ParveenKaswan) November 24, 2020
#2
Hello everyone… pic.twitter.com/QdVD7JFROp

— Mr. (@NotThatGogol) November 24, 2020
#3
बस फ़ैशन के नाम पर यही बाक़ी था

— Dr Gulrez Sheikh (@drsheikhRSS) November 25, 2020
#4
2020 keeps getting interesting. https://t.co/G4xERqEFHq

— TheLastMogul (@sohaylrahim) November 25, 2020
#5
Not okay, sir, NADA.
iske 👇🏻bina NADA kese complete hoga.😂 pic.twitter.com/uDwzXiYi1G

— Arun Kumar Agasti (@arunagasti) November 24, 2020
#6
Zabardast itching honewali hai. https://t.co/CPeU5OWGku

— Sameer Husain (@SameerHusain1) November 25, 2020
#7
— Kiran Kumar Madan (@kirankrmadan) November 25, 2020
#8
— Ashutosh Rajpoot (@ashu7r) November 24, 2020
#9
Organic extra virgin handmade jute comfy palazzo. MRP 10,000 our price Rs. 9,999 https://t.co/hW5x7b0sHn

— shashank (@fcsshashank) November 25, 2020
#10
लगता है ये खासतौर पर रणवीर सिंह, दीपिका पादुकोण के लिए डिजाइन की गयी है

— Madan Ojha (@themadanojha) November 24, 2020
#11
इसके बारे में क्या कहोगे सर जी ? 😆😆 pic.twitter.com/PnSZnubLts

— RUBAL ATWAL 🇮🇳 (@iRubalAtwal) November 24, 2020
#12
If my mom sees this ,
She will say , Naya fashion hai yeh b pehen k Dekh le.😨

My mom shouldn't see this.Kaun darzi kiya yeh ? 😒😒 https://t.co/keFEPbNy4T

— Radio Wali Ladki ❤️🎼🎶🎵 (@RadioLadki) November 25, 2020
#13
…another reason to not to venture out into the malls for shopping clothes !! Stay safe at home 😂

— Wg Cdr Gitika (R) 🇮🇳 (@gitika9) November 24, 2020
#14
इतना भी आत्मनिर्भर नही बनना है कि
हर घर में उत्पादन होने लगे ..😝

— RayMal Rao (@RaoRaymal) November 24, 2020
#15
ऐसी बोरिया बाहर बहुत फेंक दी हमने नुकसान हो गया करोड़ों का

— विद्रोही (@vidrohi33) November 25, 2020
Will you dare to try this pair of pants?
Share Your Views In Comments Below