News
Para-Athlete Forced To Beg On Streets After MP Govt Didn't Give Him A Job. Twitter Slammed Govt
Sports and sportspersons have never been given the importance that they deserve in India so expecting our state governments to take care of our para-athletes is too much to ask, agree?
The insensitive attitude of Madhya Pradesh government has come into limelight after a 28 years old disabled athlete was found begging in the city of Bhopal as he didn't get a government job despite repeated promises.
Madhya Pradesh: Manmohan Singh Lodhi, a National-level para-sprinter from Narsinghpur, says he has started begging on the streets of Bhopal since the state govt is not fulfilling the promises of a government job among others made to him, after he won medals on national level pic.twitter.com/0MjUz7P9jg

— ANI (@ANI) September 2, 2018
Manmohan Singh Lodhi, who lost his right hand 10 years ago, won a silver medal in the 100m-run at Special Olympic Bharat 2017 that took place in Ahmedabad.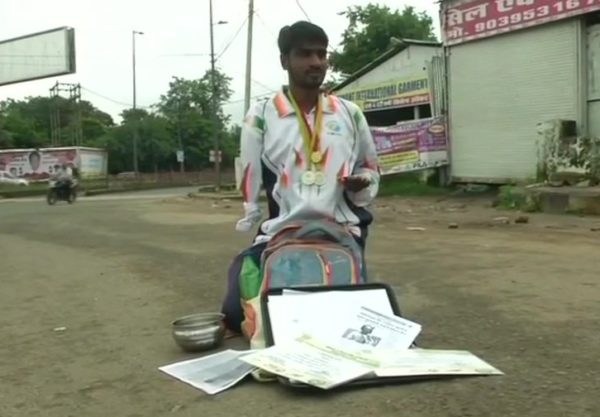 He told that he met Chief Minister Shivraj Singh Chouhan four times and the CM promised him a government job but he received neither a written letter nor any monetary assistance.
I have met Chief Minister four times, he made promises but didn't fulfil any of them. I am financially weak. I need money to play & also to run my family. If CM doesn't help me, I will earn my livelihood by begging on the streets: Para-athlete Manmohan Singh Lodhi pic.twitter.com/zVflxTOJy5

— ANI (@ANI) September 2, 2018
As per him, the CM issued directions to the officials in this regard but nothing has happened since then and he is living in a night shelter home.
Para-athlete Manmohan Singh Lodhi forced to beg on Bhopal streets#Shameful pic.twitter.com/v9gwQnNHQp

— Arun Yadav (@MPArunYadav) September 3, 2018
The officials of MP sports department said that as of now, there is no policy for helping such athletes so this matter falls under the scope of social justice department.
The social media is abuzz with reactions on this matter and the MP government has been slammed mercilessly. Check out some selected tweets:
#1
Vyapam mama migh b busy busy in election ki tayari.

— Always Attitude (@always_attitude) September 2, 2018
#2
@Ra_THORe Credit is mine and something wrong that is yours. Hope you apologize for this.

— Jagdish Chandra (@JagdishCB) September 2, 2018
#3
Shame on Modi BJP and RSS

— SHAM SUNDAR (@samadhamad185) September 2, 2018
#4
Desh ka player ka kya hal hai aaj india ma, aaj tak aapna kisi Neta ko bhek Mangta nhi dekha hoga.

— Hansraj (@Hansraj_Lampuwa) September 2, 2018
#5
where is Uma Bharati, she belong to same community.why she do not takecare of even her own community, due to which she become tall leader in country

— pavan (@pavan33519529) September 3, 2018
#6
This is real Shame. We have failed to help our sportsmen, first with pathetic infrastructure, when they succeed we make promises after that we forget them. Real Disgrace.

— SAAAPIOSEXUAL (@SopioSEXUAL) September 2, 2018
#7
@ChouhanShivraj जी के राज में सिर्फ नेताओं की सुनी जाती है, आम आदमी की नहीं
आम आदमी की पहचान चुनाव के एक महीने पहले तक ही है, चुनाव के बाद नहीं।

— ChandaN Vishwakarma (@chandanAAPMP) September 2, 2018
#8
मामा का रामराज्य,भाजपाई जुमलेबाजों ने खिलाड़ियों को भी ठग लिया।😒

— Sapna Choudhary (@SapnaChInc01) September 2, 2018
#9
Sarm kijiye Shivraj ji….aaj koi cricketer World Cup jeet lega toh crore Ki bat krenge…..aaj apke Milne pe v help nhi mil raha….3 months wait Kr lijiye janta hi help kregi apki

— Prince Gupta (@PrinceG49599279) September 2, 2018
#10
Dear Voters of Madhya Pradesh don't u feel ashamed that u r repeating such shameless n Jumla Govt from last 15 yrs BJP believes they r unbeatable it's time for change n Bhakts still will u all keep ur eyes closed n keep chanting Modi Modi Modi Modi Modi Modi Modi Modi Modi Modi

— Kishan56 (@Kishan561) September 2, 2018
#11
Para-athlete Manmohan Singh Lodhi had met Madhya Pradesh Chief Minister @ChouhanShivraj, who had promised him a government job 4 times, but it never materialised. The national Champ is forced to beg now. What a shame @Ra_THORe. https://t.co/Joh6YrqzBy @HarshKapoor_ @AnilKapoor

— Dr Satendra Singh, MD (@drsitu) September 4, 2018
What do you have to say in this connection? What should Manmohan Singh Lodhi do now according to you? Let us know your views.
Share Your Views In Comments Below