Entertainment
Paragliding Guy Is Now On News Channel & He Tells What Exactly Happened That Day
We wish to explore our beautiful nation by air, road, train and by every possible way to witness the natural beauty. Each one of us, at least for once wish to paraglide or sky dive. Even Sahu wished to see the beauty of nature while paragliding but what happened next is insane.
Recently a hilarious video went viral of a man Paragliding and abusive himself for taking this decision. The video covers his hell of a ride from starting where he is happy and seems to enjoy to the end where he cursed himself and remembering his whole family.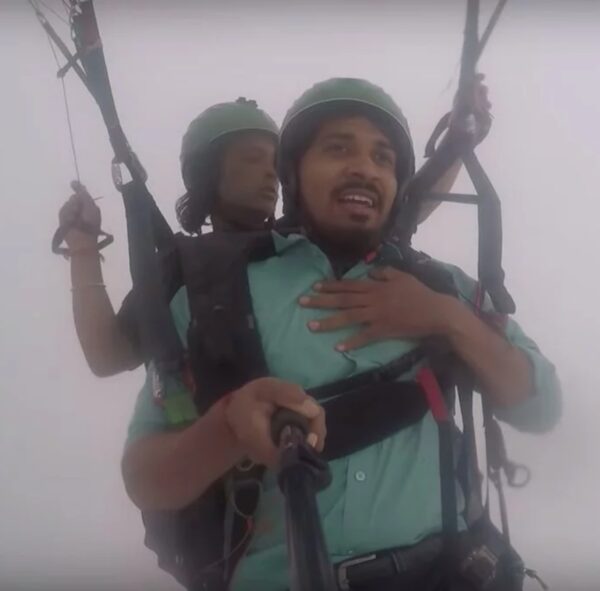 At first, he shows the sky and beautiful cloud around him, with 'aasmaan ki unchaaiyon mein' and gradually he starts screaming and calling his mother and cursing himself with 'main madarch*d hoon jo yahaan aaya'.
Vipin Sahu became an overnight internet sensation with his 'Land Kara De' paragliding video. Vipin expressed his paragliding emotions during an interview with a renowned news channel, he said, My excitement was at the peak till the time we were in the air it felt good, but when we're coming down that was a different expereince which is visible in the video.
Sahu said, my younger brother is the one behind making me viral. I didn't want anyone to watch that video ever but my brother uploded it on his youtube channel without even asking me.
Sahu a tile shop owner further said, I felt good after reading the messages of the netizens, that they had a good laugh after watching the video. A woman messaged him that she was having a fight with her husband, but after watching the video both laughed out loud after a long time.

The Paragliding guy said, the video was from his Manali trip in July this year and he couldn't make himself seat properly in the harness that's why he panicked the most and wanted to land. The glider also panicked cause he was shouting.
Vipin shared his next big desire, that after paragliding, now he wants to do skydiving!
You go boy, we'll wait for your skydiving video too!
Share Your Views In Comments Below