Politics
Paresh Rawal Posts A Hilarious 'Didi-Modi' Equation On Twitter, Netizens Cannot Stop Laughing
The war between the Centre and Bengal's CM Mamata Banerjee is clearly not over, and in fact, netizens cannot seem to get over it either. Mamata Banerjee may have called off her dharna, but she plans to take it to Delhi.
On Feb 3rd, Mamata Banerjee launched a direct attack on the Modi government, with an agenda to save India, to save democracy and to uphold the values and ideals of the Indian Constitution.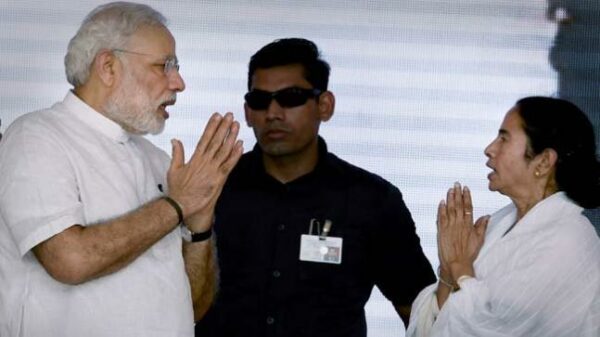 Recently, Paresh Rawal felt that he could make lighten the air with a hilarious joke. He posted a tweet, which contained an equation. The equation finally derived that Modi and Didi were the same.
हिसाब बराबर …! pic.twitter.com/kYiUe0wKDh

— Paresh Rawal (@SirPareshRawal) February 6, 2019
But, Twitterati did not seem to be pleased about it. This is how people reacted to it:
#1
नहीं.. हिसाब अब बराबर..https://t.co/OnMllcSjhj pic.twitter.com/Ss10pmc7yQ

— Rofl Don™ (@EpicRoflDon) February 6, 2019
#2
तो ले pic.twitter.com/FPZRImg0n3

— Rajput Boy Uttam™ 2K (@usrajput3) February 7, 2019
#3
— Ghanshyam shahi (@iamGhashyam) February 6, 2019
#4
Ye kaise shauk pal rakhe hain Modi ji ne 🙈

— Gautam Trivedi (@KaptanHindustan) February 7, 2019
#5
How's khauf pic.twitter.com/zSUqLY97Na

— Straight Drive⬆️ (@CPoothi) February 6, 2019
#6
काश आप किसी से थोड़ा गणित सिख लेते….! pic.twitter.com/d9H0WjLJih

— Janbaaz Khan । जांबाज़ खान । جانباز خان احمدآبادی (@SirRavishTweets) February 6, 2019
What do you have to say about this?
Share Your Views In Comments Below