Bollywood & TV
Paresh Rawal's Fan Made CV Of Hera Pheri's Baburao & It Is So Good That Even Actor Shared It
Needless to say, the classic comedy "Here Pheri" is one of the best movies to watch if you want to lighten up your mood and no matter how many times you have watched it, you just can't resist or dare to change the channel whenever it's aired on TV.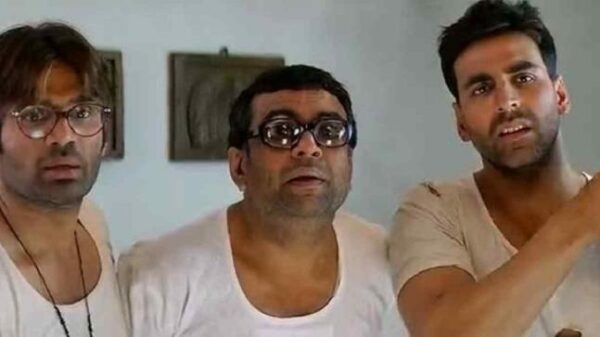 The flick starred Akshay Kumar, Suniel Shetty, Paresh Rawal and Tabu in the lead roles and its second part entitled "Phir Hera Pheri" was also a big hit so it's quite natural for fans to eagerly wait for the third installment of the franchise. If reports are to be believed, the final part will certainly be made but there are some points which need to be discussed before the shooting starts.
The characters and dialogues of the movie were also loved by audiences and it won't be incorrect to say that the character of Baburao Ganpatrao Apte portrayed by Paresh Rawal has a separate fan base. Paresh Rawal is an immaculate actor and he left no stone unturned in making this character immortal. The dialogues of Baburao were also loved by movie buffs and he has become a great meme material for meme makers too.
One such fan of Baburao came up with a great idea and prepared the curriculum vitae of the character. First of all, take a look at the CV: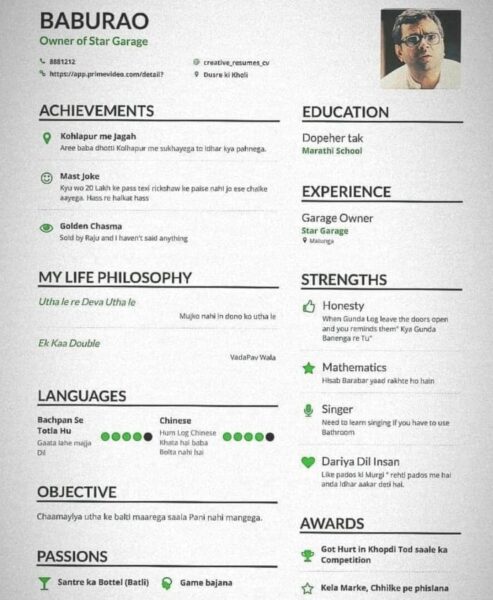 A Twitter user @abhash_agrawal shared it on the micro-blogging site:
@SirPareshRawal Baburao Ganpant rao aapte🙏 pic.twitter.com/EutojVziIe

— abhash agrawal (@abhash_agrawal) July 30, 2020
The CV is so apt that Paresh Rawal also retweeted it with caption, "Ha ha hA Thanks Abhas for Babu Bhaiya's Aadhar Card !"
Here is the tweet:
Ha ha hA Thanks Abhas for Babu Bhaiya s Aadhar Card ! https://t.co/07MAN2p7Hw

— Paresh Rawal (@SirPareshRawal) July 30, 2020
Twitter users also loved the creativity and reactions started pouring in soon. Check out some of the selected tweets:
#1
Achievement Mili Hai To… pic.twitter.com/Lfao58ZcGi

— @nusta_khachchak_1198 (@Asadsyed00) August 1, 2020
#2
Adhar nhi hia re baba.. CV hai 😜

— Anupam pandey (@Anupam444) July 30, 2020
#3
अब इसको पैन कार्ड से लिंक करवा लो, क्या मस्त जोके मारा😂😂😂😂🤣🤣🤣🤣🤣🤣

— alexriley (@alexriley121212) July 31, 2020
#4
@SirPareshRawal Raju be like 👇 pic.twitter.com/TwJFJp4Cvr

— Soumyak Bhattacherjee (@SoumyakBhattac2) July 30, 2020
#5
Utha le rhe baba….Mereko nahi re is post ko aur upar utha de

— Rajat Shukla (@Iamrajat11) July 30, 2020
#6
You are legend in comedy sir

— BISHWAJEET SINGH (@bishwajeet02) July 30, 2020
#7
One you forget pic.twitter.com/v6lz38JQfT

— Nitish Sharma (@Nitish___Sharma) July 30, 2020
#8
most iconic character of comedy film in indian cinema…. u are best

— अविनाश सिंह (@abhi_avinash07) July 30, 2020
#9
Best resume I ever seen.!😂😂😂 BabuRao.@SirPareshRawal #PhirHeraPheri pic.twitter.com/lXGjQ9tsec

— Harshit Goyal (@_hershey2) July 31, 2020
As far as the third part is concerned, earlier Abhishek Bachchan and John Abraham were signed as Akshay Kumar and Suniel Shetty refused to be a part of "Hera Pheri 3". However, now Akshay and Suniel are back and hopefully we will get to know about the making of the movie soon.
How did you find the CV? Would you like to add some points to it?