Extras
Passenger Forgot Wallet In Cab! What Cab Driver Did Restores Our Faith In Humanity & Honesty!
These days, we keep hearing emotional stories of cab drivers; they work really hard to meet their basic needs and support their families. Sometimes, we also come across honest and responsible cab drivers, who put in 100 percent in their work, and at such times, we can't stop ourselves from appreciating them.
One such story from Pakistan is going viral on the internet and is winning hearts of everyone. Well, the cab driver named Asif proved that honesty and kindness still exists on this planet.
Haroon Shahid from Lahore booked Asif's cab through a cab app; on his way, Shahid learnt that Asif's son was suffering from leukemia, which is why he was working hard to collect money for his treatment.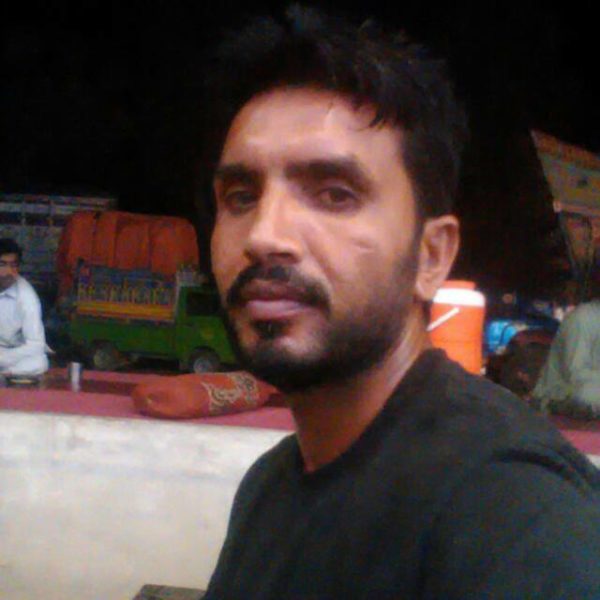 The ride ended, but unfortunately, Shahid forgot his wallet in the cab itself; also, his phone battery was dead by then, due to which, getting in touch with Asif was not possible. Asif tried calling him but in vain; after that, he dropped him a message on WhatsApp along with the location of his house. Shahid contacted him and went to collect his wallet.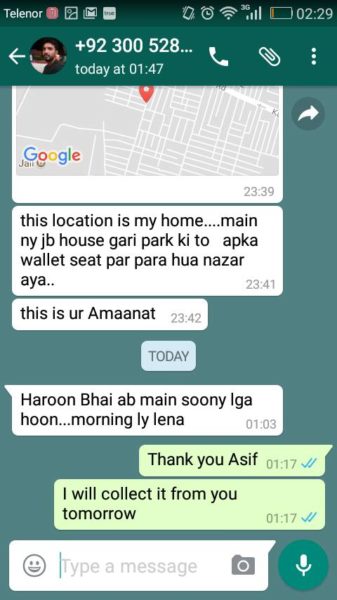 Shahid was overwhelmed with Asif's honesty; he promised that he will do as much as he can for his son's treatment. He shared this heartwarming incident on FB;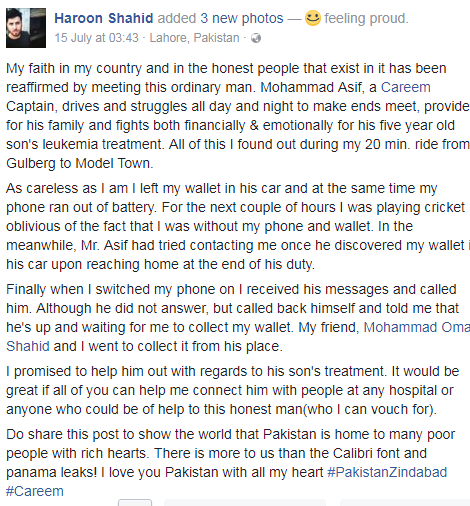 Click here to check the post directly on Facebook.
The post read,
"My faith in my country and in the honest people that exist in it has been reaffirmed by meeting this ordinary man. Mohammad Asif, a Careem Captain, drives and struggles all day and night to make ends meet, provide for his family and fights both financially & emotionally for his five year old son's leukemia treatment. All of this I found out during my 20 min. ride from Gulberg to Model Town.
As careless as I am I left my wallet in his car and at the same time my phone ran out of battery. For the next couple of hours I was playing cricket oblivious of the fact that I was without my phone and wallet. In the meanwhile, Mr. Asif had tried contacting me once he discovered my wallet in his car upon reaching home at the end of his duty.
Finally when I switched my phone on I received his messages and called him. Although he did not answer, but called back himself and told me that he's up and waiting for me to collect my wallet. My friend, Mohammad Omar Shahid and I went to collect it from his place.
I promised to help him out with regards to his son's treatment. It would be great if all of you can help me connect him with people at any hospital or anyone who could be of help to this honest man(who I can vouch for).
Do share this post to show the world that Pakistan is home to many poor people with rich hearts. There is more to us than the Calibri font and panama leaks! I love you Pakistan with all my heart #PakistanZindabad #Careem"
The driver's honesty is surely worth an applaud, don't you think so? Such people are found very rarely.
Share Your Views In Comments Below