Sports
Pat Cummins Trolls Himself On Reaction to David Miller's Exit
A couple of days ago, a photo emerged of Pat Cummins, as he stared on in a sheepish manner while David Miller was dismissed off the field. And obviously, Cummins immediately became the subject of numerous trolls, with his team members chipping in.
Team spirit goals. Right?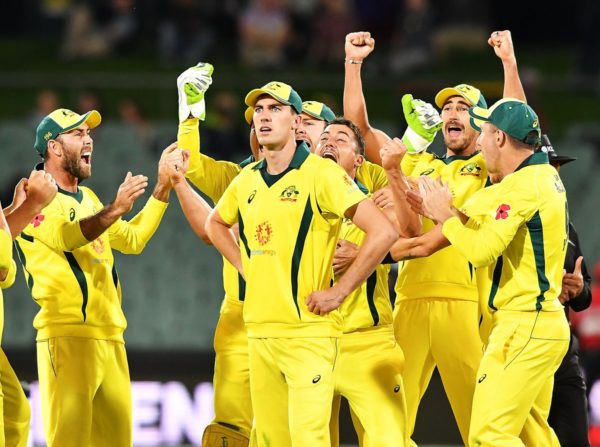 Cummins' reaction to the dismissal of David Miller is hilarious, to say the least. In the match against South Africa, Australia had requested a Decision Review System, which ended with the 3rd umpire ruling in favour of Australia. However, due to a glitch in the process, the ball tracking, which ended up sealing Miller's fate, was revealed first. Quite naturally, the Australian cricket team erupted in cheers and celebrations.
All except one.
Cummins kept staring at the screen and it was a few seconds before he realized what had happened. And as expected, his reaction fuelled a number of trolls, which he took in good spirit.
In a video posted by Direct Hit on Twitter, Cummins attempted to explain his reaction. He went on to say, "Anyway, I had no idea what was going on and then everyone else started celebrating."
Great win guys but… um… about that reaction @patcummins30 😂 pic.twitter.com/QtQQ0yoJOC

— Direct Hit (@directhitau) November 9, 2018
Moreover, Cummins sportingly accepted the trolls and even ended up trolling himself!
When you lose credit card Roulette at dinner… https://t.co/FR6GnCUJ2A

— Pat Cummins (@patcummins30) November 9, 2018

ref_src=twsrc%5Etfw%7Ctwcamp%5Etweetembed%7Ctwterm%5E1060879332858507265&ref_url=https%3A%2F%2Fwww.cricket.com.au%2Fnews%2Fpat-cummins-david-miller-wicket-marcus-stoinis-glenn-maxwell-direct-hit-australia-south-africa%2F2018-11-10%3Futm_campaign%3Dfullarticle%26utm_medium%3Dreferral%26utm_source%3Dinshorts%26fbclid%3DIwAR2rdmZEk1aNVcuACGCcDgTsmwjjjt9iZZ3DMHX40EwXcKfXi68dEwDIblc
He trolled himself by saying "When you lose credit card Roulette at dinner…"
All in good spirit, eh?
Share Your Views In Comments Below