Bollywood & TV
Pihu Makers Made Little Girl Call For Help. Twitter Users Slammed Them For Worst Promotion Strategy
The trailer of upcoming movie "Pihu" has been liked by several people while some were left a little disturbed. Talking about the trailer, it shows a 2 years old girl whose mother is in a non-responsive state and lying on the bed while the little girl is doing some risky things such as cooking on gas, getting inside refrigerator or leaning on balcony.
Watch The Trailer:
For More Videos, Subscribe Us Now
Click here to watch this video directly on YouTube
The flick is said to be based on a true story and the makers are leaving no stone unturned in promoting it but one of their strategy has backfired.
Some people got a call from an unknown number and heard a child crying on the other side of the line. The phone got disconnected and after some time, they received a link to "help the child" but when they clicked on the link, what they got to see was nothing else but the trailer of "Pihu".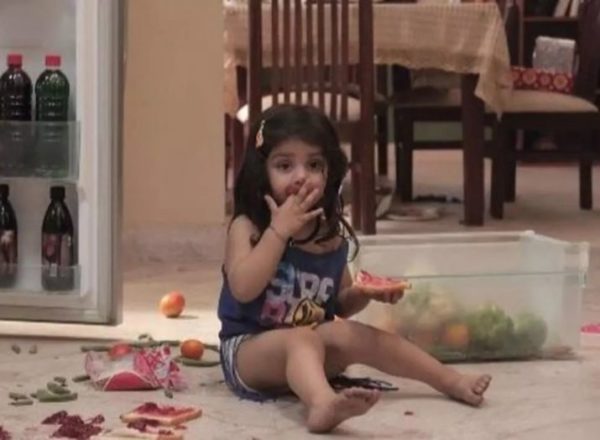 It shocked people as to how the makers can use such an absurd strategy for promoting their movie that can leave people disturbed and traumatized.
Social media users slammed the makers mercilessly for this poor marketing strategy. Here are some reactions:
#1
Got a call from an anonymous number. A baby wailed about her mother and dad, and hung up. Disturbed, I tried calling back in vain. Got a message with a link to help the child. A link, as it turns out, of #Pihu's trailer. A horrible idea, a disgusting invasion of privacy.

— Sudhir Srinivasan (@sudhirsrinivasn) October 26, 2018
#2
Jeez, the #Pihu trailer is nerve-wracking. Such a simple yet emotionally-investable storyline. Making prank phone calls about a child in danger to promote the #movie, however, is a dumb & insensitive marketing campaign. It's like punching people in the face to sell painkillers.

— christy bharath (@verseherder) October 27, 2018
#3
I'm not sure how cool is this promotional gimmick #Pihu pic.twitter.com/la85cofWW2

— Rashma Shetty Bali (@rashmashetty13) October 27, 2018
#4
Seriously pathetic. Whoever thought this would be a good marketing strategy?! Someone like me would go into actual Panic mode hearing a kid in distress.

— Pooja (@poojagaurav) October 27, 2018
#5
I loved the trailer of Pihu, but like calling people up from an unknown number as a part of a movie promotional strategy is fucking annoying. Especially when the phone call is of a baby crying for her parents. Movie marketing has reached absurd levels.

— Shreemi Verma (@shreemiverma) October 26, 2018
#6
Did I just get a call from a hysterical child called Pihu asking for help ???? And this is a film promotion? The no is 7024820657 totally disgusting. I am so traumatised

— Chuman Das (@chumandas) October 26, 2018
#7
What sort of marketing strategy involves traumatizing phone calls from a wailing 2 year old? My parents woke up to it and lost their mind.
Idiots. #Pihu

— Manisha Raghavan (@pareshansoul) October 27, 2018
#8
@sakshijoshii @vinodkapri What the hell is wrong with you?? Stop this horrible promotion idea!

— Lakshya Mittal (@LakshyaMittal2) October 26, 2018
#9
Sickening to the core . They have committed an act against the laws of the country .

— INDIAN FIRST (@Surya_God) October 27, 2018
#10
The trailer is really disturbing. This is a weird way to promote a film. @RonnieScrewvala , do you know about this kind of publicity for the film?

— Hemanth V (@hemanth_v1) October 27, 2018
#11
I just got a call from a child named Pihu who wanted desperate help. No. was 7024720657. THIS KIND OF MOVIE PROMOTION IS DISGUSTING TO SAY THE LEAST.

— Karan Bhardwaj (@journokaran) October 26, 2018
#12
Piss-poor marketing strategy though. Not sure who they think is going to be attracted to see a movie with this theme, more so after the trailers and the tasteless phone calls/SMS #Pihu

— pythagorean_nematode (@average_joeshi) October 27, 2018
#13
What kind of nutcases think it's okay to do this. Next they'll activate fire alarms and play the trailer in the designatedl assembly area where ppl evacuate to. Dolts.

— Yedei (@yedei) October 26, 2018
#14
This is pathetic..How the hell one can not see how traumatising that call could be.. Worst #PROMOTION by #Pihu team https://t.co/WtIwirgmlR

— Drunk Monk (@napster_004) October 27, 2018
However, the producer Ronnie Screwwala seems to be undisturbed with the criticism and says that the marketing team wanted to try something different and it may have left some people unhappy but it doesn't mean that they will stop looking for different options.
What do you have to say about this marketing gimmick? Let us know your views.
Share Your Views In Comments Below