Humour
PM Modi Slammed Congress Like Never Before. Twitter Called Him A Roaring Lion & Joined In Trolling
The Indian Prime Minister Narendra Modi once again tore Congress party apart; however this time, he did it in Parliament while speaking on the motion of thanks to the President and not in any election rally.
PM Modi slammed Congress and its President Rahul Gandhi whose promotion to the post of President from Vice-President is described by PM Modi as coronation and not election. He targeted Congress government for the country's partition and said that Congress doesn't have the right to preach the government on democracy. In his words,
"Don't lecture us on democracy. It was your party chief who tore up an ordinance and threw it in the faces of the media… It was your party chief who did not let young leaders get their points of view."
The MPs of Congress and other opposition parties were shouting slogans as the PM was speaking. On this matter, PM Modi said,
"Your slogans can't drown my voice, I wish the opposition listened to me quietly."
He also talked about the work done by his government in comparison to what Congress party did. He said,
"When we compare the work done in three years of the NDA government to that done by the Congress overall…When we compare the facts, figures and numbers…well, what comparison are we even talking about? There is none. The Congress has failed the people miserably."
PM Modi blamed Congress party for dividing the country and alleged that because of their sins, the country is still suffering. As per him,
"The country was partitioned, the seeds of poison was sown. You divided the country for electoral and petty gains…people are suffering even today."
He didn't stop at this and slammed Congress party for dividing Andhra Pradesh in a hasty manner as he said,
"When we speak of creating new states, we remember the manner in which Atal Bihari Vajpayee-ji created Uttarakhand, Jharkhand and Chhattisgarh. He showed how farsighted decision-making is done."
On the contrary, Congress "messed up" when they divided Andhra Pradesh and according to PM Modi, "They did it in a hurry, and without much thought or research."
While Rahul Gandhi stated,
"He keeps taking about the Congress… yes, there is a place for it. You do it at a public rally, it's perfectly fine, but not in parliament. Here you don't criticize or raise questions on the Congress, here you answer to the people of the country."
Here are some highlights:
1.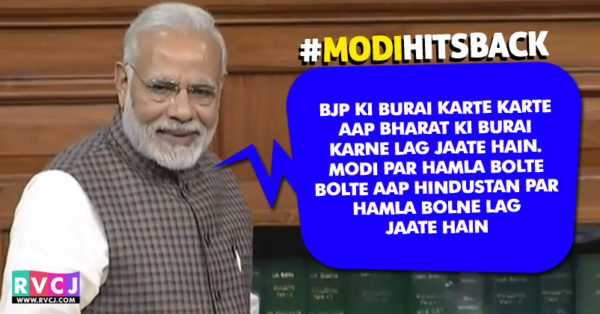 2.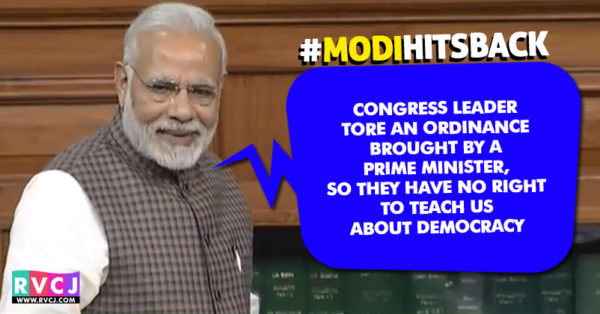 3.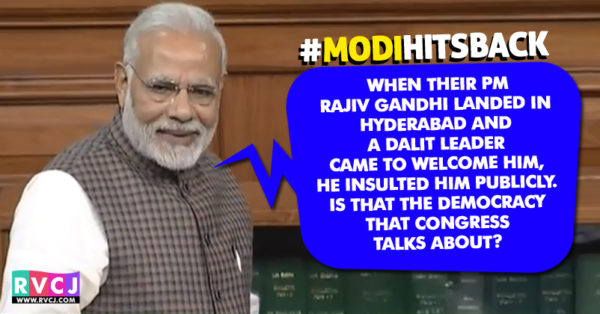 4.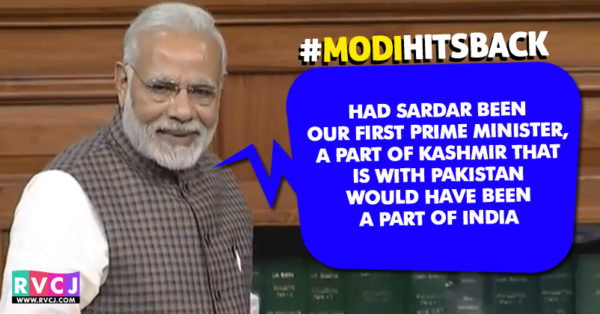 5.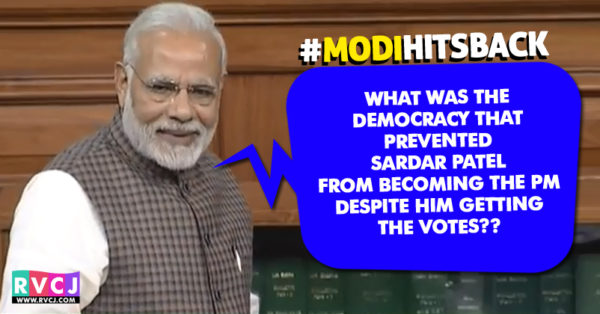 6.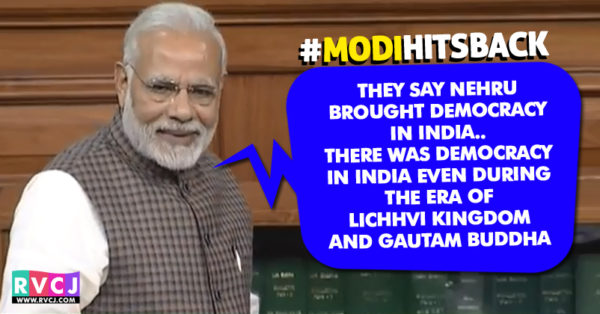 7.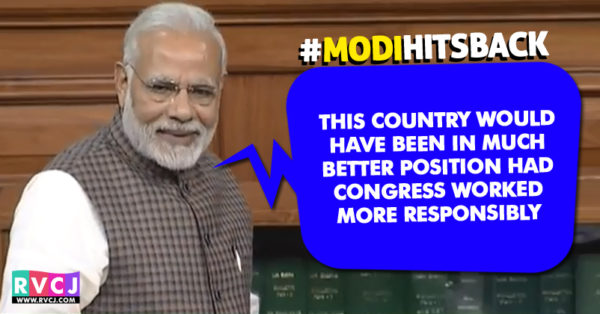 Twitter also got flooded with hilarious reactions on the manner in which Narendra Modi blasted Congress party. Here are some selected tweets:
Congress before and after speech:
Congress Leaders at parliament today…#ModiInParliament #ModiHitsBack pic.twitter.com/kO7P79cIGm

— yogi baba (@yogi_yogibaba) February 7, 2018
The next is Rajya Sabha:
Lion is going to Roar in Rajya Sabha Shortly,

Brace yourself !!!!#ModiHitsBack

— Naina 🇮🇳 (@NaIna0806) February 7, 2018
That teacher..
मैं तो आज भी उस SST टीचर को खोज रहा हूँ, जिसने स्कूल मे पढ़ाया था की चाचा नेहरू अच्छे प्रधानमंत्री थे। 😂

— PhD in Bakchodi (@Atheist_Krishna) February 7, 2018
PM Modi in Lok Sabha be like:
#ModiInParliament #ModiHitsBack #ModiInLokSabha

Modi latest visual in loksabha pic.twitter.com/cpyjWkKKMv

— Donald singh (@kyahaibosdk) February 7, 2018
LOL 😀
LSTV is doing injustice to us. Not able to see Sonia's face when Modi is giving brutal bamboo to Rajiv.

— iMac_too (@iMac_too) February 7, 2018
Congress members right now #ModiHitsBack pic.twitter.com/avJBEvcKOV

— Akshay (@AkshayKatariyaa) February 7, 2018
Condition of Congress in the Parliament:
Congress right now in parliament pic.twitter.com/Od9F6ppzZ1

— Sunil- The Cricketer (@1sInto2s) February 7, 2018
Live encounter:
https://twitter.com/OneTipOneHand_/status/961144947847172106
Hilarious 😀
What PM modi is doing with Congress. #ModiHitsBack #PMModiInParliament pic.twitter.com/Fn5QsGfL0I

— अंकित जैन (@indiantweeter) February 7, 2018
Meanwhile the opposition:
Opposition right now😂#ModiHitsBack pic.twitter.com/JTvnWIXeBg

— Digi Chandru (@digichandru) February 7, 2018
Baahubali NaMo:
Today bahubali #NAMO at parliament against congress….#ModiHitsBack #Parliament pic.twitter.com/3tVff24F8D

— yogi baba (@yogi_yogibaba) February 7, 2018
Finally Congress accepted:
While with his punishing & mirroring speech, PM Narendra Modi has left the Congress effete and excaudate, madam Sonia says there's nothing new. So, I accept her statement. Corruption and national loot are no new to Congress!
#ModiHitsBack

— Alok Mishra (@PoetAlok_Mishra) February 7, 2018
Congress exposed:
PM Modi In Lok Sabha Is Giving Tight Slap To Congress. These Pidiots Keep Asking Modi To Answer, Now That He's Answering These Pidiots Are Sloganeering To Stop His Voice From Reaching People Of This Country. Congress Stands Exposed Yet Again. 😂💪🙏🇮🇳 #ModiHitsBack pic.twitter.com/PITU8Q61O2

— Sir Ravindra Jadeja (@SirJadeja) February 7, 2018
https://twitter.com/swetassingh1/status/961139913268834304
What do you have to say about PM Modi's speech? Let us know your views.