Videos
"Poor Bride," Groom Sticking To His Phone During Wedding Leaves Twitter Annoyed
The marriages are said to be made in heaven but sometimes after looking at a couple, you may feel how they can make such big mistakes.
Well, there is no denying the fact that smartphones have become an integral part of our lives but still you need to keep them away on some very important occasions and focus on people around you. However, a video from a marriage is going viral on the Internet in which the groom is seen completely busy with his phone and gives no attention whatsoever to his bride.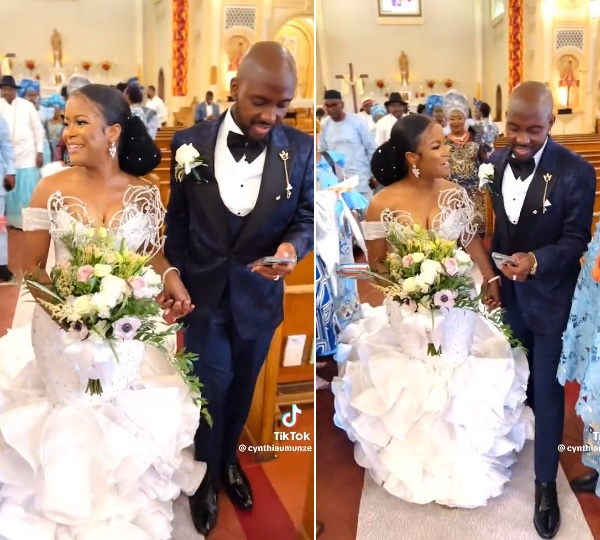 We agree that nowadays the significance of smartphones has increased a lot but there has to be a limit to everything and this groom has crossed those limits in the presence of many guests. We feel sorry for this bride as this is absolutely disrespectful and at the same time, it also makes people feel that the bride will be taken for granted in the future as well.
Here is the video of the incident which was posted by a Twitter user with the caption, "My body is here with you, but my mind is outside of town".
My body is here with you, but my mind is outside of town pic.twitter.com/IcC6jh4FWT

— Mahuntsu (@Mahuntsu) June 2, 2023
Click to watch this video directly on Twitter
Many people have slammed the groom for his behaviour and there were few who hoped that annulment happens otherwise the bride is straightway walking into a mess as the groom will give no importance to her.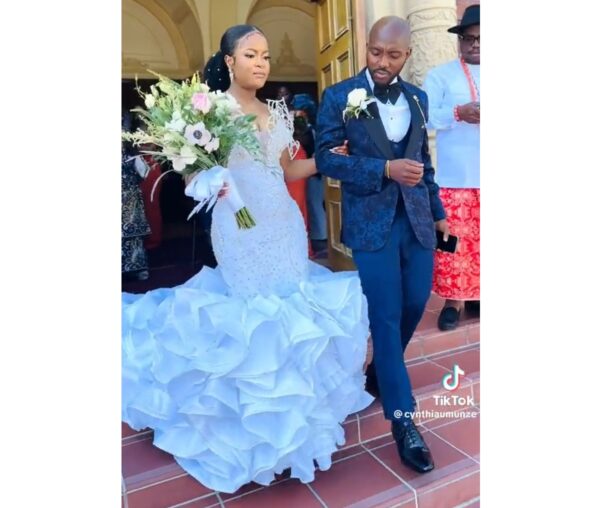 There were some who tried to defend the groom by saying that he might be busy with some important things but what can be more important than your wedding and your partner on the wedding day?
Here are some selected reactions:
This is insane… disrespectful and condescending. Totally uncalled for.

— Muyaa Ⓜ️bango™️ (@muyaa_mbango) June 3, 2023
Y'all relationship truly inspire me…

to be single. 🚩

— Ishmael Mayhew (@ishcontent) June 3, 2023
Guys, y'all are more concerned of the phone. Did y'all see a major red flag there by 0:30 😱 she is getting herself into a mess

— Pontsho Malatji (@pontsho_mp) June 3, 2023
Was he forced into this marriage because this is crazy

— Somto (@Ogcsn) June 3, 2023
This better be a skit. If not baby girl get an annulment NOW!!!!!!

— #BigMommasHouse #Superstarxxx #Bbwbootyhole (@KnobSlobberz) June 3, 2023
This flag is so red it's MAROON! You can't even pretend like YOUR BRIDE is the most important person in the world on your WEDDING DAY!

I hope she gets an annulment otherwise she's in for a lifetime of being taken for granted https://t.co/fzzAmRfSBl

— Michelle_BYoung (@michelle_byoung) June 4, 2023
Imagine on your day not being happy.
This man was either forced or doesn't love this lady.
Why getting married then ?
Well let's mind our own issues.

— King K.. (@khukzaca) June 3, 2023
I genuinely want to know what he was doing and why she wasn't bothered

— Dr King Winter (@I_Am_Winter) June 4, 2023
Was he held at gun point to tie the knot or what?

— Mfazi_Wephepha🙏💰🇿🇦 (@selina_m85) June 3, 2023
Also he could be checking if everything is done at the reception venue or letting them know they done with the church session.

— R E I T U M E T S E (@Reitu_d) June 2, 2023
I don't care whosoever is texting you
This behavior is totally not acceptable

— Peter (@jayr_peter) June 3, 2023
Come on man even when I'm eating I don't touch the phone … this is bad.

— 4teeeej (@4teeeej) June 4, 2023
Exactly. There are many possible urgencies:
1. Need to take urgent decisions with doctor on mum's emergency
2. Need to close a deal with investors
3. Need to respond to an emergency that concerns only the couple
Etc

— Ubong Edidion (@DavidQuartz) June 4, 2023
This one is called red flag 🚩 pro max. But because we want weddings more than our mental health, she's yet to testify to her ancestors how it's going down 😂.

— Joel Kahima (@TheKahimaZ) June 3, 2023
The face of realization, feel bad for her pic.twitter.com/uwFdbLeLgZ

— mark (@mnsportsguy0) June 3, 2023
A few moments later… pic.twitter.com/31ccI8CKx3

— Israel Phiri (@israelphiri) June 3, 2023
Meanwhile at the reception is business as usual. The moment he was anticipating… pic.twitter.com/Tv032nhBpy

— Tintswalo (@cryptfan13) June 3, 2023
Do share how do you feel after watching this video?