Bollywood & TV
Prabhas & Pooja's Radhe Shyam Poster Looks Hilarious With Assam Police's Coronavirus Twist
Prabhas is one of the most loved and most followed stars of the Indian film industry. Though he has mainly worked in the southern industry, he has a fan following all over the world and the whole credit goes to the magnificent role played by him in the magnum opus "Baahubali" series.
Recently, the first look of his next movie "Radhe Shyam" was revealed in which he is working with Pooja Hegde. Both the actors looked awesome in the poster as Prabhas wore a dashing in ivory suit while red colored gown added to the beauty of Pooja Hegde.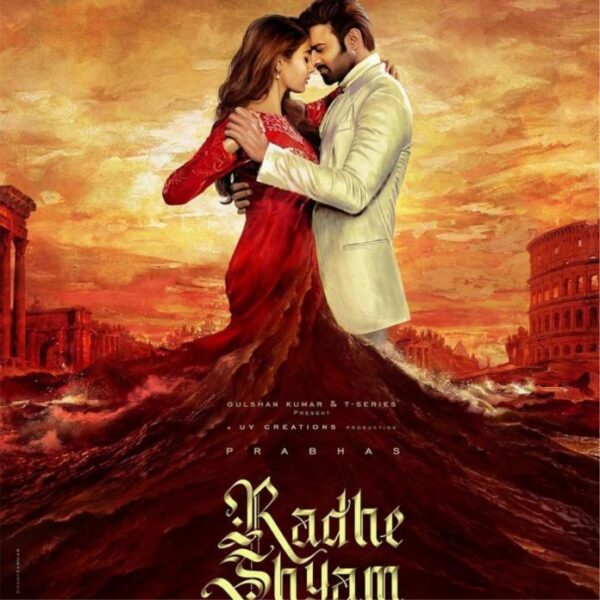 Fans went crazy after seeing the first poster of their favorite actor's upcoming flick but Assam Police had something else in mind.
Wearing a mask has become a necessity while going out due to the coronavirus pandemic and not just the governments but many other departments including police departments are also spreading awareness in this regard.
The Nagaon Police, Assam, also took this as an opportunity and photoshopped the image as they made both the actors wear mask. The police department asks everyone to make sure that their loved and dear ones wear mask whenever they are out. They also gave a hilarious twist to the tweet by writing that they tried to call Prabhas but were not able to contact him so they are notifying him through photoshop.
Check out the photoshopped poster: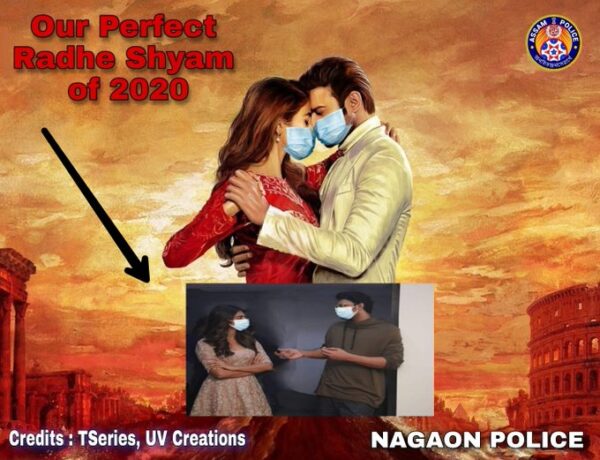 Check out the caption that the Nagaon Police wrote, "Ask your loved ones to put Mask whenever they are out. We tried calling Prabhas but failed. Now sending the message through photoshop."
Here is the tweet:
Ask your loved ones to put Mask whenever they are out.
We tried calling Prabhas but failed.
Now sending the message through photoshop.@TSeries @UV_Creations @hegdepooja @director_radhaa @assampolice#RadheShyam #Prabhas20 pic.twitter.com/WNyOSzklVC

— Nagaon Police (@nagaonpolice) July 10, 2020
Twitter loved the tweet and the creative way of spreading the message. This is how netizens reacted:
#1
Wow Sir Extremely Awesome & the Picture is carrying truly an Unique Msg to all. Highly appreciate such Creativity,🙏 #Radheshyam #Prabhas

— Pawan Sharma (@PawanSharmazz) July 10, 2020
#2
Excellent sir great creativity 🤩😍😃 we The Darling of the Nation #Prabhas fans will follow all the safety measures & celebrating it in Online itself & in offline with all precautions by wearing masks stay safe #RadheShyam

— Nishanth Prabhas (@NishanthPrabas) July 10, 2020
#3
Creativity peaks #RadheShyam

— Padmakar mandala (@artmaker365) July 10, 2020
#4
What about social distance Sir?

— 🎇 JINXED 🎇 (@ScorpionPraveen) July 10, 2020
#5
Amazing guideness sir….. 🙏😷😷

— mr.RA_vi _KI_shor (@MrRavikishor) July 10, 2020
#6
Sir, #Prabhas has been promoting masks since ages.. 😄#RadheShyam pic.twitter.com/Sogw5WVB5M

— PrabhasFanGirl (@PunQueen5) July 10, 2020
#7
Our Nagaon Police , Vry Cool 😎

— Akram Ahmed (@Akramfi) July 10, 2020
#8
suprrr creativity sir…👌🤩

— phanikumar (@phaniku24128977) July 10, 2020
#9
Epic 😂 💯 #RadheShyam #Prabhas

— ganesh_prabhas (@ganeshp70094435) July 10, 2020
#10
😂RofL#RadheShyam

— RofL GAANDi🚩 (@roflGAANDi) July 10, 2020
The director of "Radhe Shyam" is Radha Krishna Kumar and it also stars Murli Sharma, Sachin Khedekar, Priyadarshi, Sasha Chettri, Bhagyashree, Kunaal Roy Kapur and Sathyan. The movie is said to have a huge budget and will hit the theatres in the year 2021.
Till now, more than 8.21 lakhs coronavirus positive patients have been registered in India and over 22K people have lost their lives to the disease. It is highly recommended to follow the safety guidelines issued by the medical authorities including wearing masks, maintaining social distancing whenever outside, wash hands and face regularly and staying indoors as much as possible to stay safe!
Share Your Views In Comments Below