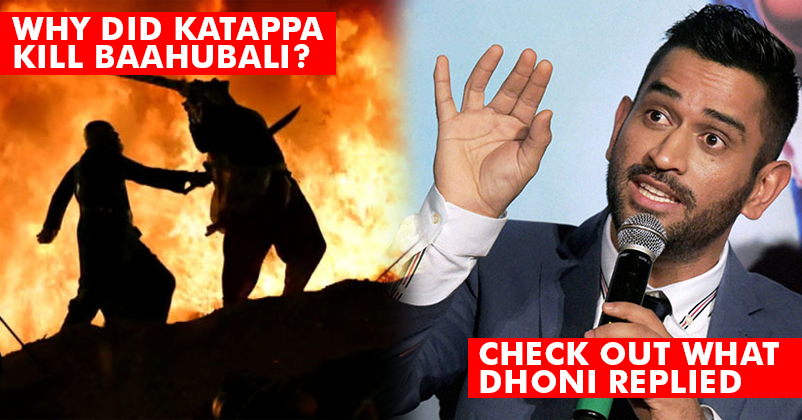 Baahubali 2 is winning hearts all over with its powerful script and mind-blowing visuals. People can concentrate on other important things now, because the question that was troubling them since long i.e. "Why Katappa killed Baahubali" has finally been answered now.
However, some have still not got the time to watch the film and one among them is our favorite cricketer Dhoni. Yes, he hasn't watched the film yet and has no clue as to why Katappa killed Baahubali.
In a press conference, some crazy fans asked this question to Dhoni, but they were surprised to get an epic reply from the cricketer.
He laughed and said, "See no one answered me when I asked them"; this was indeed a funny answer and left everyone in splits.
Mahi was totally involved in IPL and it's obvious that he must have not got time to watch the film. You'll be amazed to know that Dhoni still doesn't know this secret answer yet.
Talking further about the film, Dhoni said, "I didn't get a chance to watch the movie but definitely, I love to watch the movie".
Just like us, even he is curious to know the suspense in the theater and prefers not to hear it from anyone else. He says, "Don't tell us the answer, I would love to know the answer by watching the movie."
It's surprising to know that people are creating mashups of Dhoni & Baahubali but the cricketer is completely clueless about the suspense, LOL. What do you have to say about this? Have you watched the film or you too belong to Dhoni's category?
RVCJ Video Of The Day
Share Your Views In Comments Below