Bollywood & TV
Priyanka Gets Trolled For Bursting Firecrackers At Her Wedding. People Called Her A Hypocrite
Priyanka Chopra had a much-hyped, big fat yet very intimate wedding yesterday. Everything about it was grand, still kept away from the media eyes.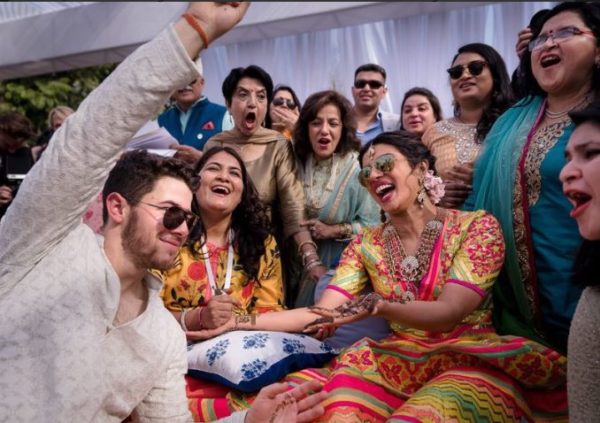 However, a shot from the beautiful firecrackers that happened at the Umaid Bhavan, Jodhpur later in the evening was captured by the paparazzi. The videos and photos of the same were carried by most of the big media houses as part of the Nickyanka's wedding coverage.
But instead of appreciating it, some people were seen trolling Priyanka for her hypocrisy. People were angry over Priyanka because she suggested her followers to avoid crackers on Diwali but totally countered her ideas when it came to her wedding.
Watch the video in which Priyanka is seen suggesting followers to go for a crackerless Diwali for the safety of asthmatic patients like her. The second half of the video also shows how firecrackers were burst at her own wedding venue-
Guys pls don't burn firecrackers, Priyanka Chopra is asthmatic pic.twitter.com/PJOry2HldG

— AMIT ( मन व्याकुल वाले ) (@AMIT_GUJJU) December 1, 2018
Click Here to watch the video on Twitter.
Here's how people reacted on Twitter-
#1
Aaj to fir oxygen nikal Rahi hogi Phatako sa 😂😂

— Yatharth Purohit 🚩 (@yatharthpurohit) December 1, 2018
#2
@priyankachopra is so fake, manipulative and extra that I sometimes wonder if she really herself knows what the real one is like!I mean when someone's living a lie 24/7, where's the chance to be real ! Her Asthma is probably another lie too like her cooked up stories of struggle

— Hema Shanbhag (@hemashanbhagr) December 2, 2018
#3
Double standard as most of Bollywood's are

— Jay Patel (@JayPatel_Tata) December 1, 2018
#4
— Pritesh (@Indian___Idle) December 2, 2018
#5
@priyankachopra ye kya hai auntie😡😡

— offensive snowman😈 (@malana_power) December 1, 2018
#6
Simply Hypocrate!

— Vijay Sharma (@VijaySharma1963) December 2, 2018
#7
@priyankachopra laddoos light and love but not pollution dear! My dog is scared and I also had asthmatic!

— Bharat Tatvavedi (@ultimate_the_B) December 1, 2018
#8
OXYGEN ME BADOTARI HOTI HUI 😂😂😂

— SRK'S Mjölnir (@mayankr268) December 1, 2018
#9
Awesome fireworks display during your wedding! What happened to your message NOT to do fireworks during Diwali? Smell some hypocrisy? 🤔 @priyankachopra @nickjonas #PriyankaKiShaadi #PriyankaChopra #PriyankaNickWedding

— Amit C (@imAmitC) December 2, 2018
Do you think Priyanka deserved to be trolled for this?
Share Your Views In Comments Below