Bollywood & TV
Priyanka Wore Cross Pendant & Uploaded Pic. Trolls Asked If She Changed Her Religion
Priyanka Chopra is one of the most famous actresses in Bollywood; we are proud that she has spread her charm in Hollywood too.
Priyanka has wooed our hearts with her acting as well as her hot personality. However, like every celeb, even Priyanka is trolled on many occasions. Sometimes people troll her for her dresses while at other times, she is trolled for joining Hollywood.
Couple of days back, netizens found another reason to troll her. Yes, it was due to her "Cross Pendant". Well, Priyanka uploaded a pic in which her cross pendant was clearly visible. As soon as people noticed it, they trolled her left and right and asked her if she changed her religion.
It might just be a simple accessory but unfortunately, people slammed her badly & related it to Christianity.
Here's the pic…
#AfterParty #MetGala #ootn ✨ pic.twitter.com/RoBGyEVBs2

— PRIYANKA (@priyankachopra) May 9, 2018
Here's the pic in case the tweet doesn't load…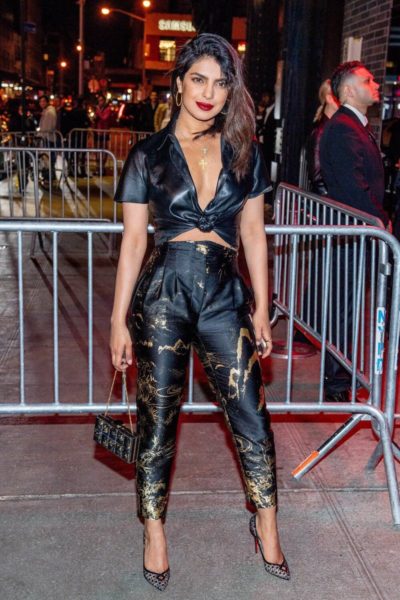 People didn't take a minute to start slamming her. It is sad to see how people start religion base debates the moment they get a chance. Is wearing a cross pendant a crime? At least these comments show so…
Are you a christian?
Are you a Christian? I see you have a cross on your neck.

— sunny888 (@rolosolo888) May 9, 2018
Converted?
Of course you are gorgeous, no doubt about it. I didn't know that you are converted to christian religion.

— Ramaraja (@ramaraja) May 9, 2018
Sikh dharm chhorh dia?
@priyankachopra ne shayad #Hollywood ki filmon ke liye apna sikh dharm chhod kar christian dharm apnaya hai

— Pankaj Bhayani (@pankaj_bhayani) May 9, 2018
Why did you wear?
Madam ,why are you wearing a cross? Have you converted? With the little knowledge I have of fashion,I am sure Cross is only a religious symbol

— Nilanjana (@nils_aim) May 9, 2018
Hollywood has changed you!
@priyankachopra so now you start wearing Cross on you neck for fashion. I had way to much respect for you when you were doing I Dian movies. Shame #Hollywood changed you. You are fake. pic.twitter.com/I8rAP5Pdzc

— The_Real_Neeta (@neetasolanki4) May 9, 2018
Do you follow Jesus?
Why that cross !???? Do you follow Jesus?

— Vinamra (@vinamra252000) May 9, 2018
Jai Hindutva!
यदि आपके गले मे ॐ का लॉकेट भी होता तो मेरी खुशी दोगुनी हो जाती।
पर अफसोस ऐसा नही है, अपना धर्म तो खोता जा रहा है चंद रुपये के लिए, इसे बेचा जा रहा है चंद रुपयों के लिए।
जै हिन्द, जै हिंदुत्व।

— Rajani Gupta (@RajaniG34254638) May 12, 2018
We really don't know what these trollers want. It's just a fashion accessory & rather than targeting her religion, these people could have appreciated her style. Don't you think so?
Share Your Views In Comments Below