Sports
Did Qazi Onik Bowl At A Speed Of 160 Km/Hr Or Is It A Technical Problem? See Video
India is doing great when it comes to cricket as both the senior Indian men and women cricket teams have won the ODI series against South Africa and the Under 19 Indian team won the World Cup recently.
The tournament was held in New Zealand and the Indian squad emerged as the champions under the leadership of Prithvi Shaw. Coach Rahul Dravid also played an important part in making the under-19 squad a formidable unit.
While the whole limelight has been stolen by Indian players with their performances, there were some other players from other teams who gave wonderful performance and have a good chance to become a part of the senior squad.
One of them is Bangladesh's Qazi Onik who instantly got popular when he bowled Indian captain Prithvi Shaw of a beautiful out-swinger and the speedometer showed that the speed of the delivery was 160 km/hr.
There is no denying the fact that it was a great delivery but under no circumstance, it was bowled at 160 km/hr. Qazi had bowled at 145 km/hr or more in the complete tournament but it was a technical problem because of which this delivery was declared at 160 km/hr.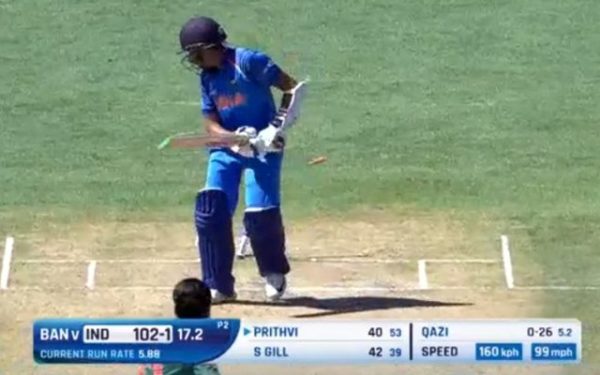 Here is the video:
https://twitter.com/AlauddinKhilj10/status/961885052694028288
Click here to watch this video directly on Twitter
If you watch the footage carefully, you can see that speedometer was showing 160 km/hr even before the delivery was bowled.
Well, it appears that Qazi will be a part of Bangladesh senior squad soon. What do you say?
Share Your Views In Comments Below