Sports
R Ashwin Didn't Mankad Aaron Finch & Left With Warning, Surprised Fans React With Funniest Memes
Ravichandran Ashwin, the Indian spinner who is a part of Delhi Capitals in the IPL 2020 is once again all over social media and this time for not mankading a batsman.
If you remember, Ashwin was the skipper of Kings XI Punjab in the IPL 2019 and in a match which was against Rajasthan Royals, he mankaded RR batsman Jos Buttler. A huge controversy erupted after this incident as many felt that he went against the spirit of the game while there were some who thought that whatever Ashwin did was correct. R Ashwin made it clear to everyone that he played within the laws of the game and he would do it again if he gets a chance in the future.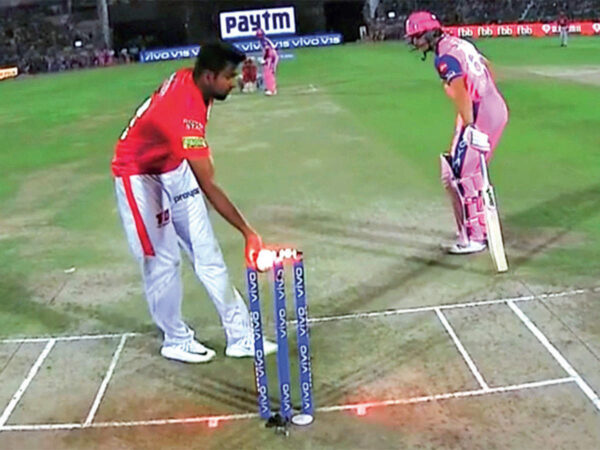 Before the start of the IPL 2020, Ashwin was traded to Delhi Capitals and now he is playing under the captaincy of Shreyas Iyer. Just before the start of the tournament, the head coach of DC, Ricky Ponting made it clear that he would not allow his boys to do mankading and he would surely have a conversation with Ashwin about it.
Recently in the match against Royal Challengers Bangalore, Ashwin got the chance of mankading RCB batsman Aaron Finch but he chose to issue him a warning and leave rather than hitting the ball on the stumps.
Ashwin warns Finch https://t.co/m6XSmUXcNr

— Vasanthan (@Vasanth62539936) October 5, 2020
Ashwin also took to Twitter and stated that it is the first and final warning and he won't be leaving anyone after that.
Here is the tweet in which he also tagged Ricky Ponting:
Let's make it clear !! First and final warning for 2020. I am making it official and don't blame me later on. @RickyPonting #runout #nonstriker @AaronFinch5 and I are good buddies btw.😂😂 #IPL2020

— Ashwin 🇮🇳 (@ashwinravi99) October 5, 2020
Soon, the Indian Twitterati started expressing themselves in the form of memes and jokes and many felt that eventually Ashwin did what Ricky wanted. Check out some of the selected reactions:
#1
Ashwin to finch pic.twitter.com/3KQgIhqmYT

— Vijay Jaiswal ➐ (@puntasticVU) October 5, 2020
#2
Ashwin Anna to Finch : Crease me… pic.twitter.com/I6xpJAwh2X

— Aadarsh Dixit💞 (@aadarshdixit2) October 5, 2020
#3
No one

Le ashwin to finch : pic.twitter.com/pQPxsjH4os

— Heisenberg (@methmemer) October 6, 2020
#4
#RCBvDC
Ashwin didn't Mankad Finch
Meanwhile Buttler: pic.twitter.com/vfRnIQ8Trb

— Shivani (@meme_ki_diwani) October 5, 2020
#5
1. Ashwin to Buttler
2. Ashwin to Finch pic.twitter.com/RQGQ2h0sLK

— Akash (@vaderakash) October 5, 2020
#6
Ashwin didn't mankand Finch.

Meanwhile Jos Butler pic.twitter.com/ehWce2DXZX

— ꜱᴀɢᴀʀ ||राणा||🖤 (@Sarcastic_Sagar) October 6, 2020
#7
#RCBvsDC
Ashwin to finch – pic.twitter.com/ZQXY5fpP9R

— Baljeet_singh (@a_boy_in_dark) October 5, 2020
#8
Ashwin gave mankading warning to finch#DCvRCB #RCBvsDC #PlayBold

Buttler: pic.twitter.com/A1s2Y830XQ

— Professor (@_Kalpesh_lohar_) October 5, 2020
#9
Ashwin not mankading Finch.
Meanwhile Buttler pic.twitter.com/GHZnr9LbJ3

— Jerseyno.7🖤 🇮🇳 (@DJVIRAS07) October 5, 2020
#10
Ashwin to finch: https://t.co/EnvVNu0GNW pic.twitter.com/207snDfu3Y

— Manish (@manish_kumar_8) October 5, 2020
#11
Meanwhile Ashwin to Finch~ pic.twitter.com/bLg302lYW4

— Sayan Paul (@_the_sayan_) October 5, 2020
#12
Sequence of events #RCBvDC pic.twitter.com/pN9fbHPOMr

— Sagar (@sagarcasm) October 5, 2020
#13
#Managers while #boys break the #rules
VS#Managers while #girls break the #rules 😉😉#Ashwin #IPL #IPL2020 #Finch
#RCBvDC #Butler #RRvKXIP #Runout pic.twitter.com/ycd4yFGYvk

— P*K*🙏 (@iPKotte) October 6, 2020
#14
Ashwin not mankading Finch : pic.twitter.com/1RI3rrFZLM

— Rational Ladka (@rationalladka) October 5, 2020
#15
Ashwin gives warning to finch before mankading
Jos Buttler: pic.twitter.com/WUIbu0I2eZ

— Madhub (@_madhub) October 5, 2020
Talking about the match, DC proved to be far better that RCB in the game. Batting first, the Delhi team posted a good total of 196 runs on the board with the help of a half-century of Marcus Stoinis. In reply, RCB was able to score only 137 runs for the loss of 9 wickets in the stipulated 20 overs and DC won the match by 59 runs.
Presently, DC is on the top of the table with 4 wins out of the 5 matches played by them and KXIP is at the bottom with 4 losses out of the 5 matches they have played.