Extras
Radio Mirchi's New Campaign Says "Don't Come To India". Received Anger From Twitter & Apologized
In India, guests are treated as "God", however, we were shocked to see how a Swiss couple was harassed and was left seriously injured due to stone pelting. We had a big question in our minds, "Is this how India is?".
This incident shocked many and received a lot of backlash on social media. Amidst this, Radio Mirchi came up with a campaign "#MatAaoIndia", but it went seriously wrong.
No doubt, the treatment received was nothing less than "Worst", but it seems Radio Mirchi's choice of words in the campaign didn't go down well with people.
Someone shared the jingle on Twitter and since then, people are criticizing Radio Mirchi;
Mat Aao India, Don't Come to India, screams @RadioMirchi's DESPICABLE & UNACCEPTABLE campaign in the wake of an awful, terrible crime. SICK. pic.twitter.com/UfeJEC7c6N

— Anand Ranganathan (@ARanganathan72) October 26, 2017
Click here to hear it directly on Twitter;
Here's the script of that jingle;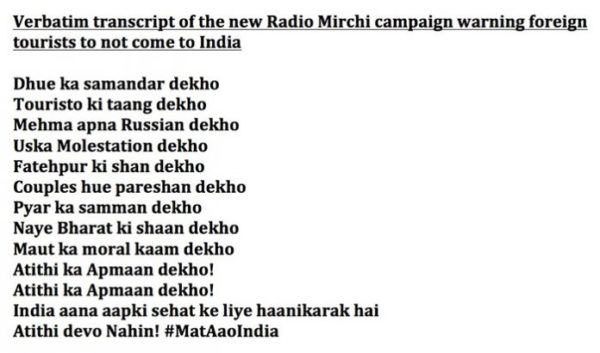 This is how people lashed out at Radio Mirchi;
Insult!
Sir this radio is always critical of the present govt, but this time they just insulted the nation cause they don't like MODI

— Movement scientists (@DrAmeetThanky) October 28, 2017
Strict action!
Strict action should be taken on RM and set the example for future. Cancel their license. Nothing less.

— Aravind 🇮🇳 (@Arvi_N) October 27, 2017
Boycott Radio Mirchi!
It is time to boycott Radio Mirchi. I will now on #BoycottRadioMirchi. And will no longer listen to RadioMirchi

— Lalit S Kathpalia (@lalitkathpalia) October 27, 2017
Disgusting!
I could not listen pass the third line. Absolutely disgusting

— सिधार्थ दस्सानी (@sidharthdassani) October 27, 2017
Shame on you!
Shame on u guys @RadioMirchi ..whoever owns this channel must apologise publicly #MatSunoRadioMirchi

— Ravi (@rajeshravi02) October 27, 2017
Are you destroying?
Indian Tourism is 7th largest in the world n growing. @RadioMirchi wants to destroy the sector. #UnfollowRadioMirchi #MatSunoRadioMirchi https://t.co/6tVV2Rab6i

— Shefali Vaidya (@ShefVaidya) October 27, 2017
Sharm karo!
sharm karo, different banne ke chakkar mei tum chutiya ban gaye

— Lame Monk (@oldschoolmonk) October 27, 2017
After receiving these comments, Radio Mirchi took down the ad and issued and apology on Twitter;
— RadioMirchi (@RadioMirchi) October 27, 2017
No doubt, the aim of Radio Mirchi was good, but they could have done it in some other subtle way. What do you feel?
Share Your Views In Comments Below