Sports
This Is Why Rahul Dravid Was Absent From IPL 10 Opening Ceremony
Rahul Dravid, the talented Indian cricketer, has always been an important part of Indian cricket and has played every role with full devotion, whether as a captain, a batsman, a part-time wicketkeeper or a coach of the Junior Indian Cricket Team. Dravid is one of the "fab five" of Indian Cricket and a legend in true meaning.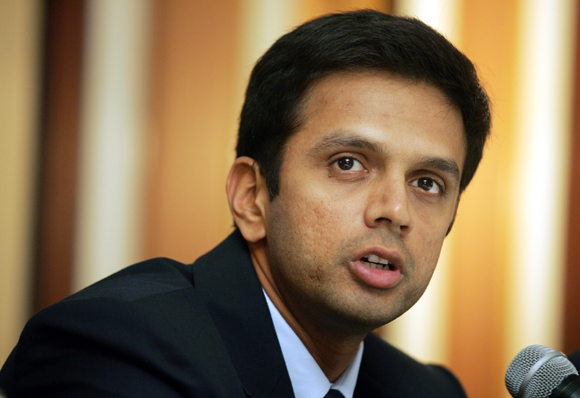 Few days back, while talking to media persons, the chairman of IPL, Rajeev Shukla, said that the "fab five" of Indian cricket will be felicitated during the opening ceremony of IPL. Here's what he said,
"The decision was taken at the GC meeting today that five legends of Indian cricket — Sachin Tendulkar, Sourav Ganguly, Rahul Dravid, VVS Laxman and Virender Sehwag will be felicitated during the opening ceremony in Hyderabad on April 5."
However, on 5th April, fans of Rahul Dravid were very disappointed, as they were not able to see him on the stage during the ceremony. As per crictracker.com, Rahul Dravid was also invited by BCCI and was about to reach Hyderabad but his Delhi-Hyderabad flight got delayed due to storm.
Rahul Dravid is the mentor of Delhi Daredevils, an IPL team, and he has contributed immensely to the Indian cricket as well as world cricket. It would definitely have been a great moment to see him felicitated with other four legendary Indian cricketers.
Twitter also reacted over the absence of Rahul Dravid. Check out few tweets in this connection:
Opening ceremony is not going to be interesting without Dravid:
Where is jammy Rahul Dravid? ………who cares about opening ceremony without him .. #ipl2017 feeling sad

— daniel antoine (@danielantoine2) April 5, 2017
#Disappointed #Sadness
Sadness is when u don't see @rahuldravid in the legend's panel
Disappointed #ipl #openingceremony

— Sounak (@Sounak11) April 5, 2017
Rightly said!
Admit It! It Was Great To Watch Our Childhood Legends Together. Rahul Dravid's Presence Would've Made It EPIC#SRHvRCB #IPL10 #RCBvSRH #IPL pic.twitter.com/K0K4YCxuMH

— Sir Ravindra Jadeja (@SirJadeja) April 5, 2017
Bang on!
They said Rahul Dravid missed BCCI felicitation due to flight delay!

I Say BCCI felicitation missed to get Rahul Dravid honour!

— Broken Pundit (@Brokenpundit) April 5, 2017
Exactly!
No matter whether he gets a lap of honour or not, Rahul Dravid will always be honoured & loved in the hearts millions of fans. #IPL

— Farees Rahman (@fareesrahman) April 5, 2017
Where is the wall?
exactly, where is the wall???? @DravidFC @RahulDravidFC #RahulDravid #ipl #IPL2017 pic.twitter.com/CMBNuSTVZj

— 😡😂 (@Anti_indian_) April 5, 2017
Dravid's fans were really upset on not seeing their favorite player on the stage but the good thing is that there are still seven opening ceremonies remaining and BCCI can use this opportunity to felicitate Rahul Dravid on April 8, before RCB vs. DD or on April 15, before DD vs. Kings XI.
IPL 10 started with a great match in which Sunrisers Hyderabad defeated Royal Challengers Bangalore with the help of Yuvraj's fastest fifty of IPL.
Looking forward to a great IPL 10 but before that, felicitation of Rahul Dravid is what every cricket fan wants! Agree?
Share Your Views In Comments Below