News
Rahul Gandhi Is Addressed As A Missing MP By Smriti Irani
Union Textile Minister Smriti Irani who is pitted against Congress President Rahul Gandhi in Amethi Lok Sabha seat in Uttar Pradesh. On Thursday she lashed out at Rahul Gandhi by calling him a "missing MP", for not being present when the people of Amethi needed his help.
Mrs Irani was addressing a string of election meetings during her two-day visit to Amethi. Union Minister said, "those who have misled and deceived people of Amethi for past 15 years, now realised they are going to lose when Amethi goes to poll on May 6th".
Rahul Gandhi who has now filed his nomination papers in Wayanad Kerala. Irani said the person who has been here for the past 15 years, has decided to leave his supporters and chose to file nomination from another constituency. "He is filing his paper from another Lok Sabha seat. This is an insult to Amethi and a betrayal to its people" she told reporters hours before Rahul filed his nomination.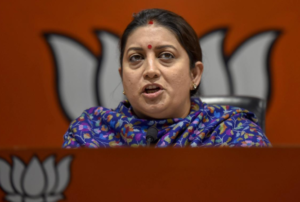 Irani said in an interview with India Today "He's going to Wayanad in Kerala was imminent. Since Congress workers here had already given him an internal survey saying that he will lose, so he had to escape from here".
"The missing MP has deliberately not developed his constituency in the last 15 years. After the people here have lost confidence in him, he is trying to run away to Wayanad in Kerala. Under the Congress rule, farmers have only suffered and Rahul Gandhi has never come to villages to hear grievances of the people. Since the BJP has become strong here, he started visiting his constituency only for a photo-op." "I was a leader and had kept constant touch with people here in last 5 years and tried to meet the people and solve their problems" Irani also called on the people of Amethi to vote for their freedom and Amethi's.
She also claimed, "After fooling the people of Amethi, he will now do the same in Kerala".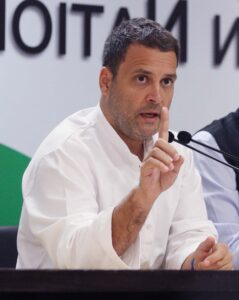 Irani also accused Rahul of joining hands with an organisation in Kerala which is responsible for anti-national movement and also accused the Congress party of launching a manifesto that has brought a lot of disappointment to the people.
She also tweeted –
एक तरफ़ देश विरोधी ताक़तों का समर्थन राहुल गांधी जी ले रहे हैं , वहीं २०१७ में गौरिगंज विधान सभा चुनाव में बसपा से प्रत्याशी रहे श्री विजय किशोर तिवारी जी राष्ट्र को सशक्त करने की भावना से आज भाजपा परिवार में शामिल हो रहे हैं🙏 pic.twitter.com/DyJolNfLsD

— Chowkidar Smriti Z Irani (@smritiirani) April 4, 2019
UP Congress spokesperson Zeeshan Haider respond to Smriti Irani, "Our party chief has always spoken about unity and development of people belonging to every section of society. The BJP must clarify RSS links with Muslim League at the time of partition. Smriti Irani is losing badly in Amethi this time and such statements only reflect her nervousness."
Share Your Views In Comments Below