Politics
Rahul Gandhi Is Getting Married To This Girl Aditi? She Finally Responds On Twitter
Karnataka Assembly Elections 2018 are about to begin, but rather than election news, we got to see something else doing rounds of social media.
Well, social media platforms were filled with pictures of Congress President Rahul Gandhi and a congress MLA from Rae Bareily Aditi Singh. People started linking them up and said that finally Rahul has found his match. Even on WhatsApp, people started circulating this message and pictures.
Here's one such message;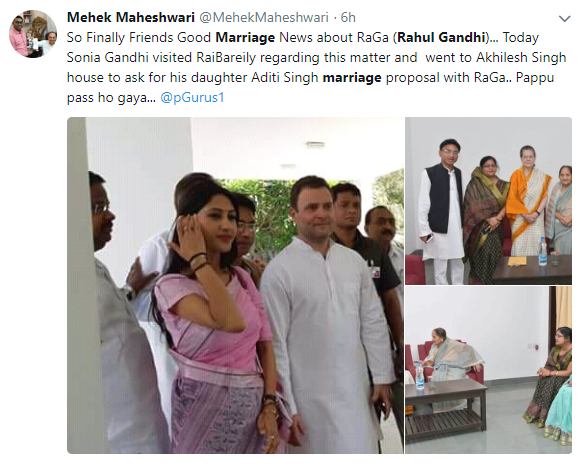 If you haven't seen the pictures closely, here are couple of them;
One more…
However, after seeing so many link-up rumors, Aditi got pissed off. She took to Twitter to clarify the truth. She said that Rahul is her Rakhi-brother and expressed disappointment over fake reports.
Here's her tweet;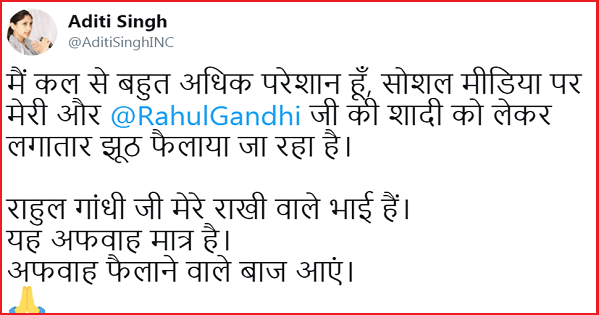 The English translation of this reads, "Such rumours upset me. I would like to clarify that Rahul Ji is my rakhi brother and I am really saddened by such rumours on social media"
She even clarified that the pics that are going viral on social media are just a part of family meet.
हमारे प्राचीन समय से ही पारिवारिक सम्बन्ध हैं।
ये सारी तस्वीरें जो सोशल मीडिया पर शेयर की जा रहीं हैं, ये पारिवारिक मुलाकातों का हिस्सा मात्र हैं। pic.twitter.com/3ekCPAQj40

— Aditi Singh (@AditiSinghINC) May 6, 2018
"We have close family relations and our bonding has been strong since years. Pics that are being shared on social media are just a part of family meet nothing else."
Not only this, Aditi also said that this was merely a propaganda to malign her as well as Rahul Gandhi's image.
One thing is for sure that Rahul Gandhi is not getting married so soon. Don't believe in anything and everything you see on the internet.
Share Your Views In Comments Below