Politics
Rahul Gandhi Shares A Pic With Narendra Modi's Lookalike. Gets Badly Trolled On Twitter
Talking digs and jibes at each other during election campaigns is a common thing. Politicians go to any extent to attract people towards them and the most common strategy is making fun of rival party and leaders.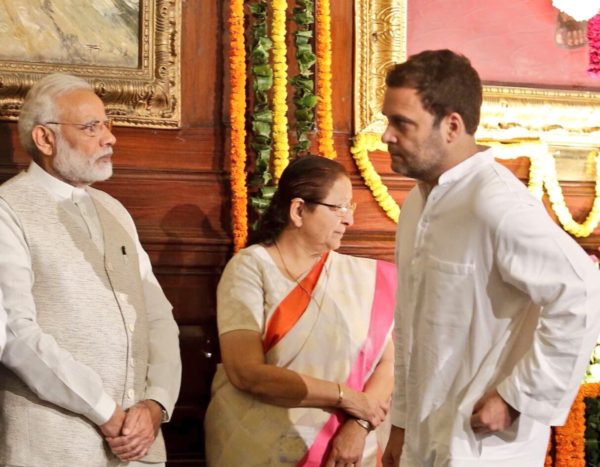 Amidst the ongoing campaign for the upcoming Chattisgarh Elections, Rahul Gandhi found time to do what he loves the most. The President of Congress took a dig on Narendra Modi as he posted a couple of pics with his lookalike on Instagram.
Posting the pictures on the social media website, Gandhi wrote-
Look who I found campaigning for the Congress party in Chhattisgarh 😎
Have a look at the pictures below-
#1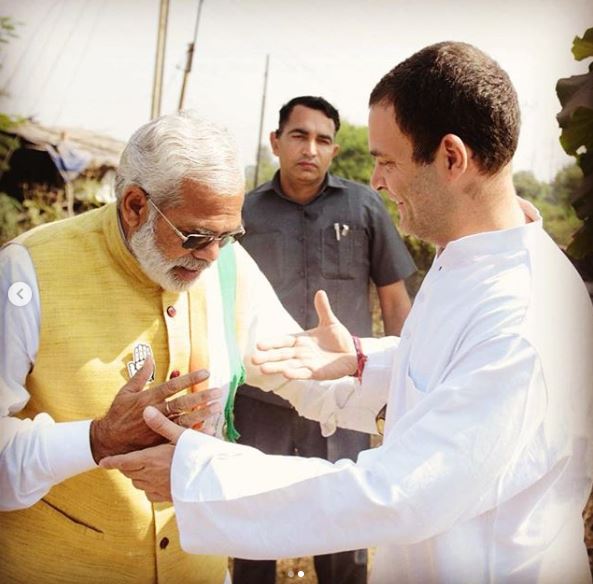 #2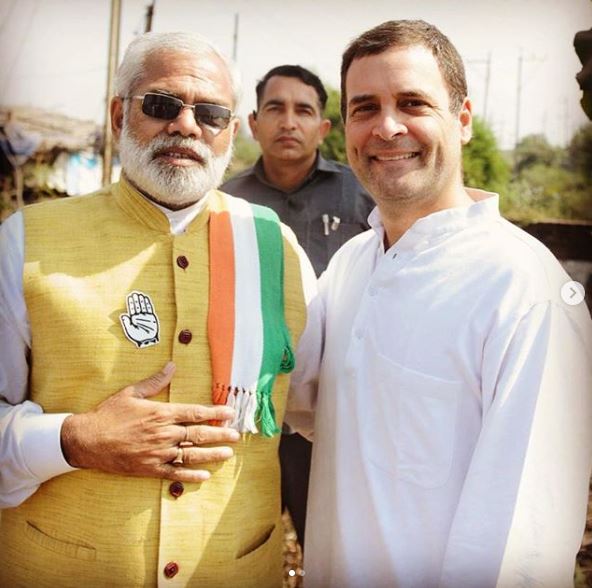 Click Here to check the post on Instagram.
Interestingly, the lookalike named Abhinandan Pathak was earlier a state vice-president for UP's BJP-led NDA constituent Republican Party of India. He left the party and joined Congress later.
Since the time, Gandhi has posted the pic on Instagram it has become a topic of discussion on social media. Let alone, Instagram even Twitterati is busy trolling him. Have a look at some of the reactions-
#1
Dear @RahulGandhi …. pls grow up nd stop being excited about fancy dress competitions…. V know you adore Modi …. but yeh yoh kuch zyada ho gaya when u dress up your Congress stooges as Modi. Aapko Apni Takat dikhane Ke liye Bhi Modi Hi Chhaiye .Kitne khush nazar aa rahe Ho. pic.twitter.com/ZaKxhV4K1s

— Ashoke Pandit (@ashokepandit) November 10, 2018
#2
And from which side this Dhakkan look like Modi. Keeping beared and moustache like Modi doesn't make u his look alike. But as usual it's our PAPPU the GREAT, hutiyapa is his birth right.

— 🅐🅑🅗🅘🅢🅗🅔🅚 🅢🅘🅝🅖🅗 (@ABHISHE17958757) November 10, 2018
#3
Vatican Dumblord at its best job "The Comedy"#CongressQuacks

— The Great One (@WILD_BEAST24) November 10, 2018
#4
Dear pandit

मोदी के तलवे चाटो

— veer (@desi_veer) November 10, 2018
#5
Ye pappu gadha hai gadha rahega aur peda hi gadhe se hua hai 😂😂

— .͡▹​​Mukesh ❄️ (@MukeshGajra) November 10, 2018
#6
See the irony Congress believes that fake मोदी can fetch votes whereas bjp believes that original Raga is good enough to take them to victory

— sudhir malaviya (@sudhirmalaviya) November 10, 2018
#7
Look how happy @RahulGandhi He feels privileged 😜

— Dipti Prakash Panda (@dppanda05) November 10, 2018
#8
Congress banking on duplicate Modi.
BJP banking on original Rahul Gandhi.

— DEVENDRA GURBAXANI (@DEVENDRAGURBAXA) November 10, 2018
#9
Congress is now trying every trick in the trade. Anything that works in their favour; they will be happy

— Murali Vadlamudi (@MuraliVadlamudi) November 10, 2018
Do you think Rahul Gandhi was rightly trolled or people need to spare him for this?
Share Your Views In Comments Below