Entertainment
Rana Daggubati Has Shaved Off His Beard. He Looks So Different That Twitter Is Asking "Who Is He?"
Rana Daggubati had given an awesome performance in Baahubali; he essayed his character so well, that we were literally angry on the way he treated Prabhas in the film. After a hard-hitting negative role in Baahubali, he is all set to give us a taste of something new.
Well, he is all set to win our hearts once again in his upcoming period drama "1945". This is going to a different kind of film and it highlights the pre-partition situations in India. Rana Daggubati is working really hard to make the film a success. Not only is he working on his acting, but he has even given himself a makeover.
For his role, Rana shaved off his beard and tweeted the picture. Fans couldn't believe their eyes after seeing such a drastic difference. Have a look at the picture;
Alright the beard gone!! Moving into another period!! Working on a new look for #1945. First look will be out November!! #faceunderthebeard pic.twitter.com/vmRgdxmxR6

— Rana Daggubati (@RanaDaggubati) October 24, 2017
Here's the pic in case tweet is not loading…
And here's how people reacted after seeing his pic;
Who is this guy?
https://twitter.com/ShwetaSarang9/status/922793794592034816
Is that Rana?
For a second i was like..is that ranaa😳😳😳🙈🙈😍😍

— Sreeya Eeranki (@SreeyaEeranki) October 24, 2017
Did you recognize yourself?
I have a question Rana!!! Did you recognize urself after seeing the face behind the super beard after soo long🙈🙈🙈

— Sreeya Eeranki (@SreeyaEeranki) October 24, 2017
How can you do that?
Love a guy like @RanaDaggubati who can really transform into a brand new Avatar jus like that!&luk damn perfect💯Mannnn how can u do thattt!?

— Varshi (@vsatyawada) October 24, 2017
Arjun Rampal?
U look like Arjun rampal without the beard!

— Archana Ganapathy (@aarchvi) October 24, 2017
Here's the before and after pic…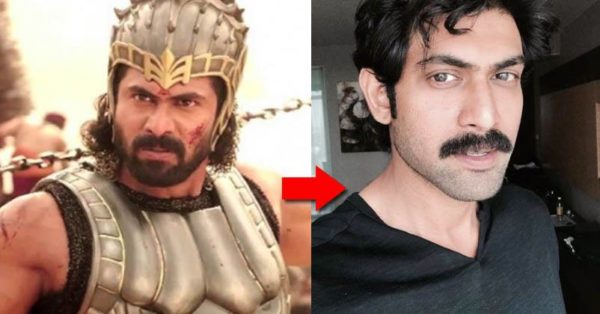 What is your reaction on seeing such a drastic makeover?
Share Your Views In Comments Below