Bollywood & TV
Ranveer Singh's Cringe Pro Max Reaction On Ronaldo's Hat-Trick Sparks Meme Fest On Twitter
Ranveer Singh is certainly one of the most energetic actors of the Indian film industry but it is also true that he is also one of the weirdest celebs as well. His love for unique and strange dresses has resulted in him becoming a meme material on the social media platforms many times and this time again he is in news, not for his outfit or any movie but because of his over the top behavior.
Ranveer Singh is a football lover and on Saturday he watched the match between Manchester United and Tottenham from the stadium at Old Trafford. In the match, Manchester United's Cristiano Ronaldo scored a hat-trick of goals after which Ranveer Singh was seen celebrating in an over-enthusiastic way. However his celebration style did not go well with fans who found it cringe and soon the micro-blogging site Twitter was flooded with memes and jokes on the "83" actor.
Here is the video of Ranveer Singh celebrating Ronaldo's hat-trick:
Ranveer Singh is all Ronaldo fans when he scored the Hattrick 😂 pic.twitter.com/VHSsElaGGu

— TMS 🇮🇳 (@mufc_shah) March 12, 2022
Click to watch this video directly on Twitter
Some fans claimed that Ranveer's behavior was more cringe because he is a self-proclaimed Arsenal fan who was invited by Tottenham on their expenses and now he is celebrating Cristiano Ronaldo's hat-trick against the same club.
Check out some of the reactions:
#1
Seeing people quote that "why is he celebrating United win", in all fairness, he clearly says that he is an Arsenal fan at the start of his stories but it doesn't change the fact that he is representing Tottenham (brand ambassador of Tottenham)

— TMS 🇮🇳 (@mufc_shah) March 13, 2022
#2
Cringiest person on planet earth https://t.co/21bphCV81p

— ⚰️ (@The_Sleigher) March 13, 2022
#3
This isn't normal. Is he ok?

— TheVagabond (@TheVagabond7) March 13, 2022
#4
The person who recording ranveer's cringe so called fan acting:- pic.twitter.com/dGOY1H2noa

— ◆ (@MasterMogamboo) March 13, 2022
#5
Is he wearing Deepika's convocation dress?

— Gachibowli Divakar (@Gachib0wliDvakr) March 13, 2022
#6
He needs a Ashneer Grover treatment pic.twitter.com/qlJAsfkWnx

— Darshan Sah (@DarshanSah2) March 13, 2022
#7
Sabko dikh raha hai fake acting. Thoda toh effort dal leta ye. Paise pure nhi mile kya?

— Vijay Agroya (@vijayagroya) March 13, 2022
#8
This is more cringe than my good morning tweet today. https://t.co/ExrLlMnKri

— the dude (@the_shrewd_dude) March 13, 2022
#9
— Arman (@_m_c_q) March 13, 2022
#10
Cringe ultra pro Max

— Sanjiv Pande (@sweetamit_) March 13, 2022
#11
An arsenal fan, representing spurs and celebrating a CR7 hattrick🤣🤣. Man's a biggers snake than this guy pic.twitter.com/Y9zxPDhKj4

— sathvik (@sathvik2608) March 13, 2022
#12
These film actors know less of football and more of drama!! Never know, which tv channel or player they will support next!

— Bala T (@BalaTri) March 14, 2022
#13
— Rimuru (@Rimuru_kiyotaka) March 13, 2022
#14
Arsenal be like:- Party badal diya sala….. 😂

— Jυɳαιԃ Mσԋαɱɱαԃ 👑 (@_iamjunaid1601) March 14, 2022
#15
Isn't this guy an arsenal fan pic.twitter.com/SDalSIrzXY

— Gorakhpur Goretzka. (@nossy22) March 13, 2022
#16
When you watch too much of Arnab Goswami.

— Tosh (@sins_1990) March 13, 2022
#17
An Arsenal fan sponsored by Tottenham for his tickets is celebrating Man Utd's goals against Tottenham
Boy is Playing well 😂

— Paritosh Rao (@ParitoshRao7) March 13, 2022
#18
— Anurag Pradhan🇮🇳 (@Anuragpradhan90) March 13, 2022
Ranveer Singh has also been making headlines because of his photo with supermodel Bella Hadid which got clicked in London at Premier League Football.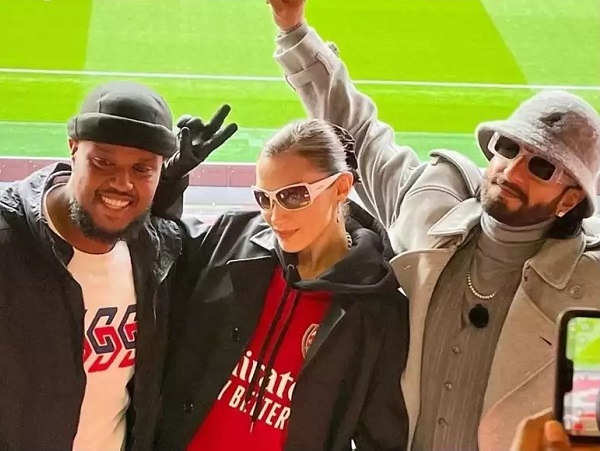 On the work front, he will be seen in "Jayeshbhai Jordar" which is directed by Divyang Thakkar and Rohit Shetty's "Cirkus".
What do you think of Ranveer Singh's celebration? Don't you feel that he is always over the top?
Share Your Views In Comments Below