Entertainment
Ravi Shastri Trolled On Twitter For Pot Belly. Twitter Called Him Pregnant & Guessed About Delivery
Ravi Shastri, the head coach of the Indian cricket team, is once again in news but not for good reasons.
As he is a former Indian cricketer and the head coach of team India, he is expected to be in good shape but a photo of Shastri is going viral in which his tummy or rather pot belly can be seen very clearly.
Take a look at the pic: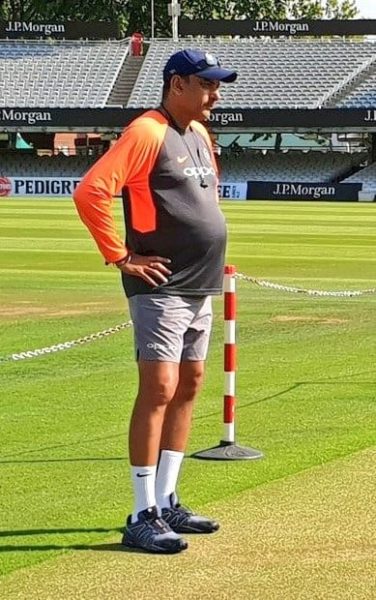 Twitterati started trolling him by indirectly calling him pregnant and made a guess as to when he would deliver.
Here are some epic and hilarious Twitter reactions that will make you go ROFL:
When you are a fan of two sports:
Dil Se Cricket Fan, Aur Pet Se Football Fan… 😂😂 pic.twitter.com/sYDSRIJPLq

— PUNsukh Waangdu ™® (@Pankysm) August 8, 2018
Rightly said!
Along with players, even coach should also go through Yo Yo fitness test.. pic.twitter.com/zQd5VDfgRJ

— HeyAhmed (@HeyyAhmed) August 8, 2018
When you are in Nani's home:
*When you visit Nani's home* pic.twitter.com/fJzRo5y3Py

— Ommi Gangawane🇮🇳 (@InsomniOmmi) August 8, 2018
Seems Like Ravi Shastri's Nani's Home Is In England! 😛 pic.twitter.com/Z8Tw11kNdY

— @muthayyab_ali (@immali14) August 8, 2018
Pressure cooker situation..
Growth like a tracer bullet..
This is a pressure cooker situation..
That's not what the doctor ordered pic.twitter.com/oYVx5JsZYN

— Corporate Dalit (@CorporateDalit) August 7, 2018
Then and now:
Remember this kid?? This is him now….Feeling old yet?? pic.twitter.com/625HPaEP4T

— urstrulyKajal🇮🇳 (@BanarasiBasanti) August 7, 2018
Football world cup hangover still on:
When cricket world cup is coming but your football world cup hangover has not ended yet.. pic.twitter.com/cTzwYwQ43a

— Ommi Gangawane🇮🇳 (@InsomniOmmi) August 8, 2018
LOL 😀
India will win..coz he's about to deliver 😉 #INDvENG pic.twitter.com/hVdgZvJrhD

— krishnaisfaith (@atrivandi) August 7, 2018
When it's been 5 days since you took your last dump pic.twitter.com/R1yC7NGN9w

— Sense of tumor (@dashhtweets) August 7, 2018
This would be the best delivery by Ravi Shastri in his whole carrier. pic.twitter.com/A2Q9WVXbgx

— pandurang escobar (@Bhavessshh) August 7, 2018
Indian batsman can't deliver on forgein pitches, now all responsibility on coach Shastri. pic.twitter.com/KFGZH2dA23

— Swami (@mohitraj) August 7, 2018
Finally revealed:
Kahaani………! pic.twitter.com/15LXmEhytL

— PhD in Bakchodi (@Atheist_Krishna) August 7, 2018
His capability as a coach has been questioned many times and it is being said that he is the head coach just because Indian skipper Virat Kohli wanted a Yes man at this position.
Lately, he was trolled for posting a video in which he promoted an energy drink. Moreover, former Indian cricketer Sourav Ganguly said during an interview that Shastri should not be interviewed in the morning as he does not know what he is talking about.
What do you have to say about Ravi Shastri's pic?
Share Your Views In Comments Below