IPL 2019 has been quite disappointing for Virat Kohli led Royal Challengers Bangalore (RCB) despite the fact that it has some really big names of the cricket world. The Bangalore team has won only 3 out of 10 matches and is sitting at the bottom of points table.
However, they will always remember the match that they played against Chennai Super Kings (CSK) on April 21, 2019, which they won just by 1 run. The nail-biting match was played at M. Chinnaswamy stadium and batting first, RCB gave the target of 162 runs to CSK.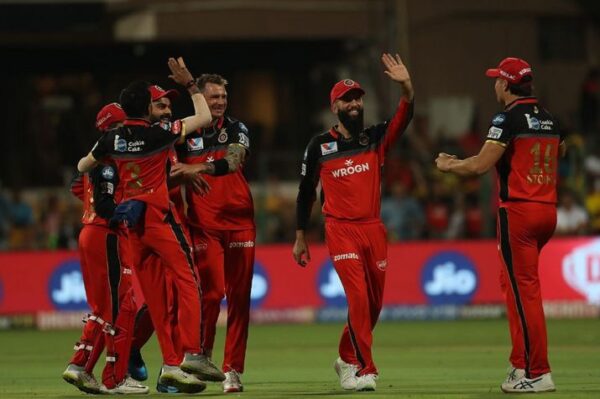 The bowlers of RCB bowled very well and there was a moment when CSK was 28/4 but Dhoni is not the one to give up, whether it's game or life. He kept on scoring runs despite the fact that the wickets were tumbling on the other side. In the last over, CSK needed 26 runs and the Chennai skipper managed 25 runs. It can be called CSK's bad luck that Shardul Thakur got run out on the last ball and they lost by 1 run.
The official Twitter handle of RCB tried to troll CSK by comparing the variety of sambhar eaten in Tamil Nadu with the one eaten in Karnataka.
The tweet read, "Hello frands, sambhar peelo!"
Hello frands, sambhar peelo! pic.twitter.com/Nz30BLjDXx

— Royal Challengers Bangalore (@RCBTweets) April 22, 2019
It didn't go well with the CSK fans and they trolled RCB back in an epic manner. Here are some selected tweets:
#1
Humility succeeds.Learn to be grounded.!!!Have you ever seen @ChennaiIPL (official handle)speak like this?We wont.Thats why we have won 7/10 and you 3/10.All the best for your future matches.😊.

— Aarna (@aarna_a) April 22, 2019
#2
How many trophies in cabinet ?

— 🇮🇳Archith (@archel3011) April 22, 2019
#3
Ok 1-1 it is, let's see you in playoffs. Wait….what…sorry!!😂

— abhijeet tiwari (@abhijeettiwar13) April 22, 2019
#4
We won one game each, let's see who are the better side on the playoffs.. Ohh wait there is no play offs for the #RCB 😂😂🤣 as usual start with the #EeSaalaCupNamdhe campaign and end with #WeEntertainedOurFans 😂😂 #CSK #WhistlePodu #Thala #Dhoni pic.twitter.com/1u2TuHfO23

— Arima (@Dracarys28) April 22, 2019
#5
Haalo frands , points table dekh lo pic.twitter.com/wyk8LRIe6p

— R' (@Mr_Nobodyx_) April 22, 2019
#6
https://twitter.com/Prashadh31/status/1120232954813276161
#7
For not qualifying in to playoffs :p pic.twitter.com/6DwjaUnDuy

— A Vicky Kumar (@ImVickyKumar) April 22, 2019
#8
Wins first time after 5 years vs csk….(that too by 1 run) acting like they won ipl😂😂😂

— not suhan (@imnotsuhan) April 22, 2019
#9
https://twitter.com/Karthic23851365/status/1120236144283672576
#10
Reason why @RCBTweets won yesterday.😀😀😀 pic.twitter.com/ZYIdA6lTQV

— Vinaya (@vinpradpa) April 22, 2019
#11
https://twitter.com/bhargav_cherryy/status/1120261018922278912
#12
Winning 3 matches out of 10. And acting as if won an ipl final cup. First try to know ur place in the points table. Straight opposite to Csk.
Even if u double rcb's points u cant make up like #CSK

— Anthony Kishore (@Antonybigil) April 22, 2019
#13
May your team be as great as you pretend it is on twitter..

— Anushka 🇮🇳 🕉🚩 (@Anushka2711) April 22, 2019
#14
This is why you guys can never win ipl

— chaithu (@c4ayy) April 22, 2019
What is your opinion on this type of tweet by RCB and that too when they are in such a poor condition in IPL 2019? Let us know.