News
Remember The Girl Who Underwent 50 Surgeries To Look Like Angelina Jolie? Here's The Truth Behind It
Internet can show you many things which your mind and heart refuse to accept as real but the manner in which they are presented in front of you is so good that ultimately you believe it to be real.
Few days ago, the Internet was getting crazy over a girl who claimed to have undergone 50 plastic surgeries, just to fulfill her passion of looking like Hollywood actress Angelina Jolie.
Yes, you guessed it right! We are talking about Sahar Tabar, a teenager from Iran.
When her photos went viral on social media networks, she was called a "zombie" or "corpse bride" but you will be shocked to know that the whole episode was a hoax and she doesn't look like what we saw in the pictures.
Sahar has now come out to explain that it was all photoshop and now some of her real photos are also doing rounds on web and social media sites.
Sahar said this in an interview to Sputnik,
"It is Photoshop and makeup. Every time I publish a photo I make my face more fun. It is my way of self expression, a kind of art. My followers know that this is not my real face."
This is how she looks like in real life:
Here's one more pic:
As far as rumours are concerned, she said,
"I did not even think about being like Jolie. Also, I did not want to resemble the cartoon character Corpse Bride. Now I understand that I have something to do with them, but I am a muse myself and remembering someone is not an end in itself."
She took resort to surgery for changing her nose's shape and enlarging lips by going through liposuction; she also shed kilos but not as much as it was said to be. In her words,
"I lost weight, that's true. But I did not drop 40 or 30 kilograms, but about five or seven. Now my weight is 54 kilograms."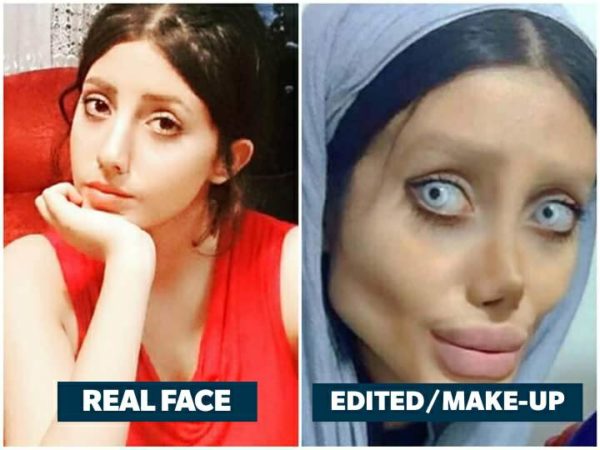 Talking about netizens' reaction, she stated,
"For me the most important thing in life is the approval of my family and God. This approval is, that's enough for me."
Well, it's good to know that she is normal just like us and in fact, a pretty girl.
Share Your Views In Comments Below