Bollywood & TV
Remember The Man Who Played Snake Prank On Sunny Leone? Sunny Had A Perfect Revenge On Him
Yesterday only, we told you that someone from Sunny Leone's team played a prank on the adult movie star turned Bollywood actress and now Sunny has shared a video in which she can be seen taking a sweet revenge.
The person who played the prank on Sunny is casting director and celebrity manager Sunny Rajani. If you don't know, let us tell you that Rajani took a fake snake and dropped it on Sunny while she was busy in reading the script.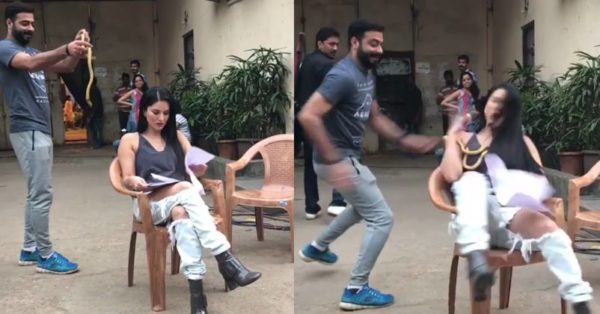 After seeing the snake, Sunny got panicked and shouted. She then ran after Rajani and we are sure that the whole team must have had a great laugh over this incident. The video was shared by Sunny herself on Instagram.
Now one more video has been shared by the beautiful actress in which she can be seen holding two cakes. She quietly goes near Rajani and smashes both the cakes on his face. Rajani must have been shocked big time and he ran after Sunny to catch her but he couldn't.
The caption that Sunny wrote while sharing this video is, "My revenge!!! Hahahahahaha @sunnyrajani this is what you get when you mess with me!!"
Click here to watch this video directly on Instagram
One thing is for sure that Sunny's team is having a lot of fun while working and this gives us an idea of how cool and sweet Sunny is.
Share Your Views In Comments Below