News
Remember The Couple Who Met Through Rahul Gandhi's FB Page? This Is The Real Story Behind It
A few days ago, news of a couple who had met and fallen in love via a Facebook page went viral. It all seemed like a bed of roses, till the real story came out.
Turns out, this young boy and girl named Jay Dave and Alpika Pandey met through a Facebook page dedicated to Rahul Gandhi. Jay had commented on one of the posts, showing his support for Narendra Modi, and Alpika had liked it. Thus began their love story.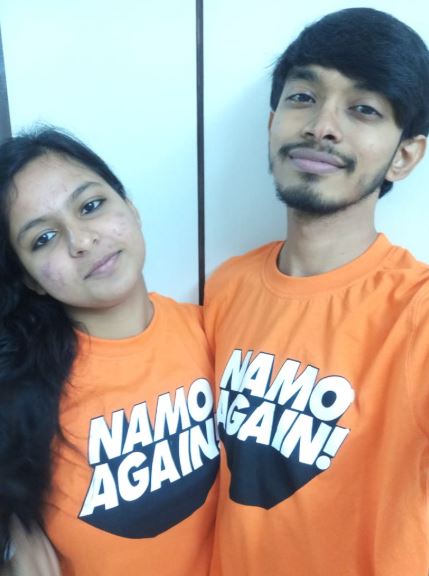 He tweeted a picture of them wearing matching t-shirts, with 'Namo Again' written on it and shared it with the caption:
"We married because of you @narendramodi ji!
I commented on @RahulGandhi's FB page in ur support and this beautiful lady from his constituency liked it.
We talked, met and found out that we both support you because we both want to live for India,so we decided to do it together 🙂"
However, he has since deleted the tweet. But now, the real story behind the 'too good to be true' love story has been revealed.
The girl, Alpika Pandey, has revealed her own side of the story and has mentioned how physically and mentally abusive Jay Dave is.
She wrote in a tweet,
Here's the other side of the story that you have been hearing about @thejaydave who met a girl on @facebook who liked one of his comments on @RahulGandhi's page. They fell in love and got together as they both supported @narendramodi. Well, I am that girl. pic.twitter.com/btT07flSd0

— Alpika Pandey (@AlpikaPandey) February 2, 2019
The girl tweeted that she is 18 years old, while the guy is actually 29 years old. She says that her image has been used without her consent and that it was all a publicity stunt.
I am just 18 years old and he is 29 although his face doesn't reflect so. First of all, he used my image without my knowledge and consent for his own benefit of publicity. He used this as a means to glorify his image in @BJP and social media. @CyberDost

— Alpika Pandey (@AlpikaPandey) February 2, 2019
Tagging Gujarat Police in her next tweet, the girl complains of mental and physical harassment as well.
He tortured me both mentally and physically till the extent that I tried committing suicide. His family supported him in doing so. I didn't have the freedom to even step out of their house without a member accompanying me in the name of honour. @ndtv @GujaratPolice @MinistryWCD

— Alpika Pandey (@AlpikaPandey) February 2, 2019
She says that she does not have a moment alone to herself, and is not safe even in her own washroom.
My loyalty for him was doubted to the extent that he clarified many times what was I doing even when I was in the bathroom. I had to show him each and everything I did on my phone or he would snatch my phone away. He never respected my personal space. @NCWIndia

— Alpika Pandey (@AlpikaPandey) February 2, 2019
She finally concludes by asking, 'Is this what a #modibhakt does in the name of bhakti??'
I seriously doubt if his feelings were true for me. Is this what a #modibhakt does in the name of bhakti?? @dna @ABVPGujarat #NamoAgain

— Alpika Pandey (@AlpikaPandey) February 2, 2019
Now, here's what's fishy. We went through the couple's twitter accounts and found no trace of their relationship whatsoever. In fact, as we mentioned, the guy has even deleted the original tweet which went viral.
At this point, we have no choice but to grant benefit of the doubt to the girl, who seems to be in desperate need for help.
Yet, we have not been able to verify their stories and can only base our facts on their tweets. Stay tuned for more updates.
Share Your Views In Comments Below