Sports
Rishabh Pant Again Got Trolled On Twitter For His Rash Shot During IndVsWI
The Indian cricket team has been performing quite well and they have now won the second ODI match which was played against West Indies. Earlier, they also won the T20I three-match series against the same opponent.
The match was played at Queen's Park Oval in Trinidad; the toss was won by India and they decided to bat first. However, the opener Shikhar Dhawan departed in the first over after scoring only 2 runs. The Indian skipper Virat Kohli and vice-captain Rohit Sharma tried to stabilise the Indian innings but Rohit also got out soon at the score of 18.
The Indian team management decided to send Rishabh Pant at number 4; nevertheless, earlier it was said that Shreyas Iyer would be playing at number 4.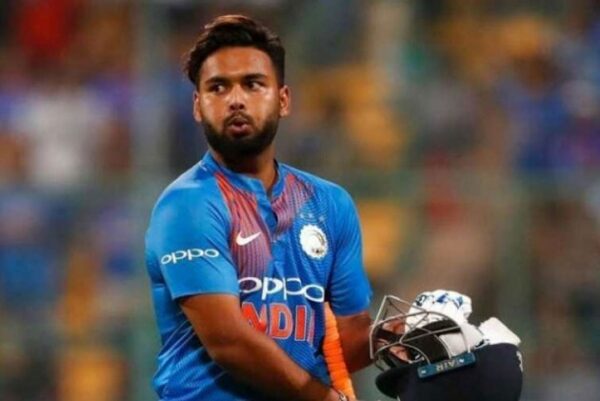 Around 30 overs were remaining and it was expected that Rishabh will play long innings but he was not able to control his instincts and got out at the score of 20 for which he played 35 balls. Rishabh tried to pull a delivery of Carlos Brathwaite but there was no foot movement and as a result, he was clean bowled.
There is no denying the fact that Rishabh is a talented player but he needs to refrain from playing bad shots and try to stay on the crease for more time.
The social media users also got irked after Rishabh threw his wicket and slammed him mercilessly. Here are some of the selected reactions:
#1
rishabh pant, I think this is a deliberate ploy to place a utterly useless player like pant to ignore mumbai players at number 4 position. don't let another mumbai player become a headache for kohli like sharma…!!!

— Samundri daaku (@FoujiC) August 12, 2019
#2
@BCCI T wud b nice if we experiment Sanju Samson in next T20I or ODI assignment..he s having better technique & temperament than Rishabh Pant

— Muhesh Mohan (@MohanMuhesh) August 12, 2019
#3
#MSD fans to #RishabhPant ये तो शुरु होने से पेहले ही खतम हो गया भाई 😂

— Shubham (@Shubham_king1) August 11, 2019
#4
Why Rishabh Pant plays like shahid afridi. Does Poor shot selection like always.#IndVsWi #WIvIND #INDvWI

— Shubham Madhavi (@Shubham_8002) August 11, 2019
#5
Selectors changing batting position of Rishabh Pant and Shreyas Iyer. #WIvIND #INDvWI pic.twitter.com/RPamqHo3ps

— Awarapan 🇮🇳 (@KingmakerOne1) August 11, 2019
#6
@vikrantgupta73 @rawatrahul9 @manoj_dimri Why Rishabh pant ahead of Shreyas Iyyar….. sometimes I feel India has lot to think regarding batting order, How can you make a player like Shreyas Iyyar after Rishabh Pant… #AskSportsTak

— hathimanan (@montexrulz) August 11, 2019
#7
https://twitter.com/imshant/status/1160847804517871618
#8
Dont U think rishabh pant getting too much advantage. He is not showing temprament.

— Krishan Kumar | کرشن کمار | (@krishanofficial) August 12, 2019
#9
Rishabh Pant is the Harman Baweja of cricket! He looks to be a great prospect, but, his performance speaks otherwise! #INDvWI #RishabhPant

— Pankaj Kalra (@brainyidiot) August 11, 2019
#10
The way #RishabhPant plays, way he approaches the game is better suited at no.5 or no.6
Give #ShreyasIyer or #manishpandey this many opportunities at no.4!!
Either of them will definitely prove to be d solution for tricky situation!@bhogleharsha #INDvWI

— Sagar (@SK171999) August 11, 2019
#11
Rishabh Pant retire hone ke baad ek naye Cricket shots ki kitaab लिखेंगे! #WIvIND

— OM Rajpurohit (@omrajguru) August 11, 2019
#12
Rishabh Pant ahead of Shreyas Iyer – someone explain me this logic!

— SilyPointer (@silypointer) August 11, 2019
#13
How many more chances will be given to Rishabh Pant?

— Nikhil Bapat (@BapatNikhil) August 11, 2019
#14
Can we throw out overrated Pant & add Talented Sanju Samson to the team? #WIvIND #RishabhPant #sanjusamson

— Krishna Haranath 🤠 (@iamharnad) August 11, 2019
#15
Rishabh Pant jaisa aaj out hua aaj , Kohli nets mein bhi waise kabhi out na ho. #WIvIND #INDvsWI

— Lazy Lion (@pun_zabi) August 11, 2019
During the T20I series also, Rishabh became the target of netizens since he played irresponsible shots at that time too.
A lot is being expected from Pant in view of the fact that he is going to replace M S Dhoni most probably in the Indian team but it seems that he needs more time. What do you think? Let us know your views.
Share Your Views In Comments Below