Sports
Rishabh Pant & Joe Root's Animated Interaction At Lord's Floods Twitter With A Meme Fest
The Indian and English cricket teams are performing pretty well in the second test match which is being played at Lord's and there is no doubt that both the teams won't be leaving any stone unturned in trying to win the match. While India put up a decent score of 364 on the board in their first innings, the hosts took a minor lead with 391 runs in their first innings.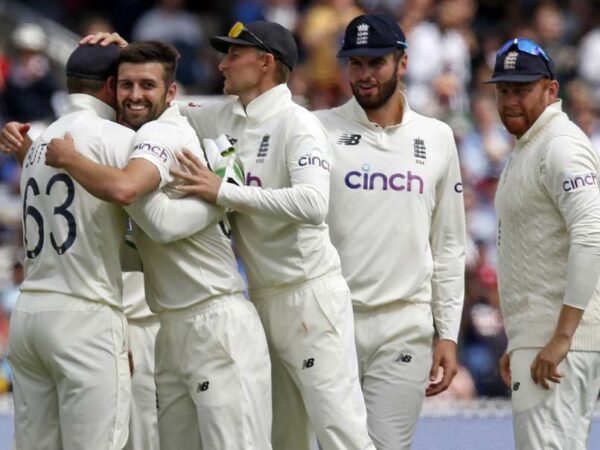 However, the Indian team didn't have a good start in the second innings as both the openers KL Rahul and Rohit Sharma who batted well in the first innings were not able to repeat their success. What was more disappointing was that the Indian skipper Virat Kohli failed to make a big score once again, especially when his team needed him the most. The good thing for the Indian side was that Ajinkya Rahane (61) and Cheteshwar Pujara (45) stayed on the pitch for some time but after these two got out, Ravindra Jadeja was also sent back to pavilion quite early by Moeen Ali.
After that, Rishabh Pant was left with the responsibility of scoring runs with Ishant Sharma on the other end but soon the quality of light got deteriorated and the Indian skipper Virat Kohli and Rohit Sharma were seen making gestures to Rishabh Pant asking him to talk to the umpires about the bad light. When the Indian batsman talked to the umpires, they called off the fourth day game early and the English skipper Joe Root was not happy with it.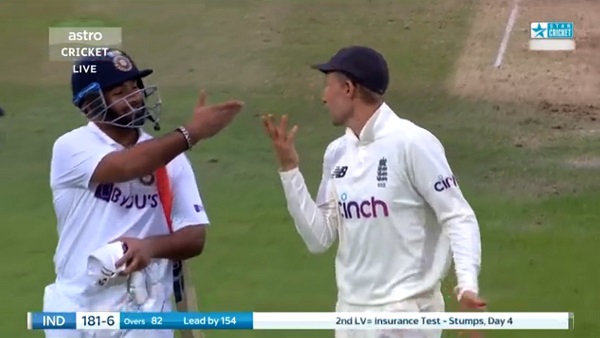 Joe Root was also making spinners bowl from both the ends keeping in mind the poor condition of the light and while returning to the dressing room, Joe Root and Rishabh Pant were seen having animated discussion which was, quite obviously, about the light. The pic of this discussion went viral and it gave Twitterati enough fodder to create memes and jokes and have some fun.
Check out some of the selected reactions:
#1
Root – Ye Kaisa Naam Hai 'PANT' 😅
PANT – Abe apna dekh जड़ Kahi Ka… Kal aana ukhaad phenkungaa pic.twitter.com/oFSm4H1TnO

— Ⓥⓘⓙⓐⓨ (@iMvJ27) August 16, 2021
#2
Pant to Root :- Heyyyy Root , when will your beard come out , how long will you remain a child ? 🤣🤣#ENGvsIND pic.twitter.com/CjVp4n8Cpl

— The MSDian Boy (@CaptainTanishq) August 15, 2021
#3
Root: bro… London city is the best in the world.
Pant: ah chal.. chal.., Dilli banegi London. pic.twitter.com/YLNlEYslCt

— ಪ್ರಕಾಶ್ (@Royalprakash) August 15, 2021
#4
Joe Root – Idhar se aloo dalunga, udhar se sona niklega!

Rishabh Pant – Pehli fursat main nikal…#ENGvIND pic.twitter.com/Tca8cvFPTj

— Vinesh Prabhu (@prabhu_vinesh94) August 15, 2021
#5
Root : Why you guys are running away ?

Pant : Are jab din nahi raha hai to kya helmet pe torch laga ke khele. pic.twitter.com/1RDENCWyfz

— MSDian (@MsdianTweets) August 15, 2021
#6
Itna marunga ki root se ukhad dunga…🤣🤣🤣🤣 pic.twitter.com/s3XoVaUUFI

— Legend Rishabh pant 🕷️🕸️ (@Sanver_you) August 16, 2021
#7
क्या उस टकले की अकड़ दिखा रहा है एक अश्विन फेंक के मारा ना तो सारे इंग्लैंडीयो की हेकड़ी निकल जाएगी 🙂🤨🤨🤨#ENGvIND #Ashwin #pant #Root pic.twitter.com/cd8uaoEPPr

— Dinu Rajput 💛❤️ (@i_m_dinu) August 15, 2021
#8
Root : what is this behaviour ?
Pant : Chal chal Aave 😂#LordsTest #INDvENG #RishabhPant pic.twitter.com/gqAu7d4MCe

— Suyog Kulkarni (@kulkarni_suyog_) August 15, 2021
#9
Conversation reveal 😯
Root: Aaj bald spinner ko kyu nahi maara?
Pant: Aaj mood nahi thha, kal tu bhi aajana tujhe bhi maar maar ke ROOT se TREE bana dunga. #ENGvIND pic.twitter.com/xJaEU8kvL3

— Rushil Patale (@rushilpatale) August 15, 2021
#10
Root : Bhai light to theek hi….
Pant : Abe jhaapad maar ke teri batti bujha dunga, chal chup chap pic.twitter.com/MdTcUIv5B8

— Shayarcaster (@shayarcaster) August 16, 2021
#11
Rishabh Pant to Joe root : abhe andhe Jake soja kal bata tah hu tuje Ben Stokes#ENGvsIND #RishabhPant pic.twitter.com/aN8gblzwwH

— NITIN (@cricstan17) August 15, 2021
#12
Root : Juban bahot chalti hai teri
Pant : Hath jyada chalta hai. pic.twitter.com/FOuGoTm9nr

— Raghav Masoom (@comedibanda) August 15, 2021
#13
https://twitter.com/kansusi/status/1427247514537709571
#14
Regular scenes of Indians fighting for parking space where @RishabhPant17 be like: "tere baap ki road hai ye?"#RishabhPant #JoeRoot #IndvsEng pic.twitter.com/c2GCZTwhVu

— Mohit Gupta (@mohitbuzz) August 15, 2021
#15
Root – meri power ko bhool mat tu
Pant – mujhe yaad rakhne ki jarurat nahi pic.twitter.com/0wzyh528fJ

— Tom Chandler ⚓ (@MrPrrofessor) August 15, 2021
As far as the match is concerned, the Indian squad has given the target of 272 runs to England to win the match and the latter has already scored 43/2 with Joe Root (20) and Haseeb Hameed (9) on the crease.
Which team has more chances of winning the match according to you or do you think that it will end in a draw? Let us know your views.
Share Your Views In Comments Below