Bollywood & TV
Rishi Kapoor Sent Nasty Messages To Ex RJ & Called Her Ugly. Got Badly Trolled
Rishi Kapoor is easily the most active Kapoor of his family on Twitter. More than for his films, he stays in news for his tweets and DMs which scale from being funny to rude and sometimes very offensive.
Rishi claims that he gets harsh on people only when he is provoked but the recent incident proves that he is always ready for it.
Rishi Kapoor insulted an ex RJ by sending her some mean personal messages on Twitter just because she didn't find his humour funny. Here's what happened-
Rishi Kapoor posted a meme on his Twitter account in which he compared Beyonce to a flower pot.
Phool Khilen hain Gulshan Gulshan!
Phool Khilen hain Gulshan Gulshan! pic.twitter.com/MtpnVPujoB

— Rishi Kapoor (@chintskap) November 20, 2017
There were many reactions to the tweet of Rishi. Some found it funny and some didn't. An ex RJ and Sucharita Tyagi didn't find the meme funny and tweeted-
Not funny.
This didn't go well with Rishi Kapoor who attacked her in DM and sent some really rude messages. Have a look-
1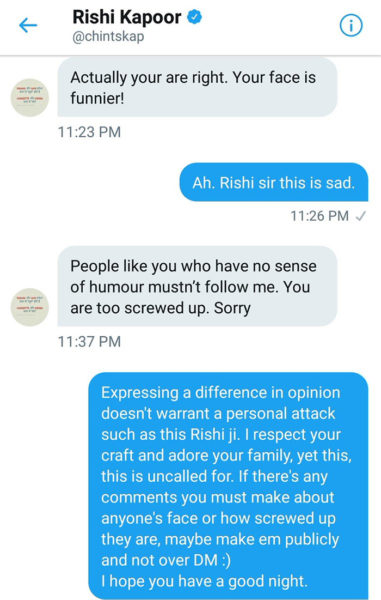 2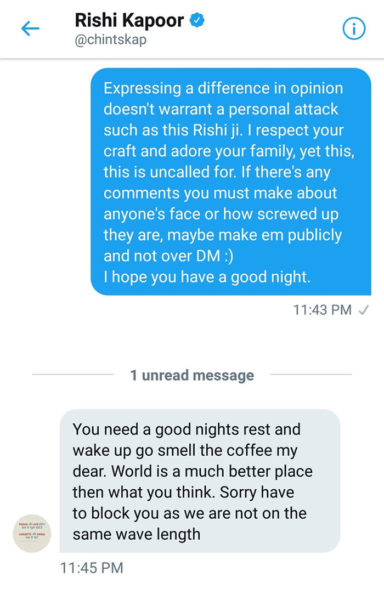 The girl herself shared this screenshots on Twitter-
What a day I'm having.
What a day I'm having. pic.twitter.com/fQSJnzPhrh

— Sucharita Tyagi (@Su4ita) November 20, 2017
Soon, the people started coming in and started reacting to the nasty interaction between the two. Have a look how they reacted-
1
They say "Never Meet Your Heroes"
Twitter has ruined the image of so many celebrities.
The Awe-Struck Aura they all had once has now faded for me.

— Ahilɑrious (@Ahilarious) November 21, 2017
2
Haha.. He blocked me too!

He compared Kim Kardashian to a bag of onions and I compared him to a bag of rice!

And wham… I was blocked!

— FeminichiSpeaking ♀ (@Sa_Beeee) November 21, 2017
3
jesus i'm sorry you had to go through that bb

— Shibesh (@lordoftheshibs) November 21, 2017
4
Rishiji always embarrasses Ranbir & his fans 😑😑

— Sam (@Sambuddha_RK2) November 20, 2017
5
Wow he sucks

— Neha Ramneek Kapoor (@PWNeha) November 21, 2017
6
I'm also feeling sorry for his grammar.

— Prerna (@PennyLooney) November 20, 2017
What are your thoughts on it?
Share Your Views In Comments Below