Sports
Rohit Sharma Tried To Troll Yuzvendra Chahal About Ironing His Shirt, Gets Badly Trolled In Return
India received it's greatest blow in the T20 series against New Zealand. Tim Seifert's eighty four runs got them an eighty run win on Wednesday.
After the defeat inflicted by India on New Zealand on the ODI series, the New Zealand skipper, Kane Williamson is just too happy that his team bounced back.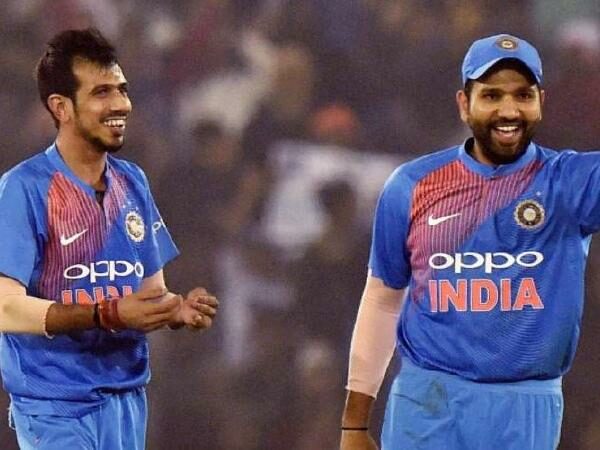 India Captain Rohit Sharma chose to bowl first which he realised was a great mistake on his part. But after the match was over, ICC posted a picture of him, where in the comments he was seen trolling Yuzvendra Chahal over his shirt. This angered our netizens and they started trolling and mocking him that how could he be doing this just after a disastrous defeat.
Check this Twitter post by ICC.
😂 @ImRo45 pic.twitter.com/PM63qW712k

— ICC (@ICC) February 6, 2019
The tweets that followed were absolutely harsh but some were sarcastic and laughing at the loss. People were overall angry as they were defeated as fans as well.
#1
This is what @yuzi_chahal had to say 😂😀 pic.twitter.com/vvYTOfTbu1

— Zeet Bora (@ZeetBora) February 6, 2019
#2
Lost big by 80 runs, worst captaincy Rohit Sharma#INDvNZ #NZvInd

— Gaurav Kumar (@gauravalmora) February 6, 2019
#3
Icc= bcci= Rohit sharma 😕😂

— SAHIL🇮🇳 (@SAHIL09S) February 6, 2019
#4
biggest losing margin in T20s now. previous best was 50 runs😑

— Phenomenal_One 🇮🇳☀️ (@kingslayer112) February 6, 2019
#5
ICC=BCCI=ISRO=NASA😂😂😂😂

— Abhishek singh🇮🇳🇮🇳 (@abhi07_12) February 6, 2019
#6
Wo din door nahi hai dosto jab yujvendra chahal bhai double century lagayenge world cup me

— Abdul Khalik (@AbdulKh04553408) February 6, 2019
#7
Rohit forgot to hit the ball but not to hit yuzi chahal😂😂

— IamZenith🇮🇳 (الكتابة) (@theNEindian) February 6, 2019
#8
Icc=Rohit Sharma

— Inshaallah Boies Pilled bell 🛎 (@pkmkb5) February 6, 2019
#9
@ImRo45 how about ironing your belly

— ΛЯJЦП (@Kohli_FanBoy) February 6, 2019
#10
Stupid Rundians.😂

— KING AZAM (@ResetCricket) February 6, 2019
#11
@yuzi_chahal : How about you flatten your belly first, @ImRo45 bhaiya?

— Smitharoo (@SastaLoha) February 6, 2019
#12
We had our biggest defeat in T20 just hours ago and here the captain of the team doesn't care about the loss and is having a lot of fun while we as fans are angry,sad after today's game

— Harsh Aggarwal (@Harsh__619) February 6, 2019
#13
Yeah there's nothing much Rohit did in the match to tweet about

— alka. (@rakmakmakk) February 6, 2019
#14
And all big of yours came out in 1st T20 game. Don't waste your career day dreaming of being a batsman.😂

— Ashish Krishna (@AK_Gopalan) February 7, 2019
#15
U go h sleep #RohitSharma bhaii…do u think he is saying jokes…first u learn how to play as captain like #ganguly , #MSDhoni #ViratKohli

— venki yadav… (@mvkoti551) February 6, 2019
So, what is your opinion regarding this?
Share Your Views In Comments Below