Sports
Rohit Sharma Tries To Troll Chahal Over His Outfit, Gets A Perfect Reply From Yuzi
Some Indian cricketers may now choose to step on the field for training and practice sessions as relaxations have been given by the government as per which the stadiums can open but no spectator should be allowed inside the stadium. India was under complete lockdown for more than 2 months and the Indian cricketers were spending a lot of time on the online platforms, especially by chatting live on Instagram.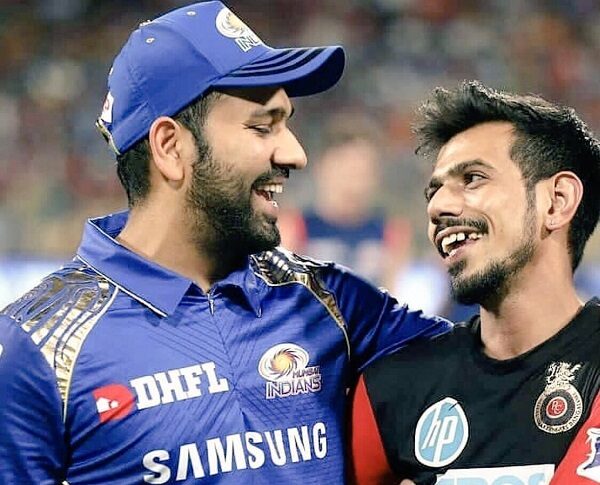 Yuzvendra Chahal, the Indian leg-spinner, has also become a part-time TikTok star as he has been posting videos on a regular basis and his funny antics have been liked by audiences a lot. However, sometimes Yuzi has been slammed by his own teammates for involving his family members in the videos but it has not deterred him at all.
Recently, Chahal posted a photo on his Instagram account in which he was seen posing with a friend, the caption that he wrote was, "There are friends, there is family and then there are FRIENDS THAT BECOME FAMILY".
In the pic, Yuzi was wearing an oversized hoodie and Indian cricketer Rohit Sharma didn't miss the chance of trolling Chahal over this. Hitman commented, "Kapde ke andar tu hai ya kapda tere andar hai" (Are you inside the clothes or clothes are inside you?)

Yuzi and Rohit share a great camaraderie and they have been involved in online banter many times earlier as well.
Yuzvendra also responded with a hilarious and perfect reply that read, "Jaise iss lockdown mein aapke cheeks bahar aa rahe hai mujhe kapdo ke andar he rahne doh" (The way your cheeks are coming out in lockdown, let me stay inside my clothes only).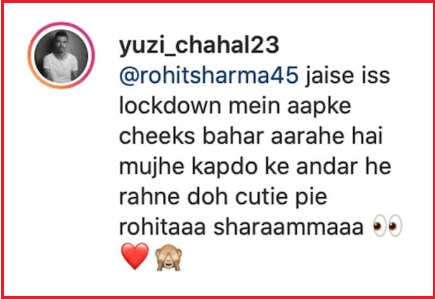 Once again their online banter made everyone laugh.
While Rohit Sharma was supposed to lead Mumbai Indians in the IPL 2020, Yuzvendra Chahal was also set to play for Virat Kohli-led Royal Challengers Bangalore but the league was postponed by the BCCI as government imposed lockdown due to the increasing number of COVID-19 patients.
Great response by Yuzvedra Chahal, what do you say?
Share Your Views In Comments Below