Sports
Rohit Sharma's Bat Flew In Air During 5th ODI & He Got Stumped. Twitter Flooded With Best Memes
The Indian cricket lovers are in a state of deep shock after the yesterday's defeat of team India in the fifth ODI against Australia which was played at Feroz Shah Kotla stadium, Delhi. With this victory, Australia went on to win the ODI series by 3-2 and this is for the first time that they have won any series after trailing by 0-2.
As of the yesterday's match, Rohit Sharma can be called the lone fighter among the top order of team India but the manner in which he got out has given social media users a chance to create funny memes and jokes. Rohit scored 56 runs and this was his 41st ODI half-century and during this innings, he also become the third fastest cricketer to surpass the 8000 runs mark.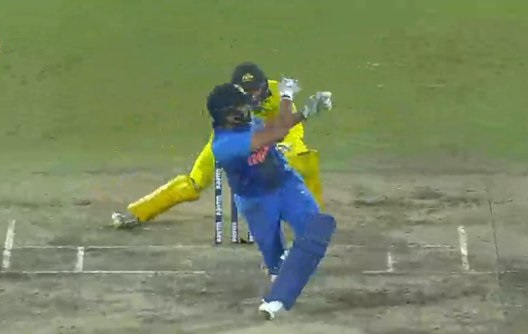 As his partners were in a haste to return to dressing room, he decided to go for big shots and on a delivery bowled by Adam Zampa, he went out of the crease to hit the ball but as he played the shot, his bat flew in the air from his hands and the ball went to wicketkeeper Alex Carey who didn't miss the chance of stumping Rohit Sharma. In this situation, Rohit was left with an option of standing and watching his own dismissal while his bat dropped at the short fine-leg.
This strange dismissal motivated many creative people to create some hilarious memes and here is collection of some really good ones for you:
#1
Rohit Sharma's Bat = Mr. India. pic.twitter.com/jrWkbI7YZK

— Krishna (@Atheist_Krishna) March 13, 2019
#2
Only batsman in the world who can bat without bat. Rohit Sharma is a legend! pic.twitter.com/elRQ4syxL5

— Keh Ke Peheno (@coolfunnytshirt) March 13, 2019
#3
Rohit Sharma BAT = India batting without Dhoni.
.
.
.
Both LOST !#INDvAUS #INDVSAUS pic.twitter.com/PLFpLrFmOf

— Encrypted Layman! (@freddieefaizan) March 13, 2019
#4
Rohit Sharma's Bat= Rahul Gandhi's leadership skills. #INDvAUS #GoBackPappu #GoBackRahul pic.twitter.com/Bda3z5X63Y

— ⚡Shamik Chakrabarti⚡ (@cShamik07) March 13, 2019
#5
#RohitSharma discovered new form of dancing 😂😂 pic.twitter.com/HeI1WISdzv

— DHRUV JAIN (@imdhruvjain) March 13, 2019
#6
Bolo ta ra ra ra ta ra ra ra !!
This step is just lit 🔥#INDvAUS pic.twitter.com/wNxJgR48pr

— Wicked_Viky (@tavetiya_brand) March 13, 2019
#7
Jab koi BAT bigad jaye… pic.twitter.com/8klP2c8Mg0

— Babu Bhaiya (@Shahrcasm) March 13, 2019
#8
There goes Rohit Sharma's bat….
.
.
.
.
.
.
.
.
.
And my hopes of winning this match.#INDvAUS pic.twitter.com/b8PSNtyGs9

— Trisha Mazumdar (@MazumdarTrisha1) March 13, 2019
#9
Rohit Sharma throwing away #MakeRohitIndianCaptain campaign. #INDvAUS pic.twitter.com/h3Od4k99Xf

— Manish Waghela | मनिष वाघेला (@iManishWaghela) March 13, 2019
#10
When you forget attachment while sending the email. pic.twitter.com/XycCTy2WAq

— Sagar (@sagarcasm) March 13, 2019
#11
Pic 1 : Action
Pic 2 : Reaction pic.twitter.com/8Z1jVarVxN

— Memesahaab (@memesahaab) March 13, 2019
#12
Rohit Sharma practicing holding the World Cup already #INDvAUS pic.twitter.com/dymEYGJenM

— Sameer Allana (@HitmanCricket) March 13, 2019
#13
Dandiya khel lo#INDvAUS pic.twitter.com/HRNtD0I2m2

— लगभग Prince Rajput (@Sirkasum) March 13, 2019
#14
Cellphone without Internet. pic.twitter.com/Cxk4ZhiqGM

— Godman Chikna (@Madan_Chikna) March 13, 2019
In the fifth ODI, Australia won the toss and decided to bat first, the decision proved to be quite correct as the Australian batsmen gave a target of 273 runs to their Indian counterparts with the help of a ton scored by Usman Khawaja. This was a respectable score and quite chasable for the Indian team considering the strong batting lineup. However, the hosts were all out for 237 runs and lost the series as well with the match. The Indian team players must be very upset as losing a series after leading with 0-2 is kind of embarrassing and that too, what would hurt more is the fact that they have lost on their home ground.
Before this series, the Indian cricket team was considered as favourites for the upcoming World Cup but Australia has certainly turned the tables upside down and it is a good time for Indians to do a reality check.
What are the chances of team India in the World Cup as per your opinion? Do let us know.
Share Your Views In Comments Below