Sports
Ross Taylor Once Again Trolls Sehwag Over "Darji" Comment In An Epic Way.
Yesterday, New Zealand defeated India in the 2nd T20 match of the series at Rajkot. Ross Taylor decided to take a sweet revenge from Sehwag for his "Darji" comment. If you remember, the duo was involved in a Twitter banter few days back, over Sehwag calling him a 'Darji' i.e. the Hindi version of Tailor (Taylor).
Taking the conversation further, the New Zealand cricketer further wrote a tweet for Virender Sehwag. Well, he posed in front of a shut tailor shop in Rajkot and wrote , "Rajkot mein match k baad, #darji (Tailor) Ki dukaan band. Agli silai #Trivandrum mein hogi… Zaroor Aana. (After the match in Rajkot, tailor's shop is closed. Next stitching in Trivandrum. Do come!)"
This is the tweet;
virendersehwag #Rajkot mein match k baad, #darji (Tailor) Ki dukaan band. Agli silai #Trivandrum… https://t.co/B6dgKPudN1

— Ross Taylor (@RossLTaylor) November 5, 2017
In the tweet, he even put the link of his Instagram post, which had the pic of that shut tailor shop. Here is the pic;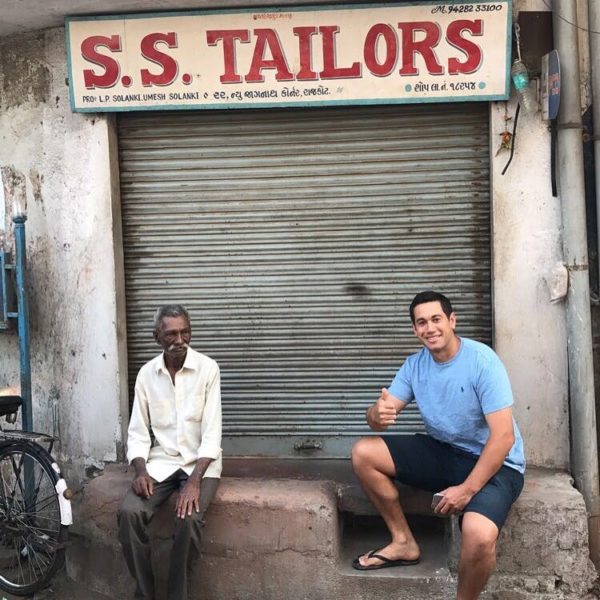 By "Dukan Band", he probably meant that that match is over at Rajkot. If we go by the indirect meaning, it looks as if he is trolling Sehwag by saying Rajkot mein dukan band kardi (NZ defeated India) By Agli Silai, he was referring to the 3rd match at Trivandrum. We loved his Hindi captioning skills. Check out how Twitter reacted;
Kainchi mardi!
😂😂😂😂😂😂😂😂
Taylor bhai ne kainchi maar di pichwade pe 😂😂
See you in the next match✌

— BITCH I WROTE STAN (@TotalShady) November 5, 2017
LOL!
hahaha what a lovely lines Sir!! @virendersehwag #darji shop owner will be famous and he will be thankful to you! 😂😂

— Sudhir Chitaliya (@sudhirchitaliya) November 5, 2017
This is beautiful
This is just beautiful. More than anything it's the way you have picked up Hindi words :). Shows a good tutor @virendersehwag

— Abhishek Sawant (@abhi0111) November 5, 2017
I love your style!
I love your style Ross Taylor!!

— Rimmzy (@Riimmzy) November 5, 2017
Kehke Le li!
Keh ke le li yaaaar 😹😹😹

— Sneha (@Shinde25sneha) November 5, 2017
Savage!
Taylor bhaia savage hain

— Ishit Abhisar Sharma (@ishit_sharma) November 5, 2017
What a witty one-liner!
Share Your Views In Comments Below