Bollywood & TV
Saba Ali Gives Witty Replies To Trolls Targeting Her For Not Including Amrita Singh In Her Post
The whole world celebrated achievements of the women community on a global level yesterday as it was the International Women's Day 2022 (March 8) and social media networks were flooded with posts related to it.
Saba Ali Khan, the lesser known sister of Bollywood actor Saif Ali Khan and Soha Ali Khan, dedicated this Women's Day to the women of her family by posting a collage of photos. This collage included different pics of her along with the photos of her mother Sharmila Tagore, her sister Soha Ali Khan, sister-in-law Kareena Kapoor Khan and her niece Sara Ali Khan.
She captioned the post as, "Happy Women's Day….! 8.3.2022 To ALL those women, who strived to make a difference, with strength, wit, humor and humanity….. Here's… celebrating YOU! Today and Always. Family, friends and those missing… Here's to each of you. #staystrong #happywomensday #happyinternationalwomansday #sharmilatagore #amma".
Here is the post:
Click to watch this video directly on Instagram
While some followers loved the post, there were few who questioned Saba Ali Khan for not including Amrita Singh, the former wife of Saif Ali Khan. Few online users had a problem with the fact that Saba Ali Khan didn't have Amrita Singh in her collage but she had no problem in including the photos of her daughter Sara Ali Khan.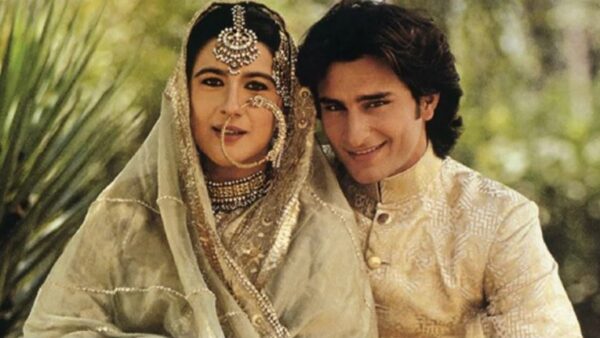 One online user wrote, "The strongest one is missing, the one who loved and supported three kids of your family all by herself (yes, Saif was a kid too)."
In response, Saba asked the online user, "How old are YOU???"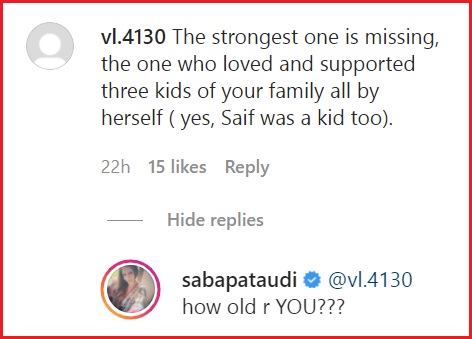 She displayed her witty best side when a user questioned, "Where is Amrita ji" and she replied with "Sleeping safely at home… I suppose 😴".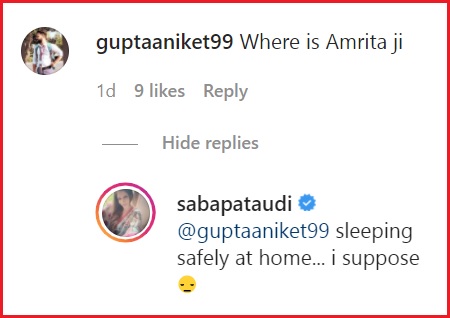 Another user asked Saba Ali Khan, "Did you forget to add Amrita Singh" and she responded with, "Ooops! MUST have! Thanks for the reminder.. Please remind me in 2023… if you're following my handle".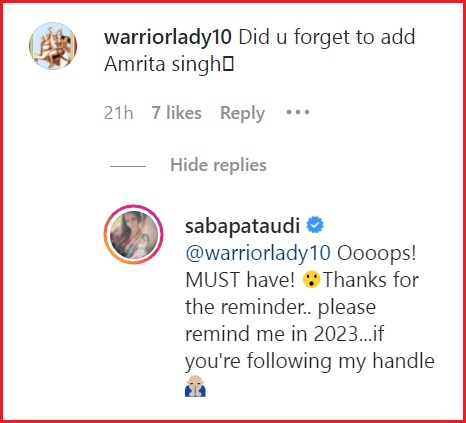 Saif Ali Khan and Amrita Singh got married in the year 1991 and their wedding was talked about more because of their age difference. Saif Ali Khan was 12 years younger to Amrita and in the year 2004, they got divorced. The couple has two kids from their marriage – Sara Ali Khan and Ibrahim Khan and while Amrita chose not to marry the second time, Saif tied the knot with Kareena who is 11 years younger to him and they have two sons – Taimur Ali Khan and Jeh Ali Khan.