News
Sabrimala Temple:Smriti Says We Don't Visit Friend's Home With Used Pad How Can We Enter God's Home
The Supreme Court of India may have given the decision of allowing the women of all ages to enter the Sabrimala temple but the devotees of Lord Ayyappa are in no mood to bow down and follow the court's order.
No women below the age of 50 years was able to enter the temple last week when it was open for 5 days as the priests and devotees made sure that the old tradition is not broken. Just to inform, women of menstrual age, which is from 10-50 years, are not allowed to enter the temple.
On September 28, a bench of five judges that was headed by CJI Dipak Misra gave the historic judgment of allowing the women to enter the temple but there are many who are not happy with this decision. One of them is Smriti Irani, the actress turned politician who is also serving as a cabinet minister in the current central government.
She was speaking at the "Young Thinkers" conference organized by the British High Commission and the Observer Research Foundation.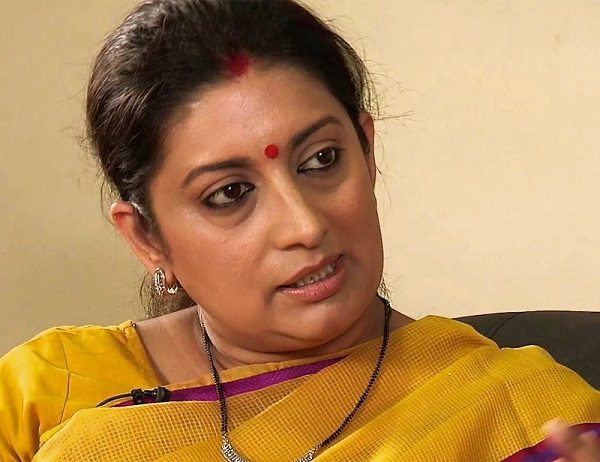 She said that as she is a cabinet minister, she is no one to speak on the decision of the court but it is a matter of common sense that when we would not like to visit a friend's house with pads soaked in menstrual blood, how we can visit the God's house. Won't it be disrespectful? She also said that she has right to pray but she doesn't have right to desecrate.
Watch The Video:
Just watched the video. @IndianExpress has quoted Smriti Irani. But only @smritiirani Ma'am can explain the context of her speech. Here is 2 min video. pic.twitter.com/23azh32aqc

— Zoo Bear (@zoo_bear) October 23, 2018
Click here to watch this video directly on Twitter
The comment may be in regard to the reports as per which a female activist tried to enter the temple with used pads; however, the activist has denied it.
Smriti Irani also talked about how she is not allowed to enter a fire temple in Mumbai as she is practicing Hinduism. She is married to a Zoroastrian and her kids are also Zoroastrian by birth so whenever they all go to fire temple, she has to stand outside or wait in the car. She also told that when she visited the temple with her husband and newborn baby, she was shooed away and asked not to stand there while her husband was allowed to enter with the baby.
The political parties are also not supporting the court's decision as both BJP and Congress are asking the state government to counter the court's decision by passing an ordinance in this matter. What do you have to say in this regard?
Share Your Views In Comments Below